Comedy and singing is the new cool thing for the social media like YouTube and musical.Ly, and Timothy DelaGhetto is the master of both. The YouTube star has been known more for his unique issues to entertain the audience. Already a significant mark on YouTube, he boasts his popularity to more than 557K followers on Twitter and 1M followers on Instagram.
Way to Popularity:
Timothy journey's to popularity starts officially with the release of his first mixtape, "The First Mixtape" in 2006. The series of mixtapes follows after his first releases such as 'Will Rap for Food,' 'Cruise Control,' and 'No Jokes.' His singles include 'Charlie Sheen,' 'Chillin Here in the Atmosphere,' 'Magnetic,' 'Airplanes' and 'Terminals.'
YouTube Comedian!
However, his comic side overshadowed his singing abilities when he began posting his funny videos and vlogs on YouTube. It took no time for Timothy's one of the video 'Surprise for Mom & Dad – Paying off The Mortgage' to be the Internet sensation. His other famous videos include '5 times Girls Did Us Dirty', 'Roast Yourself Challenge – Diss Track' and "Are Wild N Out Girls Smart?'.
He has earned around 3.5 million subscribers already growing the number every day. His YouTube works made him collaborate with some famous stars like Andrew Garcia, Chris Miles, and Nick Cannon.
He was also a regular cast member on MTV 2's "Wild 'N Out" in 2013
How much is Timothy's Net Worth?
Not only DelaGhetto makes his contents for YouTube community but also wanders around for his live concert shows in different cities including Toronto and Ontario. His popularity on YouTube is on such extent that whatever he touches turns into gold on social media. The dramatic height of fame has certainly given his financial side a major boost with the net worth of $2 million.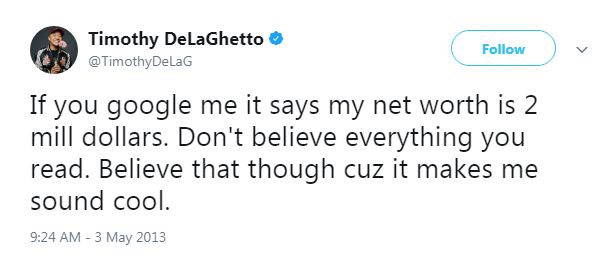 Caption - Timothy's comic tweets about his net worth
Sweet Proposal!
Known for his comic timing, Timothy had already got decorated his memory of asking a serious proposal to his love. He halted his jokes for a moment and bowed down to propose his girlfriend, Chia Habte in Toronto at the Theater of Ryerson University.

Caption - Timothy's proposal at the Theater of Ryerson University
Source - Instagram
His six years of dating life came to a happy end when he became engaged in 2017. The romantic affair with the Canadian Instagram star, Chia Habte was started in 2011 and has already gathered such beautiful moments that every couple tends to be jealous of. However, he and his soon to be wife still has not posted their wedding albums to fuel the jealousy more.
Short Bio:
Tim Chantarangsu aka Timothy DelaGhetto was born on March 6, 1986, in Billings, MT making him 31 years old. Speaking of his family, his parents are Kongkiat Chantarangsu (father) and Sukhon Chantarangsu (mother). His birth sign is Pisces.
He attended Paramount High School following California State University for his formal education. However, he became a drop out when he was studying at California State University to pursue his lifelong dream. As per his wiki, he has a proper height of 5 feet 4 inches and belongs to Asian ethnicity.