Whether it is a love for sports or the inclination towards the aspect of its story-telling, Todd Kapostasy has always followed his passion as the sports producer. He has always directed himself to success by emphasizing sports. Besides that, the four-time Sports Emmy winner, Todd loves documentaries, and it's anecdote. Furthermore, the sports fanatic found his sweetheart while accepting the sports awards from her.
Romantic Affair With Tara Lipinski
In May 2015, Todd met Tara Lipinski at the Sports Emmys when she presented him his award. Todd, who was lovestruck by Tara's beauty, started dating her the same month. Their first date was a group date as Tara emailed him telling that a crew of her friends was also joining their Baltaire Resturant date. 
Seven months after dating Tara, Todd romantically proposed her in December at Manhattan's iconic Plaza Hotel. He got down on one knee with a commissioned painting of them where he is seen proposing her outside her California home. The duo then celebrated their engagement party along with their family and friends at Mr. C Beverly Hills in May 2016.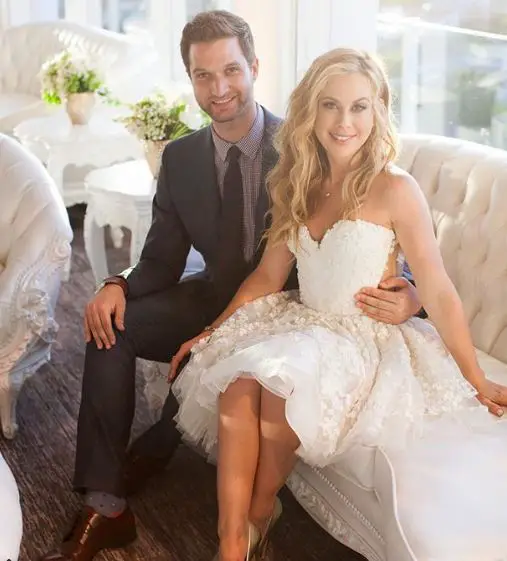 Todd Kapostasy with Tara Lipinski during their engagement party in May 2016 (Photo: Instagram)
After dating for two years, Todd and Tara finally got married on 24 June 2017 at the romantic outdoor ceremony in Middleton Place in Charleston, South Carolina. On their sacred wedding ceremony, Tara's bridesmaids wore floral head wreaths, and the flower girls grabbed baskets made by her mother, Patricia Lipinski.
Tara reminisces her wedding moment describing as one of the best days of her life. The two lovebirds are enjoying their whirlwind of romance and recently on 15 April 2018, the lovebirds were in Coachella having fun. She has shared various pictures of her vacation on Instagram.
Todd's Career As Sports Producer And Net Worth
While studying at the university, Todd was high-jumper on a track team. His love for sports motivated him to start working as a production assistant at ESPN. He worked there for seven years in SportsCenter. He then relocated to Los Angeles from Connecticut and began to work for Fox Sports 1 where he reports more story-telling in the SportsCenter sets.
On 5 May 2015, he won four Sports Emmy's awards for his projects. He received two awards for editing, one for short feature on Albert Belle, and the final one for New Approaches to Short Form Features on the Cleveland Indians.
Todd is one of the notable people who is currently working as a sports producer for Fox Sports. As a sports personnel, Todd might be receiving some outstanding amount of salary. Though his net worth is yet to get into the limelight, he undoubtedly has secured himself some substantial amount of net worth.
Todd's Family Life
Todd is seen posting pictures with his parents on Instagram. Although the sports producer has not revealed their names, looking through their picture, he is the split image of his father. Here is a picture shared by Todd with his mother and father on 30 December 2016 where he looks more like his dad.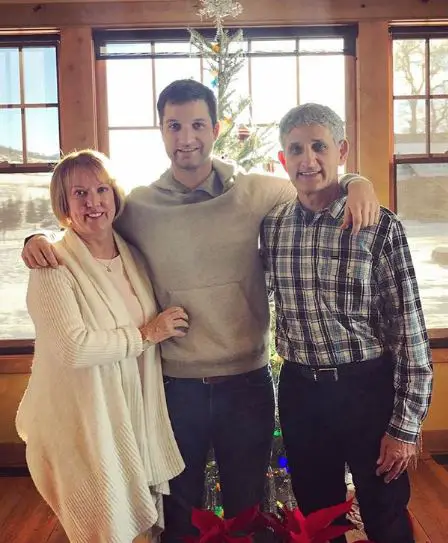 Todd Kapostasy (center) with his father and mother (Photo: Instagram)
Short Bio
Todd was born in 1984 which makes his age 33. He celebrates his birthday every year on July 7. As per wiki, the Ohio native Todd grew up in Lake County close to Lake Erie. He graduated from Brown University with a double major in political science and history. There is no information regarding his ethnicity.
In 2013, he got featured at Perry High School, his high school's Distinguished Alumni and Athletic Hall of Fame Induction Ceremony. Todd is taller than his wife, Tara, who has a height of 1.54 m (5' 1'').