Tomica Wright is an American music producer and entrepreneur. She is also known as the former wife of late rapper Erin Lynn Wright, who was famous by his stage name, Eazy-E. Her company, Compton Records, took over the music label owned by her late husband named Ruthless Records. 
How Much Is Tomica Wright's Net Worth?
Tomica Wright's has an estimated net worth of $15 million. She has derived her net worth from the music industry and by producing a movie. She has been earning a lucrative revenue annually from the record label company, Compton Records. In 2015, she made big money producing the movie, Straight Outta Compton. The movie earned $201.6 million at the box office with the gross budget of $50 million US dollars. The movie was based on her husband and their gangsta crew rise and fall in the music industry. 
Her late husband, Eazy-E made a net worth of $35 million in his productive music career. But due to poor business practices and extravagant lifestyle, his entire fortunes was confined to $8 million. He earned his wealth not only from his music career but also from the drug industry. He had reportedly earned around $250,000 from the drug industry at the age of 22.
Tomica previously lived in a Calabasas mansion worth $1.1 million. The luxury villa was purchased by Late Eazy in 1991 and was owned by Tomica after Eazy's death.
Eazy E ventured into the Los Angelos hip-hop scenario in the mid-1980's after his cousin was shot and killed. His popularity soared as an integral part of a hip-hop crew named ****** Wit Attitudes (N.W.A) with Dr. Dre. His 1988 debut album Eazy Duz It featured 12 original tracks that made it to number 41 on the Billboard charts. Eazy witnessed sales of millions of copies of the album. 
Before getting married to Eazy-E in 1995, Tomica generated revenue from Tabu Records as a secretary for the label founder, Clarence Avant. Later, she even collaborated with Clarence for another label, Motown Records. In 2016, Tomica fought a legal battle against her stepson, Erin Wright for the trademark infringement of her late husband's record label.
Dating In 90's: Met Future-Husband At Nightclub
Tomica started dating Eazy after they met each other at a nightclub back in 1991. The pair tied the nuptials on 19 March 1995. Their marriage only lasted about 12 days till Eazy's death on 26 March 1995.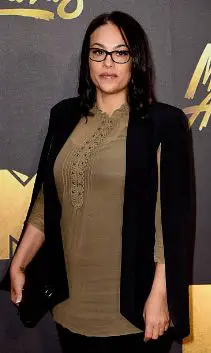 Tomica Wright photographed at the 2016's MTV Awards (Photo: gettyimages.com)
Together, they have two kids, a son named, Dominick, and a daughter, Daijah. The daughter was born at Cedars-Sinai Medical Center in Los Angeles, six months after Eazy's death.
How Did Eazy-E Die?
Back then, Eazy was believed to have Asthma from a recurring cough. He was admitted to Cedars-Sinai Medical Center on 24 February 1995, reportedly from the illness. But later it was revealed that he was contaminated with HIV infection from a sexual partner.
The rapper announced his illness in a statement on 16 March 1995. The rapper died after a month of being diagnosed with HIV on 26 March 1995.
One of Eazy-E's sons, Yung Eazy in his 2003 Jimmy Kimmel interview said that a woman named Suge Knight was responsible for contaminating his father with HIV.
Short Bio
Tomica Wright was born on 7 December 1969 in California, as per wiki. She belongs to Afro American ethnic group. Her birth sign is Sagittarius. 
Wright has the height of 1.98m (6' 6''). She was taller in terms of height than her late husband, Eazy-E.