When the two heart are meant for each other, nothing can break them apart, not even physical appearances. Reality Tv star, Tori Roloff and her husband Zach Roloff are perfect illustrations of it. Despite having height differences, she married Zach and her love for husband sprayed the fragrances of true love, and set a watermark in the show TLC's Little People, Big World. 
Tori, who is a soon-to-become mother of her second child, maintain a good fortune and success along with her husband and kids.
Expecting Second Child
Tori Roloff and her husband, Zach Roloff, are becoming parents of two!
In May 2019, she came out with happy news of pregnancy with US Weekly saying that her first child, Jackson, is going to be a big brother. Tori, who is in an early trimester, has her due date for delivery in November 2019.
She is happy about her second baby, but side-by-side she is facing difficulties. When one of her Instagram followers asked her if her pregnancy has been easier than first, she replied via Instagram stories that her pregnancy hasn't exactly been an easy one. On the story, she wrote;
"A lot harder. But still easy. If that makes sense. I had no symptoms with J [Jackson] other than egg aversion. I've got all the symptoms this time."
Concerning her pregnancy, Zach's mom, Peggy apologized for appearing to have insulted before on Instagram and mentioned her as a lovely baby maker.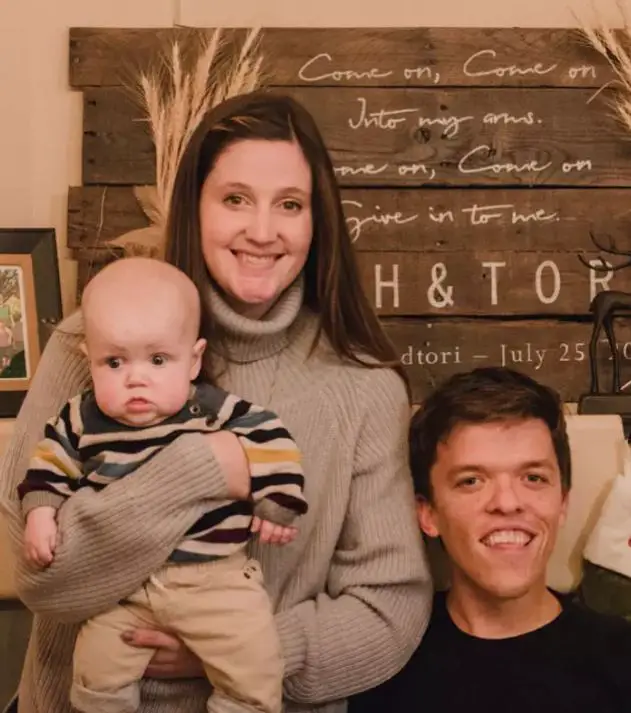 Tori Roloff with her husband, Zach, and baby son (Photo: thehollywoodgossip.com) 
Tori and her spouse Zach Roloff also have their son, Jackson who was born in May 2017. Currently, they are on the quest of welcoming their second child. 
Discover This: Michelle Alegria Age, Husband, Parents, Salary
Wedding, Husband
Despite the height differences, Victoria Elizabeth Patton, aka Tori Roloff relishes her romantic life with her husband, Zach Roloff. They first met in 2010 when she was hired with very busy pumpkin by Zach's family, and things turned romantic with their first date of over five hours.
The couple dated for four years and Zach made his move proposing Tori to become his wife on 30 April 2014 with an engagement ring. As the couple got engaged, Zach shared his happy news on his Facebook.
After a year, Tori shared her wedding vows with her boyfriend-turned-husband on 25 July 2015 in Zach's family farm. Over 185 guest attended the ceremony where Tori appeared in a flowing off-white gown, and Zach accompanied her with a classic suit. Also, their marriage ceremony aired on TLC after a month of their nuptial tie. 
Since then, the couple has been savoring the happy married life together. 
Never Miss: Ashlyn Harris Married, Career, Net Worth, Bio
Net Worth
Tori Roloff is a reality tv personality starring on the TLC's show Little People, Big World which costs about $250,000 per episode for its buildup.  Although the total earnings of Tori are unknown, she and Zach get paid with 10% of each episode's budget, which means they grab around $25,000 per episode in the TLC's series. Before, Tori served as a kindergarten teacher. 
On the other hand, her husband, Zach Roloff has an estimated net worth of  about$300 thousand which he garnered as being the cast member of the show alongside Tori. Besides that, he took part in a basketball game between wrestlers and little people, "WWE Tough Enough."
You May Like This: Leigh Ann Caldwell Wiki, Age, Husband, Parents
Bio, Age
Born as Victoria Elizabeth Patton in 1991, in Portland, Oregon, the United States, Tori Patton (Roloff) celebrates her birthday on 3 May. The Portland native is taller than her husband, Zach who stands the height of 4 feet and 2 inches (1.3 meters) tall. She is currently 28 years old in age.
Tori encloses a close bond with her family members and often showcases her love dimensions to her parents through social media platforms. As per her Instagram, she reportedly has a sister named Kylie