Raising a child as a single parent is the most challenging job anyone can have. And when the single woman is engaged in a demanding profession like journalism, then the challenges she faces is a whole new level. The American Journalist, Tracye Hutchins also has a similar story to share as she raised her daughter as a single mother so far. She serves as a co-anchor for CBS46 at 4, 5, 6 and 11 p.m.
Career and Progression:
Tracye Hutchins joined CBS46 as the co-host of a morning show in 2007. She covered various events in the community and interviewed celebrities until she was placed to evenings show in 2013. Before joining CBS46 in Atlanta, she served as a presenter for the CBS affiliate KFMB in San Diego, California.
She also worked at CNN Headline News for four years, where she covered daily health stories, entertainment features, and world news events. She made a live coverage of several significant events including the capture of expelled Iraqi leader Saddam Hussein and the break-up of the Columbia space shuttle over Texas.
Hutchins has spent over two decades in covering the news from within and outside the country. She hasn't explicitly announced her earnings and salary to the media, but given her endeavors in the broadcasting sector, Tracye must have maintained a hefty net worth in hundreds of thousand dollars.
Divorced with ex-husband, but Loves her Daughter!
Everybody is acquainted with the professional achievements, but not many know about the life Tracye lives behind the camera.
Tracye was previously married to Steve Overmyer, the American TV news presenter, and has a daughter from him. According to her interview with Style Blue Print magazine, she shared the wedding vow with former husband before moving to Atlanta in 2001 and already had a young child at the time.
The couple turned their marital relationship into divorce on 2003, and their daughter has been residing with Tracye since then. The responsible mother seems much concerned about her daughter and often posts their fun moments on social media.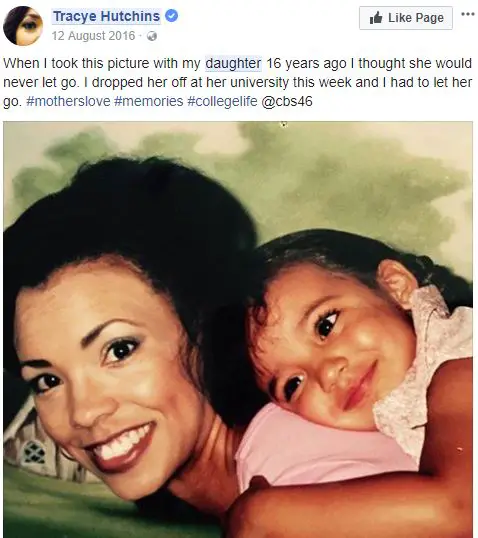 In August 2016, she uploaded their throwback picture and shared that her daughter has started going to University.
Her Short Bio and Family:
As per a wiki source, Tracye Hutchins celebrates her birthday on January 19. The information about her age remains to get disclosed, but she must be somewhere in late-thirties or forties. She grew up in Las Vegas, and her mother died of breast cancer in 2012. Hutchins belongs to mixed ethnicity and is an American national. She is blessed with an impressive height and maintained physique which resulted through her hard work in the gym.