Music has several genres as per the taste of the listeners. Among them, rap has undoubtedly made its way to the modern musical sphere, with its roots going back to the 70s. Rapper Trapboy Freddy stepped into this career not so long ago, but he has made a name for himself.
His popular mixtapes include Trapboy Freddy Krueger, third quarter and fourth quarter. Besides that, he has also featured the famous rapper MO3 in his song Can't Double Us.
Wiki- Age, Birthday & Net Worth
Hip hop artist Trapboy Freddy was born in 1992 in Dallas, Texas. The 27 years rapper, whose real name is Devarius Moore, celebrates his birthday on the 14th of January every year.
Trapboy has actively participated in the hip hop industry from the mid-2010s. He started with few mixtape releases, guest verses, and other performances in and around Dallas. He truly started going deep in rapping after he turned the age of 22.
Also, See: Antonia Wright Net Worth
Crawling up the way from a poverty-stricken youngster, he accumulated a considerable catalog of self-released mixtapes and hit the local clubs. He quickly got the attention of the listeners and became a significant show in the club. Trapboy's self-released tapes include a four-volume series. It starts with 2014's first quarter, 2016's Trapboy Freddy Krueger, the 2018's No Feelings, and Rockboy Freddy 2020 Flow.
At the end of 2018, Trapboy already had several credits under his name. He also co-headlined tapes with artists Slezzy Bezzy and Go Yayo.
With all these credits, the rapper makes a massive amount of annual income. The artist mainly gets his money from his songs and shows. The budding artist does not shy away from showing his benjamins on social media. His expensive rings, chains, and lockets are enough to describe his net worth. His Instagram posts say it all.
Family
Devarius's upbringing is a bit different from any other normal kid. He has never seen his biological dad. In an interview dated September 2 of 2018, he opened up about his rough childhood. Growing up, Moore had three fathers. He was the youngest of five siblings. Sadly, one of his brothers got in a severe car accident at some point and is now recovering.
With his father unknown, the future-rapper became the man of the house in his early teens. He admitted that his mother had to steal to suffice the needs of five children. But eventually, she got busted and was sent behind bars. This incident made the young man move to Houston.
Also, Explore: Bow Wow Wiki, Married, Wife, Girlfriend or Gay    
As for his other family members, Devarius is close to his grandmother. He wished her on September 10 of 2019 via his facebook. He also shared a picture of one of her nieces. As it seems, his sister is also in jail for technical violations. She supposedly got sentenced for 15 years.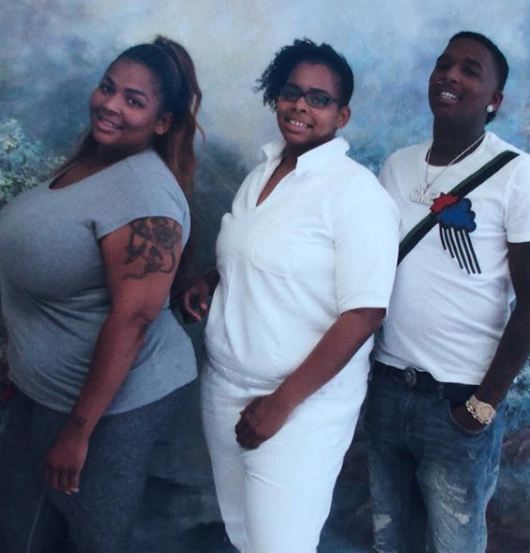 Trapboy Freddy with sisters on September 3, 2018(Photo: Trapboy Freddy's Instagram)
Other than his family, Moore has not partaken in any romantic relationship publicly. He jokingly shares some love tweets now and then, but there is no proof.
You Will Also Enjoy: Riz Ahmed Married, Wife, Girlfriend or Gay, Dating and Net Worth
2019-Facts
Some of the facts surrounding our beloved rapper Trapboy are:
He used to sell drugs out of desperation as a child. The rapper even went in and out of jails until he was 21 years old and is under ten years of probation. 
 

He performs and spends some money on strip clubs to this day.
 

He stated that his stage name Trapboy Freddy denoted his meaning behind the music. It is a trap, and a means to express his past.

In November of 2018, Moore was booked to jail when he tried to avoid arrest for public smoking. After bail, he posted a video of the police beating him unnecessarily even when he was unarmed. Trapdoor posted his latest video in May of 2019. Ironically, the song starts with the footage of him being arrested and beaten by the police.