Age is just a number when you decide to grab success and devote all your energy to the process. Let's take Trill Sammy for instance who despite being a teenage rapper has achieved the recognition that many struggling rappers don't receive even after years. Trill Sammy is popular for his song 'Trapping' and 'Just Watch' with rapper Dice Soho.
Career and Progression:
Trill Sammy first started doing freestyle rapping on Twitter and created some buzz. His song 'Trappin" elevated his fame into mainstream Houston culture, and he was encouraged to record next single. In 2015, Sammy released his single, 'Whole Sale' which also contributed to expanding his fame.
Similarly, he launched another single 'Check Out' and debut EP, Red Album in the year 2016. The rapper has a concert with Maxo Kream, No Jumper and others at Austin, Texas on 24 October 2017. His competence helped him gain praise and attention from several acclaimed artists including rapper Slim Jimmy. As of now, the rapper has around 1M followers in the Instagram account and 277K followers in twitter account.
How Much is Trill's Net Worth?
Along with the recognition and fame, Trill Sammy has also summoned enormous fortune with his singles and musical tours. On 11 July 2016, the rapper announced via Twitter that his net worth had gone much above the $150 thousand figure. He made the audience known that his total revenue crosses the mark, but hasn't revealed the actual amount of net worth until now.
Is Trill Dating Someone? Or is Single?
The rapper with massive fandom seems to have some close female friends who often appear in his social media posts. In September 2015, Sammy posted a tweet addressing Shannon Clermont, who happens to be a former TV star. Again on October 22, 2015, he mentioned her in a next tweet where he referred her as 'girlfriend.'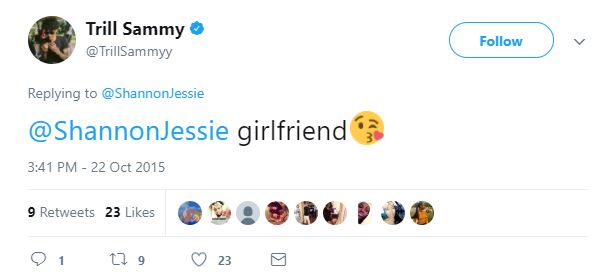 His tweets did raise a lot of eyebrows, but both of the celebs remained mum on their relationship. And just after the rumors had stopped, the rapper uploaded an adorable picture with Znuie, who is a singer from the group 'Ceraadi' and YouTuber and made his relationship status doubtful again.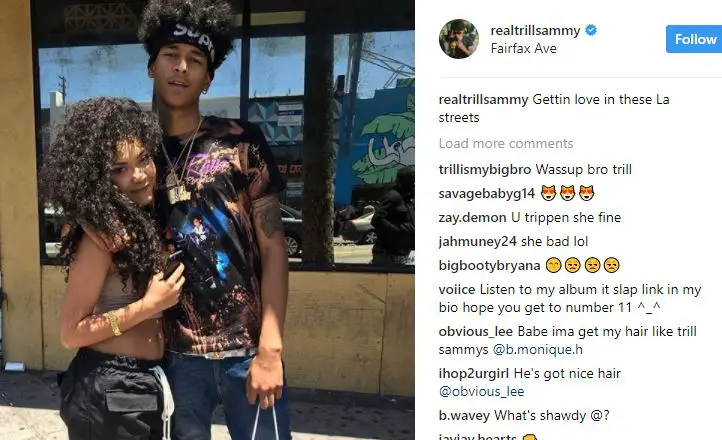 As of now, the rapper has stayed private about his relationship and hasn't announced whether or not he is dating anyone.
His Short Bio:
According to a wiki source, Trill Sammy celebrates his birthday on November 30. He was born in 1997 in Texas, USA and is currently 19 years of age. Speaking of his family, Sammy is very close to his mother who couldn't believe his success when it first started. The rapper holds American nationality, but his ethnicity is Puerto Rican and African. He stands tall at the height of 6 feet 3 inches which matches his appearance.