American reality star Tyler Henry is a clairvoyant, who is famous for appearing in the E! News 2016 television program, Hollywood Medium with Tyler Henry. He is most proficiently known for his telepathic abilities to comfort and tactfully present the information to people with a message of hope, closure, and forgiveness.
Gay Life: Photographer Boyfriend's Grandfather Appears In His Dream
The Hollywood Medium star is an openly gay and doesn't hesitate about his sexuality. During his 2016 interview for Xfinity, Tyler was asked about his life inspirations. The fortune teller then admitted that being a gay affects his personal life whereas being a Medium affects all of his life.
The 22-year-old psychic has been dating his photographer boyfriend, Clint Godwin for over a year now. He flaunted his relationship on his Instagram and often shares pictures on his Instagram. He shared Valentine's day snap with his boyfriend Clint on 15 February 2018.
Tyler posted another picture with his boyfriend before he went for his three days show in Florida in June 2018.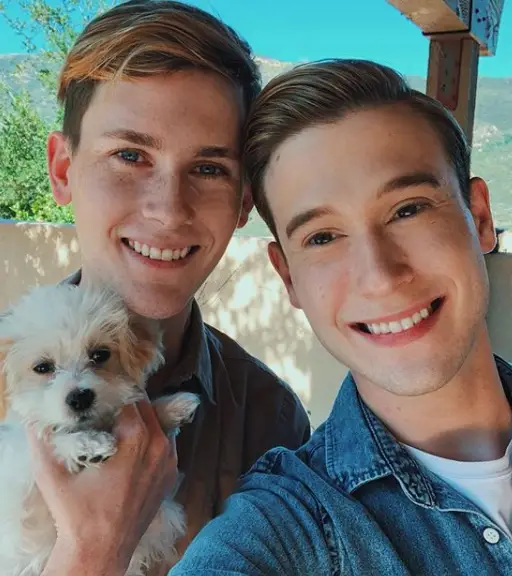 Tyler Henry with boyfriend, Clint Godwin on 20 June 2018 (Photo: Instagram)
The pair were in all smiles before Tyler was about to make a trip to the Southern States of the United States.
He had expressed his feeling of joy to be with his boyfriend during his interview for E! Online in February 2018. The clairvoyant revealed that he is exceptionally happy with his relationship. In the interview, he mentioned that they didn't meet through a mutual friend or on a dating website. He added that Clint's mother was his client and they met through her.
Tyler had also confessed the TooFab magazine in 2018 that his boyfriend's late grandfather messaged him continuously. Henry told TooFab that his partner's grandfather had come through in a dream and gave the messages about how he died and why he died.
How Much Is Tyler Henry's Net Worth?
The Television personality has accumulated the net worth of $3 million from his fortune-telling stint since 2015. He has been elevating the most prominent part of his earnings through the E! Online TV show, Hollywood Medium with Tyler Henry. 
He also received earnings from publishing his memoir, Between Two Worlds: Lessons from the Other Side in November 2016. Tyler further summoned his paychecks after appearing in E! Network's highest-rated reality show, Keeping Up With the Kardashian in November 2015.
He had mentioned that he noticed his clairvoyant abilities when he was just ten years old. He starred in the third season of Hollywood Medium with Tyler Henry. In the finale of the third season, he clarified Michael Jackson's death to his sister, La Toya Jackson.
Life With Religious Parents; Predicts Grandmother's Death At Age Ten
Tyler is the only child of parents David and Theresa Koelewyn. Both his father and mother are devoutly Christian and have become more religious in their beliefs. He is mostly close to his mother, who sometimes appears in his TV show, Hollywood Medium with Tyler Henry.
The forecaster was ten years old when he had visioned of his grandmother passing. He later told about his prediction to his mother, Theresa warning the family to see his sick grandmother, who was a Cancer patient. Soon after his warning, his mother got the phone call that his grandma had passed away.
Short Bio
Tyler Henry was born on 13 January 1996 in Hanford, CA as per wiki. His birth sign is Capricorn.
The clairvoyant went to Sierra Pacific High School and later attended college to become a hospice nurse.