Tyler Oakley is prominent for his self-titled YouTube channel. His channel includes videos like vlogs, reactions videos, his experience, and his knowledge. His impressive and entertaining videos have accumulated gigantic 7.32 million subscribers on his YouTube channel and 5.9 million followers on his Instagram.
Tyler received the Teen Choice Award for Most Popular Male Web Star in 2014. Also, a documentary called "SNERVOUS" is made upon his life by the filmmaker Amy Rice in 2015. 
Bio And Education
Tyler was born on 22 March 1989 in Jackson, MI, with a full name Mathew Tyler Oakley. His mother's name is Jackie Oakley, and he attended Michigan State University for his higher education. 
Tyler had first started posing videos in 2007 to connect with his college friends at Michigan State University.
Tyler's Sexuality
Tayler is openly gay. He first came out gay at the age of eleven to his mother. However, he suspects his parents knew he was gay from the beginning.
Following the revelation to his family, his mother, and step-father accepted his reality. But, his born-again Christian father and stepmom found it hard accepting. 
Celebrity Gay Couple:- Bretman Rock Wiki: Real Name, Sister, Net Worth, Gay
Regardless of the family situation, Tyler works at the forefront of gay politics and culture. 
Who Is Tyler Oakley Dating? 
Tyler is in a dating relationship with Anthony Russo- product manager at Netflix and Wearenetflix. He and Anthony first met via Bumble-an online dating app in 2018.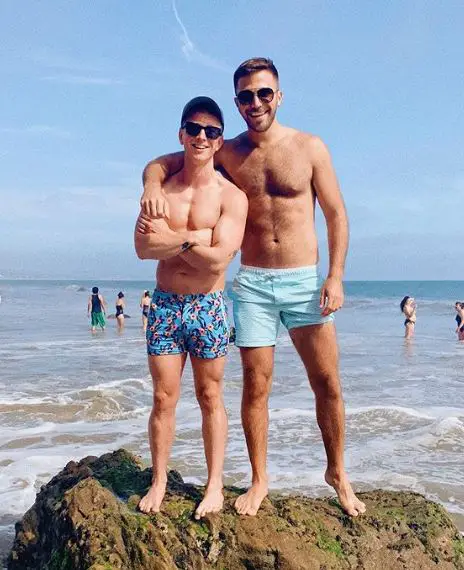 Tyler Oakley with boyfriend Anthony Russo at El Matador Beach, Malibu, in August 2019. (Photo: Tyler Oakley's Instagram)
As of now, the pair have come a long way, sharing their intimate relationship and moments on their social platforms. They also attended the Coachella in April 2019. 
Tyler's Past Relationship Details
Before Anthony, Tyler was linked up with figure skater, Adam Rippon during 2018. The rumor aroused when Adam got featured on Tyler's YouTube channel in February 2018 and was again spotted together on Adam's Instagram the next day.
Apart from the rumor, Tyler was in a real relationship with YouTuber and pop singer, Troye Sivan, during 2014. They first met at Playlist Live, and surprisingly, their first-talk moment was captured in a picture. They even made a video together titled The "Boyfriend" Tag (ft. Troye Sivan) on 14 February 2014. 
Explore:- Scott Tweedie Bio: From Age, Dating, Gay, Parents & More 
Further, Tyler also shared the difficult life phase he had gone through when he was with someone abusive in college. His story can be acknowledged on Seventeen cover story of 2015 and in the book, Binge.
Net Worth Related 
According to Celebrity Net Worth, Tyler has amassed a net worth of a massive 8 million.