Ulices Chaidez is a Latin singer, mostly known for his role in the band Ulices Chaidez y Sus Plebes. At just 19 years of age, Chaidez has already managed to take the Latin music industry into the grasp of his palm.
The Sinaloa native started playing the drums at the age of six as his father and his grandfather influenced him. Besides drums, he also plays the guitar, fife and the bass. He first started out by playing in festivals and local talent competitions. And thus began a steady climb that has now seen this young singer make the headlines for all the right reasons.
Is Ulices Dating?
It comes as no surprise to find out the Ulices Chaidez is dating his girlfriend, Latin singer Carolina Ross. Both the couple are involved in the same field, which has made them easier to walked on their romantic path of life.
Ulices and Ross's relationship reportedly began in 2017 and since then, have been going strong as it could ever be. As reported by naciongruperamx.com, the love duo met each other via Facebook.
Read More: Rebecca Romney Husband, Net Worth, Family
A closer look at Ulices's Instagram can give you a romantic view of his budding romance with Ross. They often are seen cuddling up and showing off their love dimension in social media. Ulices has even celebrated his second birthday with a girlfriend.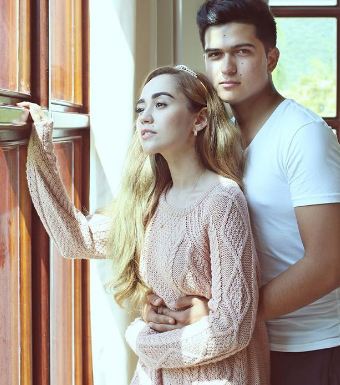 Ulices Chaidez alongside his girlfriend, Calorina Ross (Photo: Instagram)
Regardless of their intimacy, neither Ulices nor his girlfriend has remained vocal about their engagement and marriage plan. It seems like the heartthrob pair are not in a hurry to get married.
Net Worth
Ulices Chaidez has been singing since the age of six. He plays the guitar, fife, drums, and bass. His incredible voice has managed to grasp the attention of his listeners. Currently, he applies his trade in the band Ulices Chaidez y Sus Plebes.
In August 2016, the band released their first single "Andamos en el Ruedo."The single went on to top several Latin charts, and the band was then profiled in the Billboards. The following October, the band released their debut full-length also titled the same Andamos en el Ruedo, which went on to great success.
Besides singing, Ulices also runs his own Youtube channel named Ulices Chaidez where he uploads music videos and songs like Para Describirte, No Cabe Duda and few more. The channel has over 177k subscribers that helped him to rake chunks of income.
Along with that, he also has a large number of the tour scheduled to take place in 2019. He is about to perform at Preston Event Center on 28 June in Louisville, KY.
You Might Enjoy: Tanner Tolbert Job, Net Worth, Wife, Children
Pairing his income from his album sales, YouTube and tours, Ulices could have a net worth well in the range of thousands.
Wiki & Bio: Family
Ulices Chaidez was born in 1999 in Sinaloa, Mexico and celebrates his birthday on the 23rd of October every year. His family members consist of his father, mother, and his three siblings sisters.
Ulices's family members are involved in farming; his father is head of greenhouses in an agricultural field whereas his mother is a housewife.
As for his height, the exact measurements have never been disclosed, but he is taller than his girlfriend, Carolina Ross who stands at the height of 5' 7."