Vanessa Lachey is a TV actress, host, and beauty pageant winner. 
She has appeared in the 2013 sitcom Dads and 1987 TV series The Bold and the Beautiful. She is the former co-host of MTV's Total Request Live and the winner of Miss Teen USA (1997) as well as Miss South Carolina (1996). 
Wedding
Vanessa Lachey has been married to Nick Lachey-vocalist of 98 Degrees- since 15 July 2011. They had their wedding on the private island of Richard Branson in the British Virgin Islands. The wedding was arranged by the celebrity planner Sharon Sacks. 
Renown Star: Alicia Atout Married Status Now, Dating, Height & More
The wedding was set private and paparazzi free- Sharon had taken fireworks permits to avoid helicopter and paparazzi around the island. The ceremony included 35 family and friends. 
On the big day, Vanessa was clad in a two-piece Monique Lhuillier ensemble while Nick wore a tuxedo. 
Vanessa Minnillo & Husband Nick Lachey
Vanessa first met Nick on the set of TRL, which she hosted from 2003-2007. However, they started dating when Vanessa starred in Nick's video What's Left of Me- The pair can be seen flirting and getting cozy on the MTV Making the Video episode that aired in April 2006. 
They made their relationship public in December 2006 after they shared an on-air kiss at the MTV's New Year's Eve show. 
Kids
Vanessa and Nick are parents to three children- two sons and a daughter.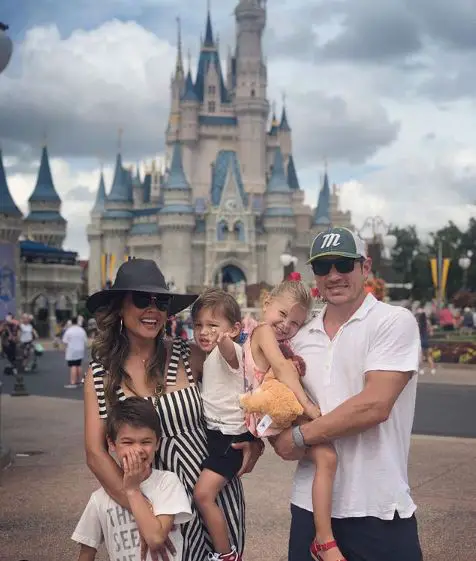 Vanessa Minnillo with husband Nick Lachey and kids at Walt Disney World in October 2019 (Photo: Vanessa Minnillo's Instagram)
Their first child Camden John Lachey was born on 12 September 2012, the second baby girl Brooklyn Elisabeth Lachey arrived on 5 January 2015 and the third child (second son) Phoenix got delivered on 24 December 2016. 
Bio And Family
Vanessa Minnillo was born on 9 November 1980 in Angeles City, Philippines. Her mother Helen Ramos Bercero is Filipina and her father Vincent Charles Minnillo is an American and half Italian. He worked as a crew member on an Air Force aircraft. 
Another TV Actress: Leslie Bibb's Relationship With Long term Boyfriend, Net Worth & Bio
The family moved to Los Angeles a year after Vaness was born. Her parents got divorced in 1986. Thereafter, she including her mother and adopted elder brother Vincent moved to Turkey with their new step-father.
However, they returned to the USA to their father and step-mother Donna after Saddam Hussein invaded Kuwait in 1990.
Interesting Facts
Nick and Venessa were rumored to have split in January 2007 to which Vanessa had denied via US Weekly. However, they split in June 2009 for real and got patched up in August 2009. 

They got engaged in November 2010. Nick had proposed Vanessa with a platinum, asscher-cut diamond ring. 

Vanessa has not met her mother Helen Bondoc since she was nine and hasn't spoken since 2002. 

Vanessa's mother accused Vanessa of not inviting her to the wedding. America's Star magazine had shown her Vanessa and Nick's wedding pictures in August 2011.