Nowadays, social networking sites have become one of the fastest methods to rise towards the stardom. Similarly, Instagram star, Victoria Waldrip has been able to earn some incredible fanbase from all over the world after she made a controversial statement regarding her skin color and other controversial activities. She has also gathered attention by making criticisms to notable celebrities. Follow the journey if you are unknown about the Instagram star as today we will cover all the details about her.
Victoria's Rise To Stardom And Net Worth
Victoria joined Instagram with the username 'woahhvicky' and later, she changed it to 'imwoahvicky.' However, she has gathered herself over 1.6 million followers on Instagram and often post pictures of clothing accessories of various luxury brands.
The blond and fair-skinned Victoria got attention on social media when she claimed to be black while mocking black culture. She was also known as an artist who released diss track against Asian YouTuber, RiceGum. Meanwhile, she was also arrested for assaulting a police officer, which helped her to gather attention in public.
The 18-year-old Instagram model is one of the wealthiest girls and has gathered herself some extraordinary net worth which is yet to be revealed. On her Instagram pictures, she is seen with tons of money in her hands and poses with different cars. Her earnings are mostly from the social sites, and nevertheless, she has generated herself some considerable amount through her YouTube channel and other social platforms.
Arrested For Assaulting Police Officer
According to the Greensboro Police Department in North Carolina, Victoria got arrested for assaulting the law enforcement officer on 24 February 2018. The Instagram star was arrested at the Four Seasons Town Center Mall and was charged with trespassing and resisting the arrest of the police officer. She allegedly kicked him during the ruckus in the false report an of an active shooter.
When they received the report of the shooter at the Greensboro mall, dispatchers arrived in the scene and were able to confirm the statement was false. Victoria was the only person to get arrested at the scene and taken to the custody. She was given multiple chances to leave the scene, yet she trespassed assaulting the police officer.
She got released after spending a day in prison on 25 February. Within her release, she posted a video on her Instagram hugging a black man and claimed that the police were racist towards her.
Who Is Victoria Dating?
Victoria is dating the rapper, Lil Virgin. The lovebirds are currently active on social media, and their romance is pretty much a hot topic right now on Instagram.Though there is no information on their dating history and how those lovebirds met each other, looking through their Instagram post, we can ascertain that they are enjoying a healthy relationship.
In April 2018, the pair went to visit Glendale, California and Victoria posted their photo on her Instagram. Her boyfriend, Lil is seen carrying her on his shoulder, and Victoria seems to enjoy her moment with him. Why wouldn't she enjoy the moment when her caption goes like, 'I Don't Wanna Live If I Can't Be With You!.'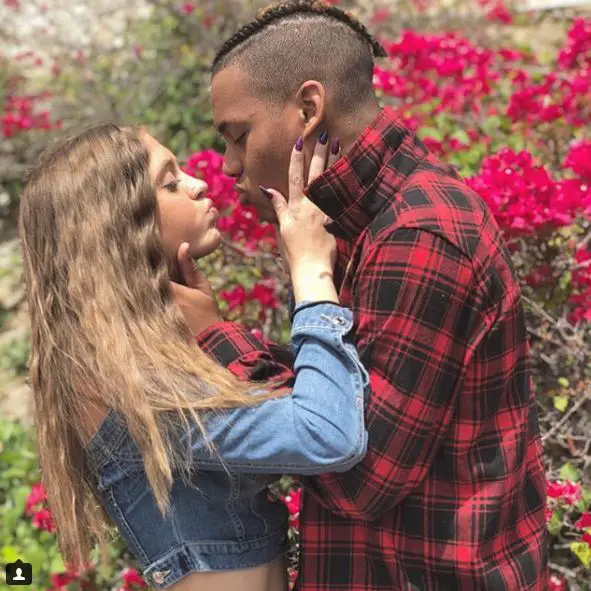 Victoria Waldrip with her boyfriend Lil Virgin (Photo: Instagram)
The lovebirds are active on Instagram and keep on posting their pictures with each other. Victoria, who is currently at the age of 18, is focusing on uplifting her romance with Lil. Their fans adore their relationship, and they continue to be a hot topic generating attention to the public.
Family Life
Victoria's father is Steve Waldrip, and her mother is Carla Johnson. Steve is a successful entrepreneur whose business bloomed when he opened his homebuilding management in the 1980s. She also has an older sister; however, both the siblings are not in touch with each other.
Short Bio: Dispute Of Her Ethnicity
Victoria was born on 7 March 2000, and her hometown is in Atlanta, Georgia. She belongs to American nationality, and as far as her ethnicity is concerned, she claims to be African-American. But as per wiki, both of her parents belong to Caucasian ethnicity. Regardless of that, Victoria has insisted that her black ethnicity comes from her father, Steve Waldrip, who never knew the fact that he was mixed-race. Despite presenting herself as black on social media, her ethnicity is registered as white in the police department.