Vitaly Zdorovetskiy has widely gained popularity by his YouTube username VitalyzdTV. He has gathered more than 1 billion views and over 9 million subscribers in his main channel videos on June 2016. He had dreamed of becoming a professional skateboarder from an early age. He tried it but he gave up later due to injuries. When he turned at the age of 20 he played an adult film scene with adult star Diamond Kitty for the company Bang Bros in 2011. 
Personal Life 
Vitaly relishes the romantic bond with his model girlfriend, Kinsey Wolanski.
The couple initiated their dating relationship in 2018 and are in the run of a year-long romance with lots of romantic memories. They even had a trip to 13 different countries during their affairs.
And most prominently, he and his lady love, Kinsey celebrated their first anniversary on 18 May 2019.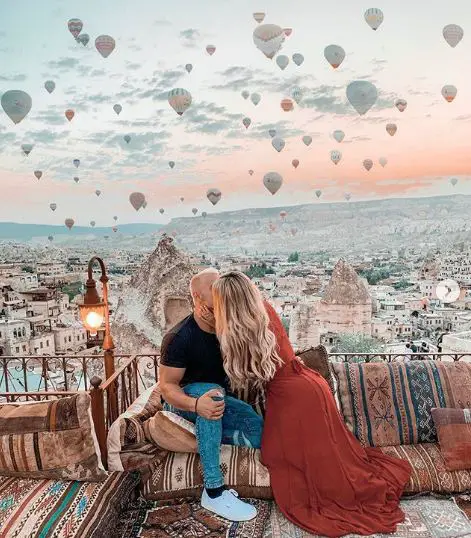 Vitaly and his girlfriend, Kinsey during their first anniversary in 2019 (Photo: Kinsey's Instagram) 
His girlfriend Kinsey Wolanski is a model who was featured in Maxim, Sports Illustrated, and FHM. Also, she has covered The BLVD Magazine and has two nationwide commercials. 
As of now, the duo is not married but they relish their life as an aspiring lovebird. Similarly, as his relationship proves that he is straight, he is not gay.
Girlfriend Invaded Pitch During Champions League Finale
Vitaly Zdorovetskiy's model girlfriend, Kinsey Wolanski came to the spotlight when she ran across the Champions League Finale game of Liverpool vs Tottenham Hotspurs on 1 June 2019. She invaded the ongoing match wearing a skimpy swimwear with the text; 'Vitaly Uncensored' which led her the rocketing followers of 1.5 million on her Instagram in the space of a night.
She was quickly escorted out of the pitch after she got caught by the securities. 
Also Read: Giorgio Tsoukalos Wife, Net Worth, Salary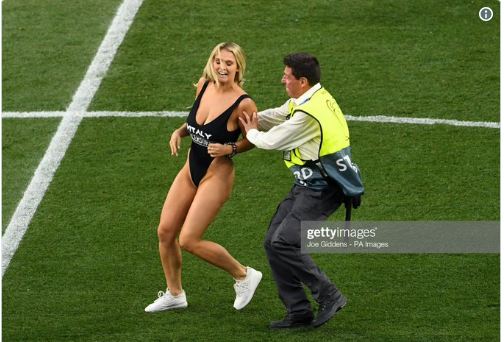 Vitaly's girlfriend, Kinsey invading the pitch during CL Finals (Photo: Getty Images) 
After the incident, she announced with a post on social media that she wanted to have crazy moments in her life which she would remember for a lifetime.
On the other hand, her boyfriend Vitaly could not miss exhibiting his excitement over Kinsey's action during the game. He proudly asserted his willingness to marry her soon.
Back in the Worldcup 2014, Vitaly himself had set up for the pitch run. He ran over the ground with his Tees turned over his head showing the words "Natural born prankster" written on his chest.
Net Worth And Career 
Vitaly Zdorovetskiy, who has an estimated net worth of $7 million garners his fortunes from the professional career as a comedian. He firstly got immense success from his video "Miami Zombie Attack Prank" in 2012 and had  30 million viewers by January. He acted so hilariously some time that he dressed up as Zombie and tried to scare the neighbors.
His other video "A sequel video prank" was viewed five million times within a week on YouTube which was produced in Columbus, Ohio. His blog channel has been viewed 18 million times and it has 1.7 million subscribers.
His video "Extreme Homeless Man Makeover" was released on July 20, 2013. This video is really amazing and his work has inspired many people. In this video, he makes a friend named Martin and provides him new clothes and a hotel room. Martin got so much benefited that even his wife reunited with him. He ran shirtless on a court at NBA finals and was arrested. 
Discover More: Claire Saffitz Wiki, Age, Husband, Family
Short Bio, Wiki, Measurements 
Vitaly Zdorovetskiy was born in Murmansk, Murmansk Oblast, Russia in 1992 and he celebrates his birthday on 8 March. His parents raised him in Odesa, Ukraine. After some years, he shifted to Florida and pursued his education from Park Vista Community High School for two years in Florida.
He is currently living with his mother in Los Angeles, California. He has the good height that is 5 feet 10 inch tall and he is more concentrated on his height and weight.