As a plus-size dancer, Whitney Way Thore has been an inspiration and confidence of millions of girls who are going through weight issues. Despite suffering from Polycystic Ovarian Syndrome (PCOS), she did not let her body weight to come in between her passion and success.
Moreover, she further turned her so-called flaw (plus-size) into the strength, and as of now, she is renown worldwide as activist, dancer, social media star, and a TV personality. 
Whitney Way is noted for her appearances on the television program, 'My Big Fat Fabulous Life' on TLC. Additionally, she also runs a No Body Shame online campaign for promoting 'Positive body image' and obesity. Apart from that, she is the author of "I Do It with the Lights On And 10 More Discoveries on the Road to a Blissfully Shame-Free Life", released in May 2016. 
Whitney Way's Wiki 
Whitey Way Thore was born on April 14, 1984, in Greensboro, North Carolina, United States. She is a daughter of Glenn and Barbara Thore and has an older brother, Hunter.
Except for this, information about her family or early life is not available. However, it is known that Whitney achieved her education from Meredith College and Page High School. In 2000 she was accepted at the Governor's School of North Carolina of Meredith College, where she got enrolled with Theatre Summer Enrichment Program. Later, she graduated from Page High School in 2002 and then went to the Appalachian State University of Boone, North Carolina, to major in Theatre. 
Famous for her body moves despite being plus size, Whitney weighs 264.5 lbs (120 kg), and her height is average with 162.5 cm (5 ft 4 inch ).
Do Not Miss: Blameitonkway Wiki, Age, Girlfriend, Is He Gay or Straight?
Career Journey
After her graduation, Whitney Way moved to South Korea and did the job of an English teacher of schoolchildren for a while. Later, she returned to her home place and served as the on-air producer of radio show named Jared & Katie in the Morning on 107.5 KZL.  
Interesting: Gabrielle Carteris Married Life, Gay/Lesbian Rumors, Net Worth, Bio
In February 2014, the video of Whitney dancing titled "A Fat Girl Dancing" was uploaded in KAL'S YouTube channel. Unexpectedly, the video gained national attention, and Whitney started getting featured in numerous tabloids including 'Today Show,' 'The Huffington Post' and 'ABC News.' Following the popularity, she made a blog and website titled No Body Shame in 2014, where she conveys a message about body acceptance and body positivity.
Her work got numerous love and appreciation; as a result, her career took an immense jump when her story got premiered on TLC titled My Big Fat Fabulous Life in 2015. The show demonstrates Whitney Way Thore's life (her weight loss journey) alongside her family. 
How Much Is Whitney's Net Worth?
As a dancer, TV personality, blogger, and social media star, Whitney must have accumulated a significant amount of net worth, which is not disclosed yet.
Note: The average salary of a TV personality is expected to be $44,624 per year and the least paid salary is $18000, similarly, the highest is $78,500. Since Whitney is a celebrated TV personality, she must be enjoying the fortune of the est salary. 
Is Whitney Way Thore Married? Her Husband 
Whitney is not married yet; but, hopefully, Whitney will soon be a bride as she has gotten engaged to her boyfriend, Chase Severino, on 9 October 2019. However, they took longer to make it public. After two months of their engagement, in 3rd December, 2019m Whitney finally announced it on her Instagram account; with a picture of them where she wrote: 
Chase and I got engaged on October 9th in Paris and I'm quite possibly the happiest woman alive. It has been REAL hard to keep this a secret!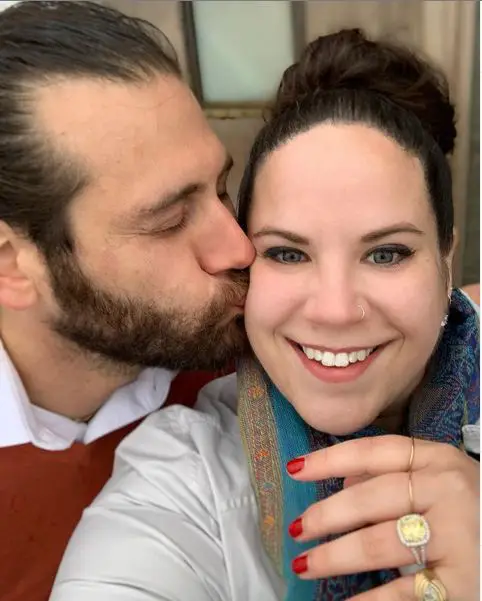 Whitney Way Thore announced her engagement with her boyfriend Chase Severino via Instagram on 3 December 2019. (Photo: Instagram)
Before this, she had never stated about her relationship with Chase, but she used to post tons of pictures with him together. The first picture she posted with Chase was on 7 June 2019, wishing him on his birthday.
Their first meet up was through their common friend, Chase's best friend, and Whitney's NoBs business partner, Ryan Andreas. It was Whitney who first approached Chase with the help of Ryan. 
Not to forget, Chase is not only the love interest of this chubby beauty; before Chase, she was linked with Buddy Bell and Lennie Alehate. 
Bisexual Related
In the season 3B of My Big Fat Fabulous Life, Whitney was filmed getting close with another woman and kissing her, saying she is feeling the vibe. She had split from her long term boyfriend, Lennie Alehate, during the scene. However, Whitney never vocalized about the topic and let it fade away with the passing time.
But as she has found in love in a new man recently, the allegations about her sexuality seems to be just a waste of wonder.
What Does Whitney Habe To Say On Her Weight Loss?
The beautiful dancer, Whitney, is never ashamed about her plus-size body but is concerned about her mental health. As she believes the value does not increase even if the weight does, she prefers to live healthy behavior in the fat body rather than an independent human in a thin body.
Learn More: Melissa Suffield Wiki: Pregnant, Baby, Engaged To Married Status
Following her slogan, she never overjoyed when people admit her weight loss. Moreover, she tries to make them clear, saying she is never focused on her body weight but her body health. Recently as she has been getting much praise for her weight loss, she did not let her journey manipulate the human mind.
Pregnancy Allegations 
Meantime, when Whitney was witnessed kissing a woman in season 3B of Big Fat Fabulous Life, and she was trying to understand her sexuality, one more rock added on her head: she discovered her pregnancy in the show in 2017.
The dilemma about her sexuality and then the unexpected pregnancy was a sudden stroke for Whitney. She faced a huge trauma as well as criticism from her father, who accused her of an unwed mother in the footage. And when everyone thought she was pregnant for real, TLC confirmed she had to cope with an unexpected pregnancy.