If you guys have watched the popular sitcom, That '70s Show, then you must be familiar with the character, Fez. 
Well, Wilmer Valderrama is the one who revived life in the character of Fez with his outstanding and honoring acting performance.
Best known for the character of Special Agent Nicholas Torres on NCIS, Wilmer Valderrama's contribution to Hollywood is noteworthy.
He has also grabbed fame by working on the TV series, NCIS.
Wilmer Valderrama Dating Anyone Now Or Still Single?
Among the long list of girlfriends, Wilmer Valderrama's relationship with 'Sorry Not Sorry' singer Demi Lovato won the heart and support of his admirers. Though the pair is no more together now, Wilmer still doesn't fail to support her.
Wilmer and Demi began dating each other in 2010. The couple maintained a warm relationship until they decided to split in June 2016, before they could plan to get married.
After six-year of togetherness, they announced their separation via Instagram post.
Most Interesting: Bonner Bolton Married, Wife, Girlfriend, Height, Net Worth, Bio
In March 2018, he showed his support towards his former girlfriend, Demi Lovato.
After the performance by Demi at a March For Our Lives rally held at Washington DC, he supported her by calling a 'Hero' in an interview with Entertainment Tonight. He said,
 'She's a hero. She's a hero to young men and women out there. I think that she's literally the image of recovery and getting their life together, so I'm excited that she's there and for this historic moment for young people too.'
Likewise, in July 2018, Wilmer was spotted visiting at the Cedars-Sinai hospital in Los Angeles after he came to know that Demi was hospitalized.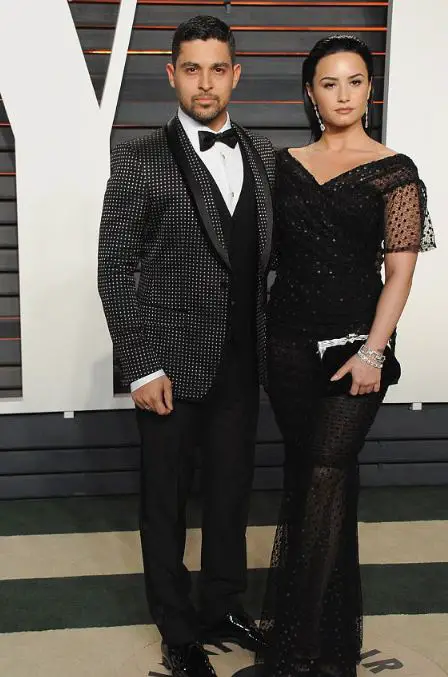 Wilmer Valderrama with former partner, Demi Lovato, pictured in 2016 (Photo: dailymail.co.uk)
However, on 11 August 2018, Wilmer became the buzz on the Internet after he was seen cozying up with a mysterious lady.
Nevertheless, he hasn't yet come forth with the relationship details with the mystery brunette.
Wilmer was previously linked to multiple ladies. In the year 1999, the Florida born actor briefly dated Ariana Richards.
He was also in an on and off relationship with American singer-songwriter Mandy Moore for two years from 2000 to 2002.
Likewise, one of his girlfriends at that time was actress Lindsay Lohan. His love for Lindsay arose when he started dating her in 2004.
You May Like: Sophina DeJesus Bio, Family, Ethnicity, Boyfriend, Dating or Single, 2017
But the relationship ended up before they turned their relationship into husband and wife. And in 2009, Wilmer was rumored to be in a romantic relationship with Avril Lavigne.
Wilmer Got A New Partner!
To the dismay of all the Demi Lovato fans out there, Wilmer Valderrama has apparently found himself back in the relationship game.
The Yo Mamma actor is in a relationship with model girlfriend Amanda Pacheco.
News about their relationship was made public after the two were spotted a number of times together enjoying each other's company.
Back in May 2019, it was reported that Wilmer and Amanda were casually dating and nothing was serious.
But as of now, it seems things are way beyond casual.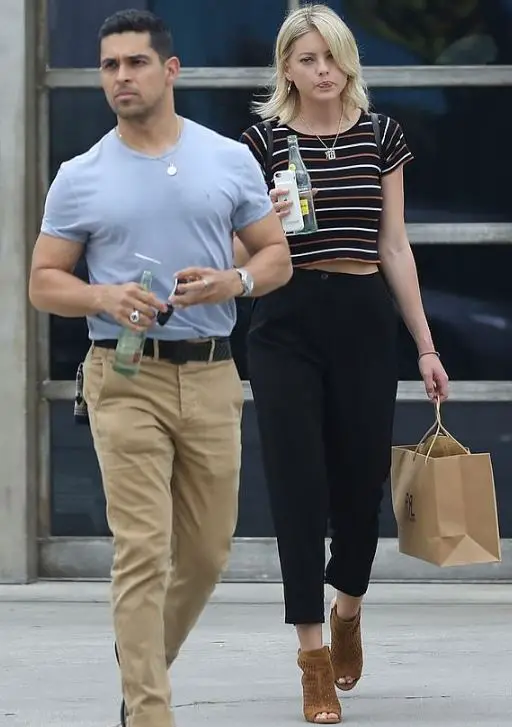 Wilmer and Amanda out on the streets. (Photo: dailymail.co.uk)
It is unclear as to how the two went into bump heads with one another but none of that matters as their newfound love for one another just about seems right for both Wilmer and Amanda.
While many expected Wilmer to be back with Demi, Valderrama had plans of his own. 
Wilmer Valderrama's Net Worth
Wilmer Valderrama has a net worth of $20 million which he accumulated from the Hollywood industry.
Since his involvement in the entertainment business, he has been gathering the fortune from the movies and TV series.
His long-time running TV series including, That '70s Show, Yo Momma, Handy Manny, Suburgatory, From Dusk till Dawn: The Series, NCIS, The Ranch and few more have added a fortune to his wealth.
At a young age, Wilmer's interest in acting arose when he first appeared on That '70s Show while still attending high school.
In the year 2001, he made big-screen debut after he appeared in 2001's Summer Catch portraying the role of Freddie Prinze Jr.
In the year 2018, Wilmer Valderrama appeared in the Canadian-American animated musical comedy film Charming portraying the role of Prince Charming.
Wilmer Valderrama's Wiki
Wilmer Valderrama was born to parents, Balvino Valderrama and Sobeida Valderrama on 30th January 1980 in Miami, Florida and raised alongside his siblings Christian, Marylin, and Stephanie.
At the age of three, Wilmer moved to Venezuela. His real name is Wilmer Eduardo Valderrama, as per the wiki.
Holding American nationality, Wilmer belongs to Colombian, and Venezuelan ethnicity. Wilmer stands at the height of 5' 7½" (1.72 meters) and has a body weight of 74 kg or 163 pounds.
Wilmer Valderrama is a huge supporter of the LGBTQ+ community.
In one of the tweets, he showed his support to the gay community In the tweet on 24th June 2011; he congratulated the LGBTQ+ community as the New York Senate approved gay marriage.