YFN Lucci is an American rapper who exploded to fame through his serrated, gravelly street rap vocals and a dexterous singing. His rise in the hip-hop scenario has shown Lucci's skills.
Lucci shot into fame after he debuted his mixtape "Wish Me Well'. Following the success of the mixtape, Lucci went on to release several other singles and EP's which accommodated him to achieve success in the hip-hop industry. So don't be surprised to see the name YFN Lucci pop on all over the front pages. Keep reading and find out more about him!
Kids; Baby's Mother?
Father of two kids, YFN Lucci, has not been shy about showing the world his son Justice and daughter Liberty. From the look of his Instagram, he can be seen flaunting the father and kids on his Instagram.
His adorable daughter also owns her Official Instagram account that has over 62.1k followers.
Regardless of his love for children, YFN still has remained mum while talking about the babies mamma. Maybe he does not feel necessary to reveal any details about his past.
Have A Girlfriend?
As for his present relationship, YFN was in a tumultuous relationship with Reginae Carter, the daughter of hip-hop royalty Lil Wayne, a few months ago. His relationship with Reginae started somewhere around late 2018. But their relationship was something that just kept on making headlines and not for the right reasons.
The couple's constant on and off affairs and their social media shots showed the world that Lucci and Reginae's relationship was far from being a happy one.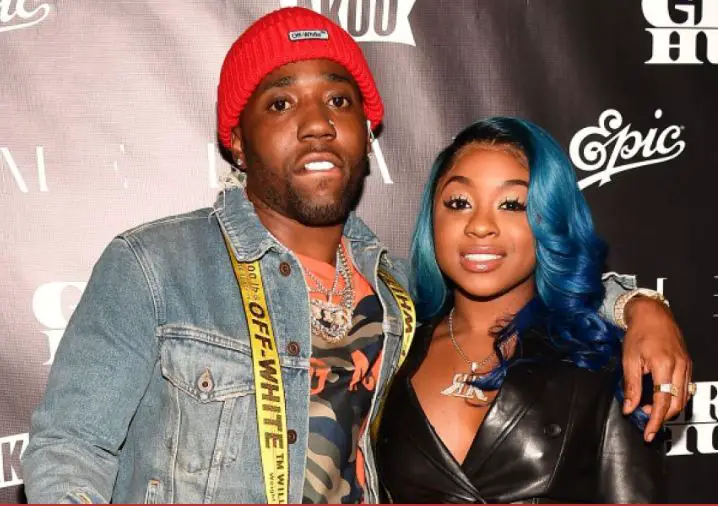 A throwback photo of YFN Lucci alongside his then-girlfriend Reginae Carter. (Photo: bet.com)
In January 2019, his girlfriend hinted about their turmoil in a relationship. Unfortunately, a month later, the pair ended up their relationship. Reginae removed all pictures of the couple from her Instagram while Lucci has just one in his account.
Few months after their break up in April 2019, Reginae even stated that she did not feel safe in her relationship with Lucci. As of now, YFN has not given any sorts of hints regarding his love life.
Net Worth
YFN Lucci is an American rapper who shot to fame after the release of his mixtape Wish Me Well. He entered the rap game at the age of 17 after building a close relationship with Johnny Cinco, who pursued him to take his music career seriously.
Later in December 2014, Lucci signed a record deal with Think It's A Game Entertainment and released his debut mixtape, 'Wish Me Well.' The album did well and introduced Lucci to the rap industry.
You Might Enjoy: Luke Grimes Wife, Gay, Net Worth, Height
He also released his second mixtape Wish Me Well 2 in February 2016. This turned out to be his breakthrough for his rap career. It charted on the 'US Billboard 200', and also reached the top 20 of the 'Billboard Top Rap Albums' list.
Besides that, YFN has also collaborated on a few other artists songs including Dirty Game (Remix)' by fellow Atlanta rapper, late Bankroll Fresh.
With his more than a decade of a music career, he is sure to amass a decent sum somewhere around the range of thousands. The actual figure of net worth owned by the rapper is under the review.
Real Name, Parents & Siblings
YFN Lucci's parents were Jamaican who immigrated to the US. In his family, he has an older brother who is also a rapper and goes by the name K. Both the siblings are involved in the same career path, rapping. When Lucci was of age nine, he began imitating his brother's rap style. His mother grew him as a single parent.
YFN Lucci whose real name is Rayshawn Lamar Bennett, was born on the 16th of February 1991 in Atlanta, Georgia.
YFN has a height of around 5' 8". He holds American nationality and is of African-American ethnic background.