The creator of the 2012 studio album Life from the Kitchen, Yo Gotti, is an American rapper and producer. He is known for albums like I Am (2013), I Still Am (2017), and The Art of Hustle (2016). Also, he is famous for his record label, Collective Music Group AKA CMG.
Additionally, Yo Gotti was featured on 2 Chainz's song called Bo; the song reached #76 on the US R&B charts in 2010. 
Yo Gotti's Bio: Age, Birthday
Born on 19 May 1981, the rapper is a native of Memphis, Tennessee. His real name is Mario Giden Mims.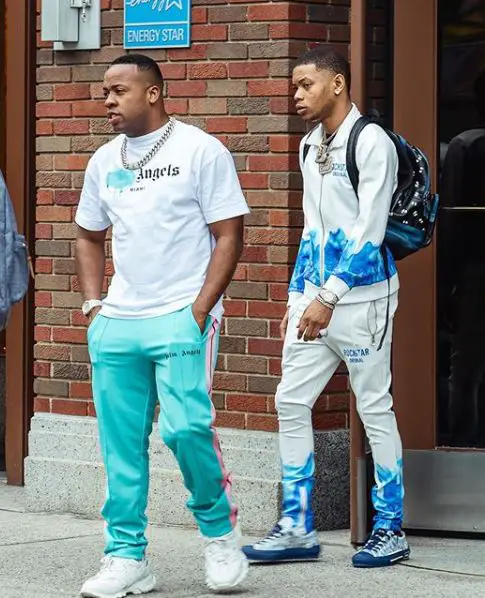 Yo Gotti alongside Lil Migo at New York City in February 2020 (Photo: Yo Gotti's Instagram)
Growing up, he experienced a rough childhood- his family got raided by the federal agents, after which his mother and aunt got sentenced to serve for 10 to 15 years. 
How He Earned The Name Yo Gotti?
After his mother and aunt got sentenced for 10-15 years, he started accompanying the kids, who were over half a decade older than him. Those kids nicknamed him "Yo," which is a short form of his name, Mario. He eventually got the surname "Gotti" for his actions that other kids of his age didn't do. 
Yo Gotti's Net Worth
According to Celebrity Net Worth, Yo Gotti has a net worth of $5 million, which he garnered as an American media personality and a producer. 
Accusations & Money Transactions
According to TMZ, Yo Gotti was charged for $6.6 million in the North Carolina court in May 2019. He was accused of recording a similar song of Young Fletcher on his track, TMZ earlier stated that Yo Gotti had promised to sing Fletcher's track for $20K in 2016. Further, he was also accused of attempting to poach Fletcher's manager for his label with a $150K deal.
Learn About Another Rapper: Machine Gun Kelly Girlfriend: Who Is American Rapper Dating Now?
 In May 2019, he also made $66K from the auto shop that wrecked his Lambo. He had earlier accused that a shop named Motorcars of Georgia damaged his car, which he took for repairs.
Claims To Own His Masters
On 4 February 2020, Yo Gotti announced the release of his Untrapped album. Alongside the release of the album, he also took the opportunity to announce that he was out of all his deals and owned his masters. Via an Instagram post on 4 February 2020, he wrote: 
"Drop My Album, Out My Deal, Own My MASTERS …. ALL IN DA 1st Month of the da Year 2020 GONE BE DIFFERENT"
Yo Gotti further added it was the title of his album was based on his situation in the industry.
Quick Facts About The Rapper
Yo Gotti lost half a million dollars while gambling at Jay's Shawn Carter Foundation's Charity Gala alongside Jay-Z in November 2019. 

Within a few months of losing half a million dollars, he bought a luxurious new mansion that includes a massive pool and bar area in his backyard in January 2020.  

Some of his hit songs are Rake It Up (2017), Down In The DM (2016), Pills and Automobiles (2017), Act Right (2013), and Juice (2017).