When the tattoo artist Young Bae arrived in New York from South Korea, she didn't even knew how to speak English and spent countless time being homeless. Moreover, Bae, who was at the age of 22 at that time, did not know anyone and had only $80 on her name. She arrived on VH1 reality show Black Ink Crew and did everything for survival including working in restaurants and nail shops.
Her raw talent eventually solicited her towards a tattoo shop, and she was then featured on VH1 Black Ink Crew. Her extraordinary monochromatic renderings of tattoos have now overwhelmed the zest of over 785K followers on her Instagram.
Abusive Father Threatened Bae's Mother
Bae's parents reside in South Korea. At the age of 21, the reality star received a tattoo gun for her birthday from her father and became interested in tattooing. But she and her entire family ran away from her father years after enduring his abusive nature; his verbal and physical abuse.
Read Also: Is Bob Morley Gay? His Girlfriend, Dating, Relationship, Family, And More
In January 2018, she got a phone call from her Korean mother who said that her abusive father sends threatening messages on Facebook and has plans to come after her. Bae stayed in contact with her mother, but some days later, she didn't hear her mother. With the help of Black Ink Crew, she decided to go to South Korea to meet her mother in February 2018.
Bae searched for her mother with Black Ink Crew and even visited a shipping container that used to be her hidden place during her childhood. After searching her for quite a time, the tattoo artist found her mother in an apartment that she rented out for her mother.
Welcomed Baby-Boy With Fiancé
Bae is in a relationship with Rob, who goes by the name of Bobby on his Instagram. Her boyfriend Bobby is an electrician, and they are dating for over a year. The couple got engaged in December 2017. She shared their snapshot from Times Square, New York City via her Instagram on 14 December 2017 and declared her engagement news with Bobby.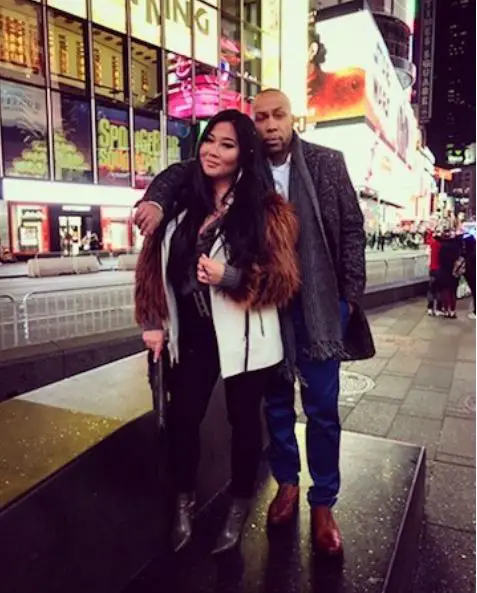 Young Bae and her fiancé Bobby in a picture published on 14 December 2017 (Photo: Instagram)
The Black Ink Crew star confirmed her pregnancy news in February 2018 while searching for her mother. In South Korea, she took her pregnancy test and shared the exciting news on her Instagram on 2 February 2018. In early March 2018, when she felt nervous to tell her future husband that they were going to become parents, Bobby surprised her. In the Times Square, New York City, the electrician kneeled down on his legs and purposed his lady love with a diamond ring.
See Also: Brittany Cartwright Wiki, Age, Weight Loss, Before & After, Net Worth
Bae and her fiancé Bobby welcomed their baby Nikko in May 2018. She shared the picture of her newborn baby boy on 22 May 2018 and wrote that their son came five weeks earlier than expected. She affirmed Nikko is healthy and expressed her and Bobby's happiness towards parenthood. Meanwhile, her electrician fiancé also took his Instagram and voiced honorary towards his new-born-son and soon-to-be wife, Bae.
Short Bio
Young Bae, who was born in 1984 in South Korea, has her birthday on 9 October. She has yet to reveal her real name in public. The tattoo artist stands at a decent height and resides in the United States of America.
At the age of 22, Bae migrated to the United States and landed in New York. The tattoo artist holds South Korean nationality and carries Asian ethnicity. As per wiki, she studied tattoo in 2009 after graduating from South Korea's Chugye University for the Arts.