"The only disability in life is a bad attitude." Just like the phrase coined by Scott Hamilton, Zach Anner never considered his disorder as a burden in his life. Even though he was born with Cerebral Palsy, a permanent movement disorder disease, he didn't give up on chasing what he wanted. With the positive stints, he kept in mind that no disability could stump him.
Today, Zach has been able to secure a position in Hollywood as an actor, comedian, and writer through his pure determination and passion.
During his career, he won Your Own Show: Oprah's Search for the Next TV Star in June 2010. After winning the competition, he was given an opportunity to create his own show Rollin With Zach.
Is Zach Anner Married? Wife, Girlfriend Details!
To the dismay of the fans' curiosity, Zach Anner isn't married yet. However, his romantic is somehow confusing. Inspecting into Zach's social media, he had defined Gillian Grassie as his girlfriend on his deleted YouTube video in March 2015.
However, in an interview with Ability Magazine in April 2016, Zach declared that he had already split with his sweetheart Gillian.
Keep Exploring: Rebekah Vardy Wiki, Children, Husband, More About Jamie Vardy's Wife
Despite leaving the romantic alignment, they still are together and has managed to be good friends and business partners. The two even had collaborated—Gillian edited and co-wrote Zach's memoir If At Birth You Don't Succeed (Henry, Holt, 2016).
Besides that, Zach and Gillian are still seen hanging out with each other and collaborating on projects.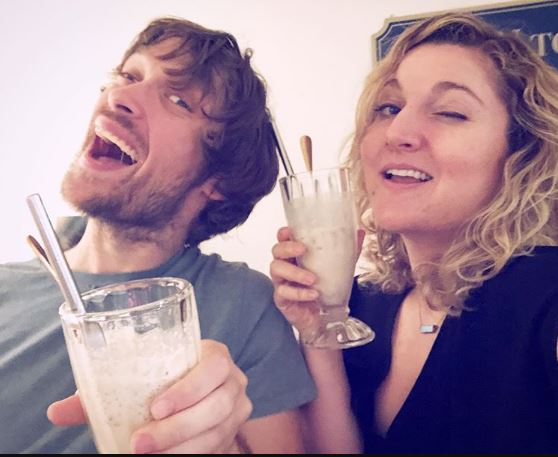 Zach Anner sharing a milkshake with Gillian Grassie (June 2019)(Source: Gillian's Instagram)
It's for sure; the pair still fancies their intimacy; however, it is still puzzling when it comes to their romantic affairs. Whether Zach and Gillian are still dating or do they share only the bond of friendship remains secretive.
This Looks Interesting: Josie Canseco Split With Boyfriend | Dating Life, Parents & More
About Gillian Grassie
His girlfriend Gillian is Philadelphia based-an award-winning songwriter, singer, and harpist. She attended Bryn Mawr College graduate, where she studied comparative literature and creative writing.
Gillian also studied opera and even sang with choirs at the National Cathedral, Heinz Hall, and Symphony Hall.
Gay Rumor
Zach has been frequently under speculation regarding his sexuality. The rumors spiraled after Zach admitted his first four kisses were with a man.
In an interview video with his friend Chris Demaris posted on his YouTube channel on 6 April 2016, Zach opened about his kiss stories. He told his fans how he ended up smooching Chris for four times for a comedy sketch. But, Zach affirmed that he never intended to kiss him.
As for the rumors, the multi-talented actor is yet to give an official justification on the topic.
Net Worth
With such a dignified career as an author, comedian, and actor, people have been curious to know about Zach's actual income from his multi-dimensional career. Unfortunately, as of 2019, Zach's net worth is still under the radar.
Note: The average salary of the podcaster comedian is approximately $65,000 annually, including sponsorship. Whereas, a touring comedian is estimated to make upto $92,000 per year.
Don't Miss: Lindsey Horan Partner, Boyfriend, Family, Salary
Wiki- Bio & Family
Zach was born on 17 November 1984 in Buffalo, New York. He attended the University of Texas in 2005.
In the family, he has a brother named Brad Anner. During his years at the university, he and his brother created the comedy troupe Lark the Beard along with Chris Demarais, Marshall Rimmer, and Aaron Marquis.