Internet personality Zane Hijazi is known for his collaboration on the Vine phenomenon with his video partner, Heath Hussar, who creates videos for their collaborative channel Zane and Heath.
Zane and Heath Hussar are known for their stupidity, comedy, and sarcastic act on their videos. The actor is a former travel director and has worked with different events in various airports and hotels from west palm beach to Miami Beach in Florida.
Zane Hijazi's Tweets About Girlfriend; Is He Married?
The 25-year-old actor, Zane Hijazi is often seen tweeting about a girlfriend and also make a video related on topic girlfriend. On 7 April 2016, Zane posted the sarcastic photo of himself acting like spying girlfriend. In the tweet, he wrote about the sarcastic thing that every boyfriend would do when they doubt their girlfriend.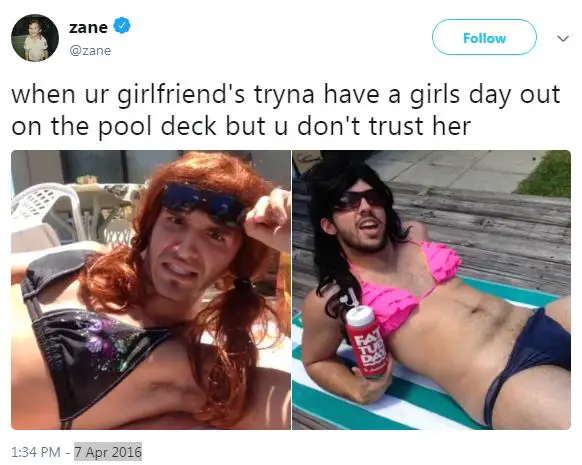 Further on 12 may 2018, he posted a picture of him with Jason Nash and Trisha Paytas and wrote in a caption that he was alone, which hinted that he is not dating anyone. He has not revealed his possible partner until now.
Though Zane is sarcastic about a girlfriend in his videos as well as social media posts, he is yet to get married.
Zane And Heath Not Gay!
Zane was rumored to be gay after he was spotted behaving like a gay in his YouTube videos. He and his YouTube partner, Heath Hussar were supposed to be gay and were dating. Also, Zane was linked with Youtuber Scotty Sire. In the video posted on 1 April 2017, they directly answered saying "No!" on the video after people asked if they were gay.
Zane has posted many videos from the Are We Gay? series but Zane and Heath shocked the viewers when they kissed on YouTube video entitled, OUR FIRST KISS!! on 27 April 2017.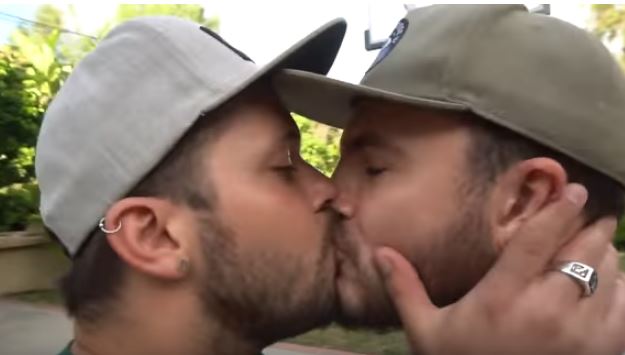 Zane and Heath's first kiss, shared on 27 April 2017 (Photo: YouTube)
Although they kissed, it was a part of the bet, in which David challenged the duo to kiss if he scored backward using only one hand. The friends then shared a kiss but, they are still straight and are not gay.
Early Life And Career
The actor has appeared on various TV shows like The pizza guys in 2016, FML in 2016 and much more. He was also seen on 420 Weed Festival Celebration in Los Angeles Special News Report in 2015. The actor now appears on the crazy vine shows which are worldwide popular these days.
They were credited by the public after they released their show, Zane, and Heath. His partner, Heath Hussar, has great act alongside Zane, where they play a role of a comedian or serious, sarcastic vines in their show. The actor also has appeared on the Vine video named Beer Goggles alongside with Lele Pons which was featured by Amanda Cerny.
How Does Zane Hijazi Gather The Net Worth?
Zane Hijazi gathers the net worth as being a YouTube Star. He has been earning the revenue from his YouTube channel name 'Zane Hijazi.' As per Social Blade, Zane has an estimated YouTube earning between $6K and $95.9K per month, that helped him to earn the revenue $72K and $1.2 Million. He also is gathering the revenue from channel Zane and Heath, collaborating with Heath Hussar.
Before YouTubing, he worked as the travel director for several companies and worked in airports and hotels from West Palm Beach to Miami Beach in Florida. He also acted in couples of movies and TV series like FML (2016), Average Joe (2012) and 1 Minute Horror (2015).
As of now, Zane has accumulated over 2.3 million subscribers to his self-titled channel. He started YouTubing at the age of 20.
Short Bio
Zane Hijazi was born as Zane Ahmed Hijazi on 18 November 1992, in Miami, FL. He grew up along with his three siblings, which includes a brother and two younger sisters. He holds American nationality and belongs to North-American ethnicity. Zane stands at the height of 5' 11" (1.8 meters).
The YouTuber completed his graduation from Broward College with a degree of AA in Hospitality and Management, as per wiki.