Can you imagine being a star right after opening your eyes? Well, Zaviera Maxwell has been a star even before she could utter a single word. She is the daughter of famous rapper Fetty Wap and has been in the news with each passing feud and controversies of her parents.
Zaviera has been the subject of headlines after her mother accused Fetty of being an absent father and abandoned her and Zaviera.
Zaviera's Mom Called Fetty An Absent Father
Zaviera, age 3, was born to Fetty Wap and his baby mama, Lezhae Zeona. Her parents were never meant to be together as Fetty, happens to have multiple relationships.
Fetty Wap, whose real name is Willie Maxwell, is best known for his music credits including Trap Queen, 679, My Way, and many others.
He has been accused by Lezhae on Twitter for being an absent father. She has also blamed him for rarely seeing his daughter and putting her and children at relative's home.
Furthermore, she added that she didn't want her daughter to end up like Alexis or Yaya and she was working hard to make sure she doesn't ever meet a man like her father.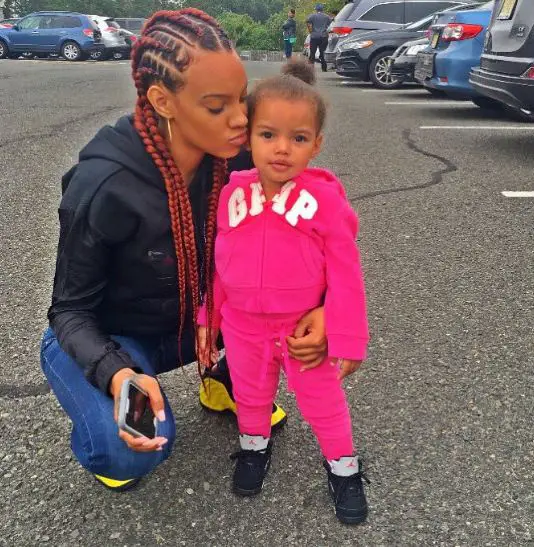 Zaviera Maxwell with her mother, Lezhae Zeona in 2016 (Photo: Lezhae's Twitter)
But that was not the first time the couple went public for their feuds. They also had some misunderstandings and argument in 2015. Although the duo went through the many clashes and disputes, Lezhae and Fetty again welcomed a baby boy, named Zy in March 2018. 
Also See This: Rosanna Pansino Wiki, Married, Husband, Boyfriend, Dating, Net Worth
As of now, Zaviera lives with her mother in Passaic, New Jersey and enjoys the considerable net worth and fortune with her parents, Fetty Wap and Lezhae Zeona. Her father, Fetty Wap has an estimated net value of $8 million, which he garners from the professional career as a musician and a rapper.
Fetty Wap's debut single, Trap Queen, was enlisted #2 on the U.S. Billboard Hot 100 Chart in May 2015 and his title debut album was on number one on the U.S. Billboard 200 chart in 2015. 
All About Her Siblings
Apart from having a brother named Zy, she has atleast five other half-siblings from as many stepmothers.
The process of multiple baby mama and short flings started in 2011 when he and Ariel Reese gave birth to their first son named Aydin Maxwell in 2011.
In 2016, her father went on to have three children with Elyanna Parker, Masika Kalysha, and Turquoise Miami, who gave birth to Amani, Khari, and Lauren respectively. 
Two years later, he again gave birth to Alaiya in January 2018 with Alexis Skyy. Alaiya was born three months prior to her delivery date and required special care in NICU for months
Short Bio
Born in 2015, in the United States, Zaviera Maxwell celebrates her birthday on 12 March. She belongs to the Afro-American ethnicity and holds an American Nationality. 
You Also Need To See This: Kailyn Lowry Wiki, Baby Daddy, Boyfriend, Net Worth
Some Interesting Facts About Zaviera's Father
Some of the interesting facts that you should not miss about Zaviera Maxwell's father, Fetty Wap;
As reported, doctors were unable to save Zaviera's father, Fetty Wap's eye and instead of that, they fitted him with an ocular prosthesis. 
 
Fetty Wap's first debut single, Trap Queen was written about the relationship between Fetty and Ariel Reese while they were together.