Zeke Smith has stormed tabloids after he was rumored to be dating Filipino-American actor, Nico Santos. Zeke gained stardom after appearing on an American veteran reality series, Survivor. He has appeared on both Survivor: Millennials vs. Gen X and Survivor: Game Changers. The reality star, Zeke is also an asset manager.
Zeke Smith Dating Filipino-American actor: Announcement Via Instagram
Zeke Smith is dating a Filipino-American actor Nico Santos and sparked their romance through Instagram. Zeke's boyfriend, Nico Santos shared a cozy shot of him with Zeke Smith celebrating L.A.'s Pride event on Sunday, 10 June 2018. In the caption he mentioned,
 "We're here! We're queer! We're brunching! Getting some, after parade nomnoms with my love. Happy Pride Los Angeles!!! "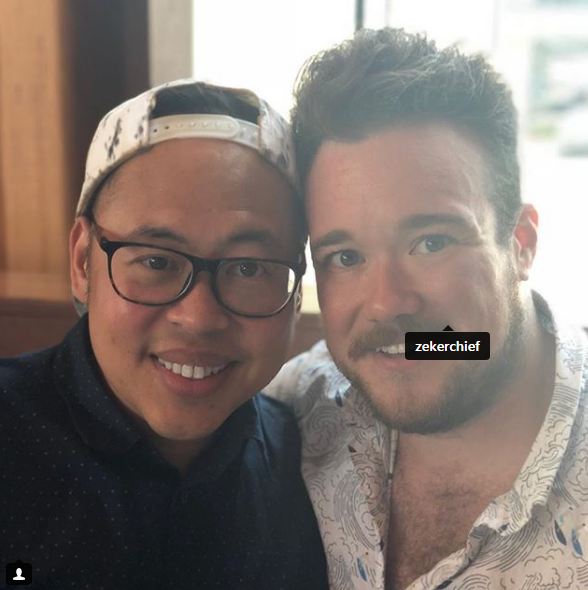 Zeke Smith  poses with Nico Santos and celebrates L.A.'s Pride event (Photo: Instagram)
Mentioning themselves as queers, Nico revealed about his relationship with Zeke. However, this is not the first time they shared their picture on social media. 
Previously on 28 May 2018,  Zeke Instagrammed the photo with Nico enjoying a romantic getaway. The two even attended the GLAAD Awards together in April 2018 to celebrate diversity and LGBTQ rights.
Zeke Smith Is Not Gay But Is Transgender
The Survivor contestant Zeke Smith revealed about his sexuality after his fellow tribe member Jeff Varner opened up about his sexuality in front of other contestants. He revealed that he is a transgender on Wednesday's episode of the CBS reality competition on 12 April 2017.
Zeke, 30, also opened up about it to PEOPLE. As per PEOPLE, Zeke knew about his sexuality since he was in his college days. He reportedly transitioned from female to trans-male while studying at Harvard University.
However, he was depressed of his transition and wanted to be a real man. So, he decided to set his sight to compete in Survivor. Further, he stated that he is not ashamed of being a transgender, but he didn't want that to be his story.
During Zeke's audition in the show Survivor, he opened up about being transgender with show's producers. But, they opted not to discuss it while filming.
How Does Zeke Smith Summon Net Worth?
Zeke Smith summoned the net worth from his career as an asset manager and reality star. As a contestant of Survivor, Zeke was paid a considerable amount of money. As per fortune.com, the first person voted off the show walks away with cash of $3,500. The final three would receive $40,000, $110,000, and a winner would take home $1,010,000.
He also received payroll for appearing in Dealing (2014), Dinner for Two (2014) and PITtv (2007).
Short Bio
Zeke Smith was born on 25 January 1988 in Brooklyn, New York, the USA. Zeke has secluded the identity of his family members. However, he shares a good bonding with his father. During the Survivor's show, he got distracted after seeing his father.
During Zeke's senior year in high school, he ranked at the top 16 in High School Debater. He completed his graduation from Harvard University, as per wiki. He is also fond of writing, improv, gym, and cooking.