American Internet sensation Zoe LaVerne is known for her musical.ly videos. She is active on the musical.ly app with the username zoe.laverne. The teen has gathered more than 2.8 million audiences who enjoy her favorite lip-sync videos. Well, Zoe coveted musical.ly verification crown on March 2017, at the age of 16.
How Did Zoe Meet Her Boyfriend?
The 18-year-old Internet sensation is currently dating Instagram star, Cody Orlove. Both the internet personalities met through the musical.ly app and have been together for the past seven months.
The lovebirds are dating since the mid of November 2017. Zoe has shared a snap along with her boyfriend to mark their seven months of togetherness on her Instagram in June 2018.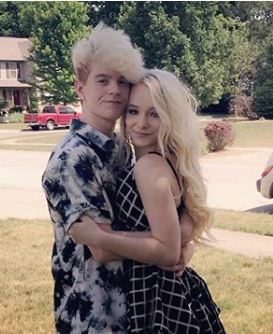 Zoe LaVerne with boyfriend Cody Orlove on 11 June 2018 (Photo: Instagram)
In the picture, Zoe described her boyfriend as the reason for her happiness.
Cody, the native of Chicago, also posted a picture with Zoe on his Instagram page on 11 December 2017, on the occasion of their one month relationship anniversary. In the caption, he referred to his girlfriend as his wife
The duo has a YouTube channel named Cody & Zoe that has surpassed more than 252000 subscribers. Zoe and her boyfriend were featured in multiple videos, including Chapstick, Yoga challenges, and prank videos.
Previously, Zoe was in a relationship with her ex-boyfriend, Zephan Clark. The former lovebirds kept a shallow life about their dating history. Zephan is also a recognized Internet Personality who resides in Lancaster, England.
Also Read: Ty Hodges Net Worth, Gay, Married, Movies
Cheated On Her Boyfriend?
Zoe's ex-boyfriend, Cody, disclosed that Zoe cheated on him through a video on his YouTube channel on 26 March 2019. As per Cody, he and Zoe attended the playlist from the 1 to 3 of March 2019 with a bunch of friends. And when he was in a hotel room, Zoe went down with the next guy and shared a passionate kiss twice. 
Despite that, he did not reveal the identity of the guy with whom Zoe cheated on him. Cody did not blame the guy for the betrayal as he said his intimacy with Zoe was building fast, and he was not expecting it to happen. 
After a week, the guy approached Cody and advised him not to be a couple with Zoe as she kissed him twice. 
Later, Cody and Zoe ended their relationship. Furthermore, Cody told Zoe that if she did not make the chance cheating, then they could get back together. However, things turned out to be negative. 
Back Together?
Despite the tragic break-up, Zoe LaVerne, and Cody Orlove got reconciled on 8 November 2019. Zoe revealed that they got back into the relationship through a video posted on her Instagram on 9 November 2019. The footage previewed the scenes of their career as well as romantic bond and even featured their kissing pictures on it.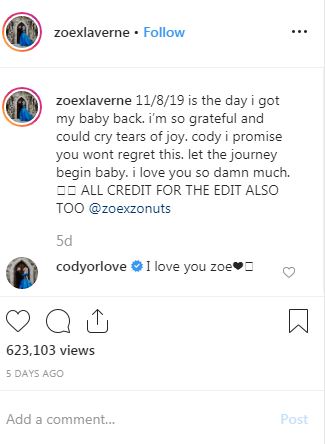 Zoe LaVerne and Cody Orlove got back to their relationship (Photo: Zoe's Instagram)
Also, she wrote that Cody would not regret the reconnection in the caption. 
Divorced Parents, Birthday Wish To Father
Though Zoe flaunts her love life with her boyfriend on social networking sites, she remains low-key when it comes to opening up about her parents. Her parents are a divorced couple. Talking about her siblings, she has one brother named Eric and another step-brother named Cameron.
Zoe has posted a childhood picture along with her father to wish him on his birthday on 17 May 2017. Zoe thanked him for taking care of her and the family. The Internet Icon describes her dad as a blessing.
Do Not Miss: Lily Chee Wiki, Parents, Sisters, Boyfriend, How Old Is She?
What Is Zoe Laverne's Net Worth?
Zoe has been making increasing revenues as an Internet sensation since late 2016. She is mustering the prominent part of her income as a musical.ly star. Her lip-synced videos are viewed in millions across the globe, which makes her wealth to elevate even more. She has gained more than 8 million hearts on the app.
Short Bio
Zoe LaVerne was born on 3 June 2001 in Indiana, as per wiki. She has a birth sign of Gemini. Zoe stands at the height of 1.61 m (5' 3") and weighs around 99 pounds. She has bright blue eyes, which is contrasted by her blonde hair. Zoe had a puppy named Zea to whom she trained and handed to a little girl who could not afford a pet. Her birth sign is Gemini.