Zozibini Tunzi is the 2019th 'Miss Universe.' Competing against the women from 90 countries and territories for Miss Universe pageant, she was able to win the crown on Sunday, 8 December 2019.
Before achieving such great feats, The passionate activist-turned-model Zozibini was crowned 'Miss Mamelodi Sundowns' in 2015 and entered 'Miss SA' in 2017 making her way up to only semi-finals.
Miss Universe 2019
In Miss Universe pageant hosted at Tyler Perry Studios, Atlanta on 8 December 2019, women from 90 countries participated in hopes of taking 'Miss Universe' title home.
Zozibini was crowned 'Miss Universe 2019' beating the tough two contestants— 'Miss Puerto Rico' Madison Anderson, who secured the position as a runner-up; and Mexicana Universal 2019, Sofia Aragon, who became the second runner-up.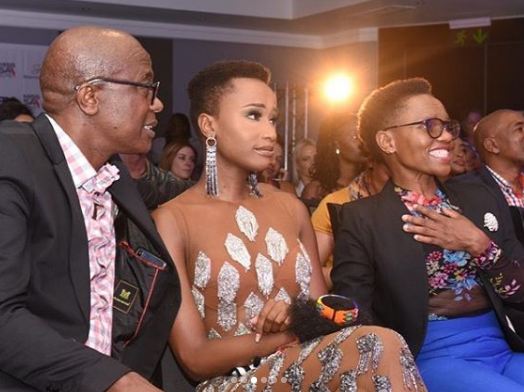 Zozibini Tunzi with her parents at Tyler Perry Studios, Atlanta (Miss Universe 2019) (Source: Zozibini 's Instagram)
Zozibini's journey to pageantry developed in 2015—she was crowned Miss Mamelodi Sundowns 2015 and booked her sit to top 26 for Miss South Africa 2017. In 2017, she competed for Miss South Africa 2017 but her journey ended up after semi-final.
However, she sent an application for the 2019th Miss South Africa on 10th June 2019 and eventually, things went in favor of Zozibini. She won the crown of Miss South Africa 2019.
Career As Activist
Professionally, Zozibini is a passionate activist, who is involved in the fight against gender-based violence. She is also a proud advocate of natural beauty and encourages women to love the way they are.
Zozibini devoted to her social media campaign for 'Miss Universe' to change the aspects of gender stereotypes.
Net Worth
After getting crowned as 'Miss SA' in August 2019, Zozibini Tunzi won R1-million cash prize, R2-million worth of sponsorship and prizes as well as a luxury Sandton apartment and a Mercedes-Benz cabriolet for a year.
After winning the beauty pageant Miss Universe, Zozibini Tunzi gets to go home with several prizes. Elite Daily confirmed Zozibini would receive the facilities that comprise a year-long salary as 'Miss Universe'; luxury accommodations in New York including living expenses during her reign; one-year supply of hair products from CHI Haircare, modeling portfolio by leading fashion photographer and so on.
You May Like: Chloe Lukasiak Net Worth, Height, Sister, Boyfriend, Who Is She Dating?
Family Background
Zozibini's mother Philiswa Tunzi is a school principal at Bangweni JSS, Bolotwa and her father Lungisa Tunzi-works at the Department of Higher Education and Training in Pretoria. 
She credits her parents as her source of inspiration—her mother was the one who taught her the importance of remaining kind, humble and helpful. On the other hand, her father taught her the importance of education, discipline and hard work.
Besides her parents, Zozibini has three sisters; Yanga(born in 1989 ), Sibalwe(born in1995) and youngest sister Ayakha (born in 2006).
Keep On Exploring: Who Is Leah Totton Boyfriend? Also About Engaged, Family
Zozibini Tunzi [Miss Universe 2019] Wiki- Birthday
Zozibini celebrates her birthday on 18 September. She was born in the year 1993 in her home town, Sidwadeweni, Eastern Cape, South Africa. She graduated from Butterworth High School.
For further study, she attended Cape Peninsula University of Technology (CPUT) in Bellville, Western Cape and graduated with a Bachelor's degree in Public Relations and Image Management in 2018.
Zozibini was completing her BTech in PR from Cape Town before she won 'Miss SA' title in August 2019.
Also See: Who Is Danielle Campbell's Boyfriend? Details On Her Dating Life & Movies
Interesting Facts About Miss Universe 2019
Zozibini celebrated her 26th birthday on Wednesday-18 September 2019.
 
She is a hardcore Marvel fan and was an addict of the action-adventure Game of Thrones (2011-2019).
 
She also likes listening to Childish Gambino and reading books.
 
She doesn't have a driving license.
 
Zozibini had originally planned to enter 'Miss SA' in 2020 but, discovered that the final year to be qualified for the pageant was 25. She submitted her application on the final day on 10 June 2019.
 
Zozibini is currently single as confirmed on her Facebook Bio.