Zylbrad is a YouTuber and gamer who posts intriguing videos on games like Overwatch, Counter-Strike: Global Offensive, and Sea Of Thieves on his self--titled YouTube channel. He has earned millions of subscribers and is known for his several CS: GO and Overwatch tutorials. He has also posted memes and in-game Ilios songs in his videos.
How Did Zylbrad Gather Net Worth?
Zylbrad has mostly acquired his net worth from his career as the YouTube personality since 2016. According to Socialblade, his estimated monthly earnings from his self-titled YouTube channel is $1.9K - $31.1K. His channel's yearly income ranges from $23.3K - $373.4K. Zylbrad is earning some fortunes from his social media accounts through which his net worth has increased.
Zylbrad joined YouTube on 15 January 2016 and posted videos regarding video games like Overwatch and Counter-Strike: Global Offensive. He has more than 1.1 million subscribers who watch him play Overwatch, Sea of Thieves and CS: GO. He first uploaded the video of Bizon Spray Control Tutorial of CS: GO on 16 January 2016 which has gathered 39K views. Since then, he shared the videos playing the ranked game to increase his league and his knife tactics of CS: GO. 
He first uploaded the Overwatch video at his age 20, where he assembled the team of soldiers and got the problem with an Overwatch hero Junkrat. The video titled 'Overwatch - Route: 76' has gathered 756K views on his channel. The gaming nerd on his following videos of Overwatch talked about nerfing the McCree as well as the meta of the game. His Sea Of Thieves video had also gathered 448K views when he achieved more than 1 million gold on his uploaded video of 22 April 2018.
Zylbrad's Face And His Previous Girlfriends
Zylbrad is one of the mysterious YouTuber who makes rare appearances and has always made wonder to his fans regarding the outlooks of his face. He is a handsome fellow, his friend on Instagram named RTX 2015 shared his adorable photo on 19 October 2016 on Instagram.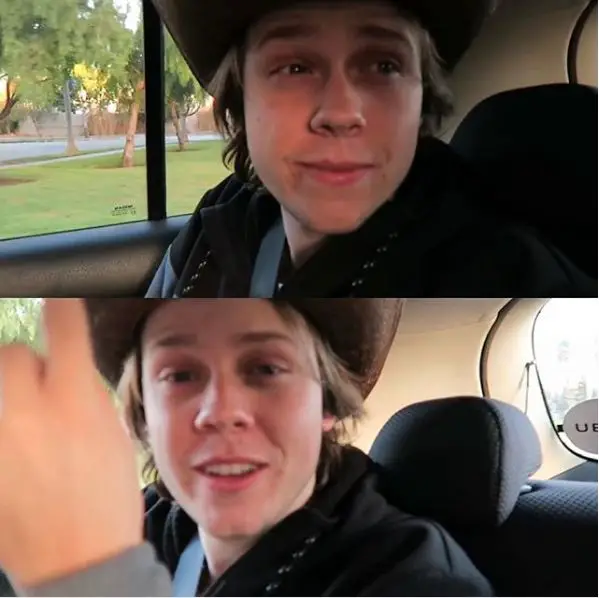 Zylbrad's revealed face by his friend RTX 2015, posted on 19 October 2016 (Photo: Instagram)
Talking about the cute-faced Zylbrad's love life, he was dating YouTube star AeroViro whose real name is Veronique. However, after a brief relationship with AeroViro, he split with her in February 2017. His ex-girlfriend is also known as 'Shenpai' and is an Anime artist and designer who uses Wacom Intros Art to draw anime characters. She also used to play Overwatch with Zylbrad.
Before his date with AeroViro, he was dating a girl named Tayolta back in 2016. His ex-girlfriend used to feature on some of his videos. However, Zylbrad broke up with his former lady-love after dating for some time in 2016.
After brief flings with his former girlfriends, the YouTube star is reportedly single as on June 2018. He has remained focused on his gaming video of Overwatch on his YouTube channel. His past involvements with his lady-loves have defied all the gay rumors surrounding him.
Short Bio
Zylbrad who was born in 1996 at Australia celebrates his birthday on 30 April every year. He has a height over 1.52 meters (5 feet) and carries Australian nationality. Zylard whose real name is Bradley has remained silent to provide his surname. In his family, his father also loves Overwatch, and his favorite hero is Junkrat. As per wiki, the artwork on his YouTube channel was created using HDD Raw Copy.