Dess Dior is an upcoming rap diva who made headlines after getting comfy with the multi-platinum rapper Future. The duo shared various pictures on their social media and caught the audience's eyes earlier in 2020. However, they were unbelievably quick to indicate the split after Future's ex-girlfriend confirmed dating Michael B. Jordan.
Besides spicy dating life, this young rapping beauty has a lot more to offer.
Dess And Future's Relationship 
Dior and Future made quite a buzz after they were spotted having lunch together in Atlanta back in 2020. Soon after the sparking rumors, the duo began showering love for each other all over social media.
They smashed paparazzi when they decided to hit the infamous strip club, Magic City. Then, after throwing some dollar bills at the dancers, they decided to go on a vacation and flew to Mexico in a private jet. The duo shared various pictures from their hotel suite during the trip, further igniting the audience's curiosity.
When they were getting flashy publicly, Dess was all set to release her studio album, so fans were confused if they were genuinely in love or just throwing gimmicks for business interest. Dess even posted a picture where Future was seen holding her while hiding his face behind the phone.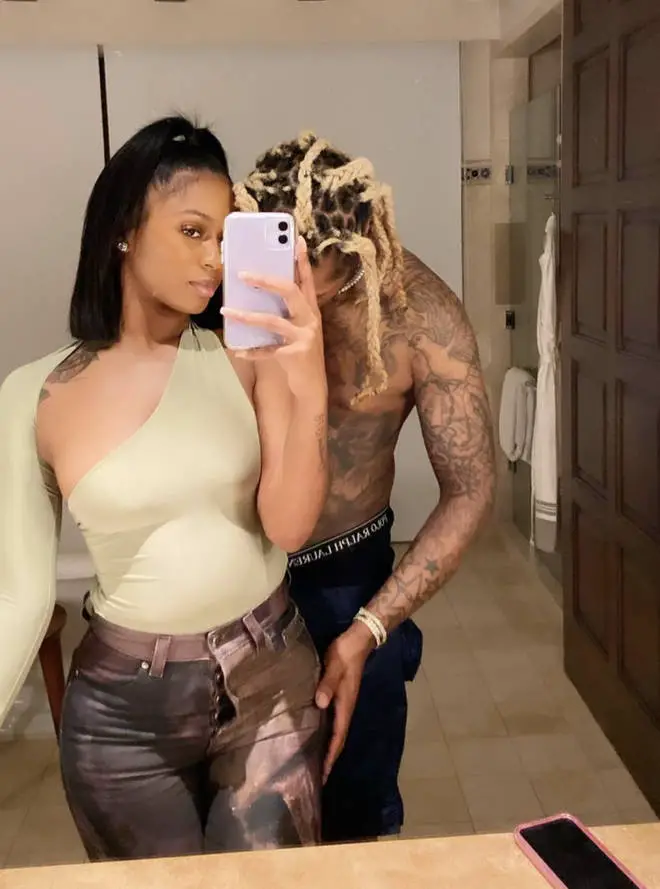 Dess Dior and Future getting comfy with each other (Source: capitalxtra.com)
They also hit a club in Atlanta where Dess flexed a diamond ring in her ring finger. However, in a shocking turn of events, the duo stunned the fans as the aspiring rapping diva unfollowed Future on Instagram and deleted pictures taken with him.
The multi-platinum rapper, Future also cleared his Instagram entirely, including his pictures with Dess Dior. As a matter of fact, they have chosen not to speak about their relationship details for now.
Although having a wavy relationship with Future, she still shares a good relationship with his mother and sister.
Despite having a hard-to-guess relationship under her wings, the lady rapper has a tempting and hard-hitting music career. 
Dess Dior's Net Worth 
Looking at Dess Dior's blooming music career, she has a net worth of over a million dollars. 
The artist has been building quite a following around her recently. The diva has a YouTube channel with over 70k subscribers and has over 17k monthly listeners in Spotify. In addition, she has a few tracks like, Talk To Me, Don't Play, & Rich ..., which are gold certified from RIAA.
Further, she has over a million followers on Instagram and is set to make noise in the mainstream media and has also worked with various brands like Nude Lavender, Pretty Melanin, etc.
This young diva has made a substantial income from her music career with a never-ending list of endorsements and promotions via her Instagram. She has also launched her own entertainment company called Show Luv Entertainment, LLC, further adding to her source of income. 
Short Bio
On November 2, 1998, Destiny Bailey, a.k.a Dess Dior, was born in the USA and heavily got attracted to rap music from a young age.
The aspiring rapper, Dess, is yet to disclose any information about her family, which shows her utter respect for her family's privacy. Nevertheless, Dior's fans worldwide await her songs to blow off the ceilings and reach the mainstream platform.