Jordan Torres is an American aspiring model who came from a violent part of the Bronx and even lost his two brothers to gang violence. In an interview with KULTUREHUB, 2019, Torres revealed that he had a run-in with police and was put behind bars, but that was when he decided that street life was not for him. 
Besides hunky looks for the cover magazines, the Bronx grown model, Jordan, comes with a story that can inspire thousands to choose their family and dreams instead of guns. 
Motivation For Career Behind The Bars
Jordan Torres has been affiliated with top modeling agencies like Next New York and Elite Paris and has modeled for various top brands like Versace, California Dreaming, and Willy Chavarria F/W 18 Show. However, he had to go through a raging storm of street violence to get to the bright sky where he is now.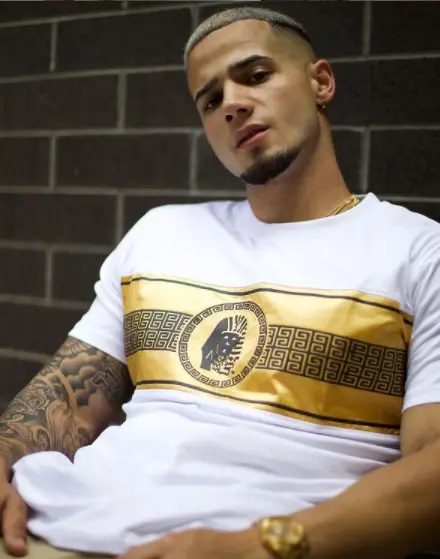 Jordan Torres posing in a Versace t-shirt (Source: Torres's Instagram)
When he was still studying, he faced lots of stuff that people from active gang areas face until he decided to pursue Rugby to stay off the street. Torres even got a chance to play elite Rugby in New Zealand, which opened his eyes further, and he began to explore life that was completely different from what he had seen back home in BX.
Torres was approached by a modeling agency just before his school was set to start. He agreed to it after a lot of consideration and immediately began making an impact.
The aspiring model's self-driven personality and hunger to win head started him to the very top of his league, and soon he began getting offers from the top brand opening up the path to the stage where it is now.
Torres never blames his past rather says that he gets motivation from weird stuff such as his neighborhood. He is well on his way to the top and has planned to open a community center in the Bronx, where he was born.
Torres wants kids from his old neighborhood to not go through what he had to face and help them find their path.
Life In The Old Neighbourhood
Jordan was born in 1993 and blows birthday candles every year on July 16. He was originally born in Puerto Rico but was later brought up in Bronx, New York.
From early days Torres had to be familiar with various gang interventions and even lost two of his brother. He has gotten their names tattooed in his inner wrist to remind him to keep his head up.
Torres says that his mother has been the biggest inspiration for him, and she came from nothing and did everything possible to raise him. He always wanted something that made his family proud.
Unfortunately, he lost his dad in 2020 and shared a very emotional message where he mentioned that the relationship between him and his dad was not so good, but he regrets not giving him a call. 
Currently, he has only three members, a mom, a brother, and himself as his family, and he wants to place his family in a better place than it ever was. 
Jordan Torres's Net Worth
In a span of over five years in the modeling industry, this young man has plenty of achievements to boast about already. Torres has earned a substantial income from modeling for many brands and appearing in magazines like Alpha Magazine.
He also shared that his ultimate goal is to be an actor and will soon feature in a movie to play his older brother's role.
Caption- Torres talks about playing the role of his older brother in an upcoming project 
As of 2021, Torres, a.ka, JT, is a master of six-figured net worth.