Juju & Des is the name of a YouTube channel run by real-life couple Julius Brown and Destiny Rodriguez, which boasts over 1.2 million subscribers over the period of more than 3 years of their YouTube journey. The duo has star-struck their fans with their unparalleled on and off-screen chemistry since 2018. 
Net Worth
The Youtube duo has been earning a substantial fortune from their Youtubing journey, allowing them to afford various luxurious amenities. The duo started Youtube with no intention to do it as a full-time career but little did they know about the people who would adore their chemistry in such a brilliant way. 
Their vlogs, QnAs, and lifestyle-related videos are highly anticipated by the audience, and their channel has over 180 million views as of 2021. In addition, juju & Des are both models for the global fashion brand FashionNova. 
Also, they add up their fortune from the sales of the merchandise they sell via their website, and the buyers need special passcode to view the merch. 
They bought a new house in 2021, consisting of a private theatre, an ambient fireplace, and an elegant interior. Also, they cruise in a rosegold customized Land Rover, which costs approximately $100,000, and an alluring red-colored Corvette. 
Worth Your Reading Time: Youtuber Stephen Sharer Wiki, Age, Girlfriend, Dating, Gay, Family, Height
Considering their significant time in the Youtubing journey and the luxury they own, it is safe to say that they own net worth of more than a million dollars. 
More Than A YouTube Couple
Juju & Des are the core believers of leading a public lifestyle while keeping their private life intact. However, on their video from July 21, 2018, they shared their love story from the very start. 
Unlike most of the couple influencers out there, Juju & Des first met through a mutual friend, and Julius fell for Destiny instantly. Also, their conversation didn't take off with a hi or a hello. Rather, it started with Brown saying, "Can I get a Sprite?" Later, Julius approached her cousin to take suggestions on how he should talk with her.
Eventually, they went on a hike where they got an opportunity to know each other better as they got to initiate a prolonged person-to-person conversation. After the hike, they went on a couple of dates before they began dating officially.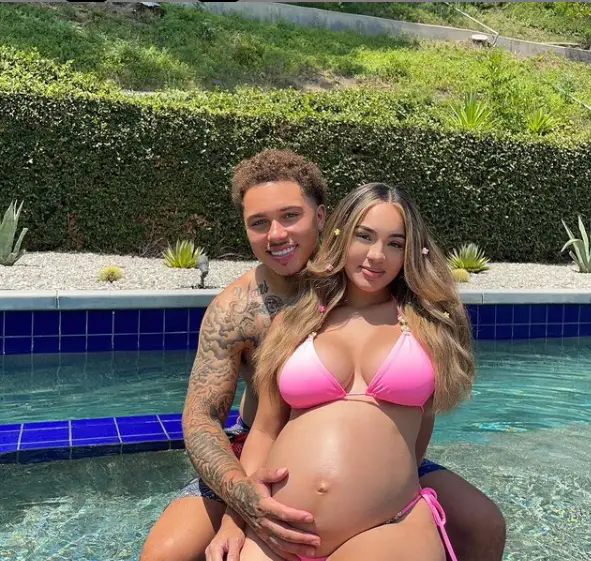 Juju & Des flaunting the baby bump while chilling in the pool (Source: Des's Instagram)
On April 2021, the duo got engaged and further surprised their fans by announcing the pregnancy later same month. The year 2021 has been full of good news for the duo as they had an engagement, a baby boy is on the way, and they even bought a new house.
Juju & Des's relationship is as radiant as ever, and with a new baby on the way, their relationship is only expected to bloom in a more captivating way in the coming days. 
Peek-A-Boo At Fellow YouTube Sensation: Zaid Ali Wiki, Married, Wife, Girlfriend, Dating, Ethnicity and Net Worth
Short Bio- Everything We Know
One half of the duo Juju & Des Julius Brown was born in 1997 and blows birthday candles every May 1st. Brown is a Tacoma-born Washington native who grew to become a social media sensation after consistently posting to Instagram from 2014. 
He was born to six as he has a younger brother and two sisters whom he adores very much. However, his utmost respect for their privacy has not let him disclose more about them. 
Julius was formerly represented by WTA Models but now has become an independent agent as he has enough fan-base to make his career self-sustained. 
The other half of the Juju & Des Destiny Rodriguez was born on January 11, 1995, making her two years older than her fiance. She is a US native who has Latin ancestry. Des first posted a doughnut-eating challenge as her debut video on Youtube. 
As of 2021, she is a soon-to-be mother and a bride-to-be, and also she posted a picture with Juju, fellow Youtuber Quan and his partner, who are also soon-to-be parents.