Justin Rhodes is a permaculturist, film producer, and author who promotes modern farming and inspires others to workout in the "Earth's Gym," i.e., farm. 
In 2015, Rhodes founded the Abundant Permaculture, which teaches people how to work with nature to produce their food to achieve a more abundant life. 
Career As A Modern Farmer
While most of us use modern technologies to entertain ourselves, this farmer from Fletcher, North Carolina, utilized his iPhone 6 to strengthen his farming skills. In an interview with Modern Farmer, Justin explained why he considers himself as a modern farmer saying,
"Because I use (and love) me some iPhone 6. I don't use modern technology to watch my friends play with their cat. Instead, I use modern technology to access the world's information to create a better farm, teach others how to do the same, and change this world for the better."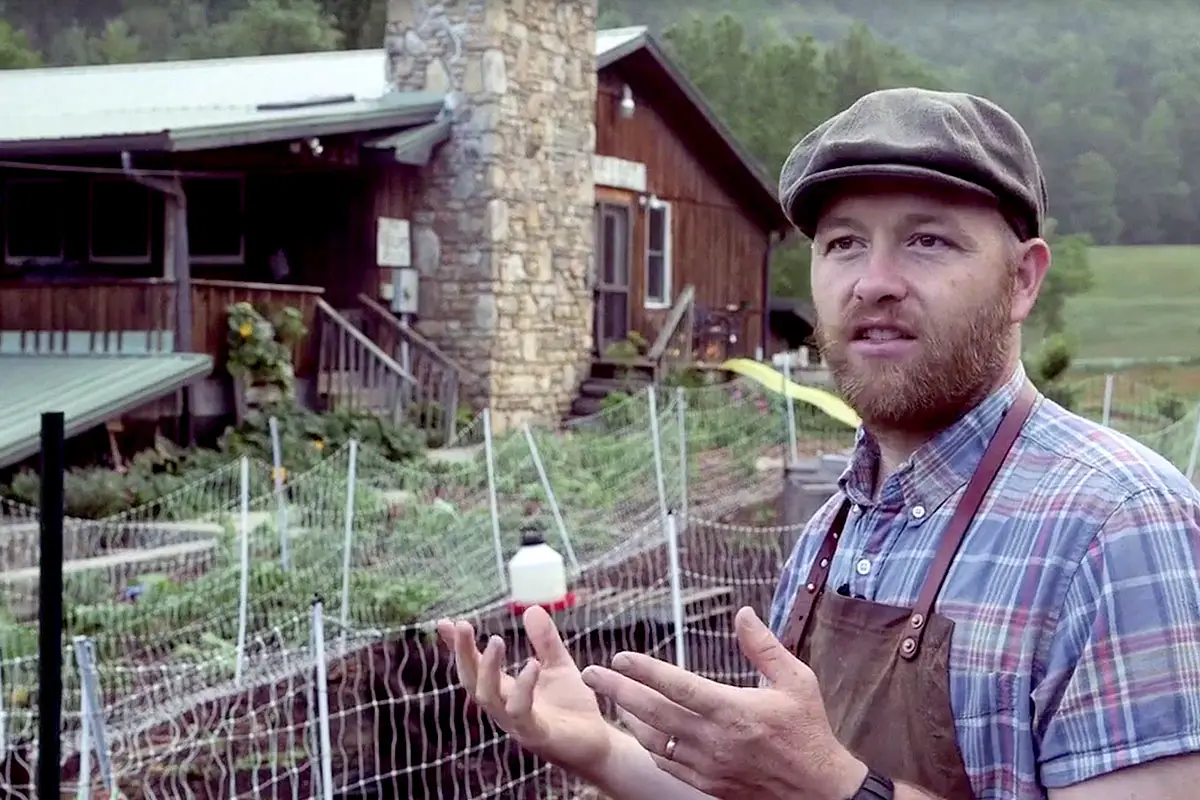 Justin in front of his homestead (Source: Permaculture Research Institute)
Rhodes believes that everyone is in the pursuit of freedom and being sustainable is a huge step towards independence. Initially, Rhodes got influenced to change his diet when a homeless man, possibly drunk, told him that he has to "live off the land" to survive. 
Justin took up the challenge to live off the land and ditched various processed food right away. He then began looking for ways to fill his family supplies all by himself.
As a result, the Rhodes family is homesteading on eight acres of land in Asheville, North Carolina, and 75% of their food supplies are the things they grew themselves. 
Justin also runs a YouTube channel where he uploads various fun videos from his farm and has garnered more than 800k subscribers.
He also urges other farmers to publish what they are doing in any form like videos, podcasts, or a blog to build a community and reach their audience, and spread the good message. 
Net Worth Details
As of 2021, Justin earns more than what is needed to sustain his family from the product that he grows on his farm. 
While aiming to be as independent as possible, he created a chicken tractor that costs less than $200. 
He has featured his DIY chicken tractor on his page and explained how he had made it from tin, milk crates, and some screws. 
Besides farming, Rhodes also sells his merch which adds up to his income, and his YouTube channel benefits his six-figure net worth. This modern farmer has learned organic living and lives happily with his family among the greens he grows. 
Family Details: Is Justin Married?
The aspiring farmer, Justin Rhodes, leads a family life as fresh as his farm. He has been married to his wife, Rebekah Rhodes, for more than two decades and shares five children with her.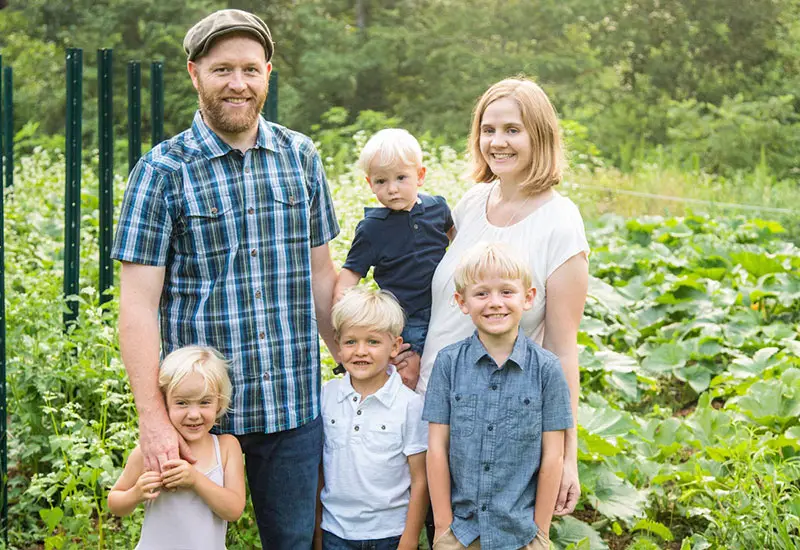 Justin and his wife with their children (Source: Modern Farmer)
His wife is his biggest supporter and has been helping him with whatever he is trying to achieve from the get-go.
They currently live in North Carolina and are busy raising their children, Jonah, Lily, Joshian, and Henry.