Comedian Kate Quigley, known for her hilarious comic sense, had a heart-aching experience when she came out about her cocaine addiction which killed three of her friends via Twitter and Instagram post on September 12, 2021.
Overdose On Fentanyl-Laced Cocaine
Kate Quigley was rushed to hospital after she overdosed on cocaine laced with a powerful painkiller called Fentanyl. The incident took three of her friends, Fuquan Johnson, comedian Ricky Angeli, and Natalie Williamson.
Police reported that they were found dead at a Venice, CA, home where they were reportedly having a house party over the weekend. While Kate was admitted to the hospital, the only survivor from the incident, she was lucid for a brief moment.
TFATK Taling on Kate Quigley Recovering From Fentanyl Laced Cocaine
Addressing the incident's aftermath, Quigley's mother, Fran Wyles, took to her Facebook and wrote, "Thank you everyone for your prayers and positivity. Kate is stable. She still isn't lucid for more than a moment at a time. We are optimistic that she will recover (tho it won't be quick)."
Fellow Female Comedian: Kitty Flanagan Age, Married, Husband, Partner, Lesbian
After getting discharged from the hospital, Kate took it to her Twitter and wrote a long message addressing the incident and sending prayers to her deceased friend writing,
"Hi guys. Upon being released from the hospital, I've finally had the time & clarity to put my feelings on paper. Mean this from the bottom of my heart," continuing, "

I feel overwhelmed by the outpouring of kind messages and am incredibly grateful to be surrounded by a strong community of friends, family, colleagues, and fans who have offered their support during this time; and to the team of paramedics, nurses, and doctors who saved my life," she wrote. "I am still shocked & devastated by the loss of my friends Fu, Rico, and Natalie. Words cannot describe the pain I am feeling & I will be changed forever by their passings."

She continued, "Fu was a generous, loving soul," she wrote. "He was hilarious, supportive, and incredibly authentic with the most infectious spirit. Rico was always filled with enthusiasm & Natalie was so kind and endearing. They each made an indelible mark on my life and the lives of their loved ones. I will miss them."
Concluding the messages, she said, "There are so many more things I want to say, but I'm not ready...When I am, I will. Until then, all I can say is: Tell your people that you love them every day. Stay safe. And please don't take life for granted. I did, and I never will again."
However, she is well on her way to recovery now as she was spotted out cruising through Venice, rocking a black T-shirt and cut-off jeans accompanied by a cap, face mask, shades, and flip flops on September 15, 2021.
Kate has promised to talk more on this matter in the coming days after she finishes struggling with her situation. After that, the comedian might take her time to recover before getting back to the stage again to boost her income.
Kate's Net Worth
The aspiring comedian has been earning a significant fortune from her professional career as an up-and-coming comedian. However, as of 2021, her primary source of income is her tours and live performances. 
Also, she has hosted various big-time events such as Playboy TV's Undercover and AVN Awards (2016), which brought her a handsomely fair sum of money.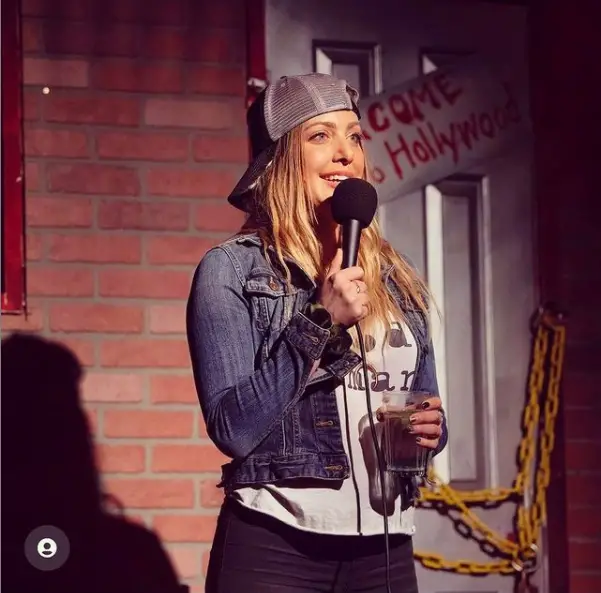 Kate Quigley while performing on the stage of Haha Comedy Club (Source: Kate's Instagram)
Quigley can be seen as the headlining performer in various Hollywood-based shows like Improv, Laugh Factory, Ice House Comedy Club, and Comedy Store, which has allowed her to amass a six-figured net worth as of 2021.
Wiki On Quigley 
Quigley was born on February 8, 1982, which makes her the age of 39 in 2021. However, she has a sarcastic bio on her Instagram, which says she is 75 years old.
She left home after completing high school to pursue Performing Arts at Chicago College of Performing Arts when she was 19. During her time in Chicago, she started performing in open mic nights at local comedy stand-ups and realized that it was the calling of her life.
She gradually fell in love with making people laugh, making her relocate to Southern California in 2006 to perform stand-up.
Gradually she accomplished one height after another until getting to host and perform on mega stages and TV shows like The Office and AVN Awards (Oscars of the adult movie industry) on Showtime.
However, despite having a smoothly churned professional life, she has had a fair share of bumpy relationships, which is adverse to her career.
Peek-A-Boo: Michelle Buteau Wiki: Age, Married, Husband, Boyfriend, Parents, Net Worth
Quigley's Dating Timeline 
Quigley had a fair amount of aborted relationships as she was claimed to be married at 19, but there are no traces of her husband.
The only relationship that is known to the media is her spark with the singer Darius Rucker. The duo ignited dating rumors after they appeared together on a few occasions after Rucker's divorce from the wife of 20 years.
Initially, they started as friends but gradually developed romantic chemistry amongst themselves during the quarantine period of 2020.
Kate Quigley and her ex-boyfriend Darius Rucker (Source: Kate's Instagram)
Kate was allegedly together with Rucker for most of 2020, but the newly knit relationship had a swift ending as the duo split their ways before completing one year as a couple.
As of now, Quigley is a single woman who is on her journey to find a foothold out of drug abuse and trying to get back to her average comedy-performing days.