The Bold And The Beautiful fame Linsey Godfrey was diagnosed with Hodgkin's Lymphoma (cancer) in 2006. Unfortunately, bad omens didn't stop for the actress as she was also caught in a road accident on February 2, 2015. 
However, she defeated all the odds, revived her halted career, managed to get a breakthrough, and won a Daytime Emmy nomination, a feat not everyone can achieve! 
Career Insights | Defeating All The Odds!
The Florida native Linsey came to Los Angeles in 2005 with the acting dream to try her luck in auditions. The same year she became successful in landing a role in a TV show called Surface.
But, sadly, her just budding acting career was stunned to a halt when she got diagnosed with cancer. After going through a series of therapies over seven months, she overcame cancer and returned to L.A once again.
Godfrey revealed a tattoo to celebrate the 10th year of being cancer-free later on in 2017. She then reformed her lost time and started in few shows like  Cold Case (2003) and CSI: Miami (2002) as a guest actress.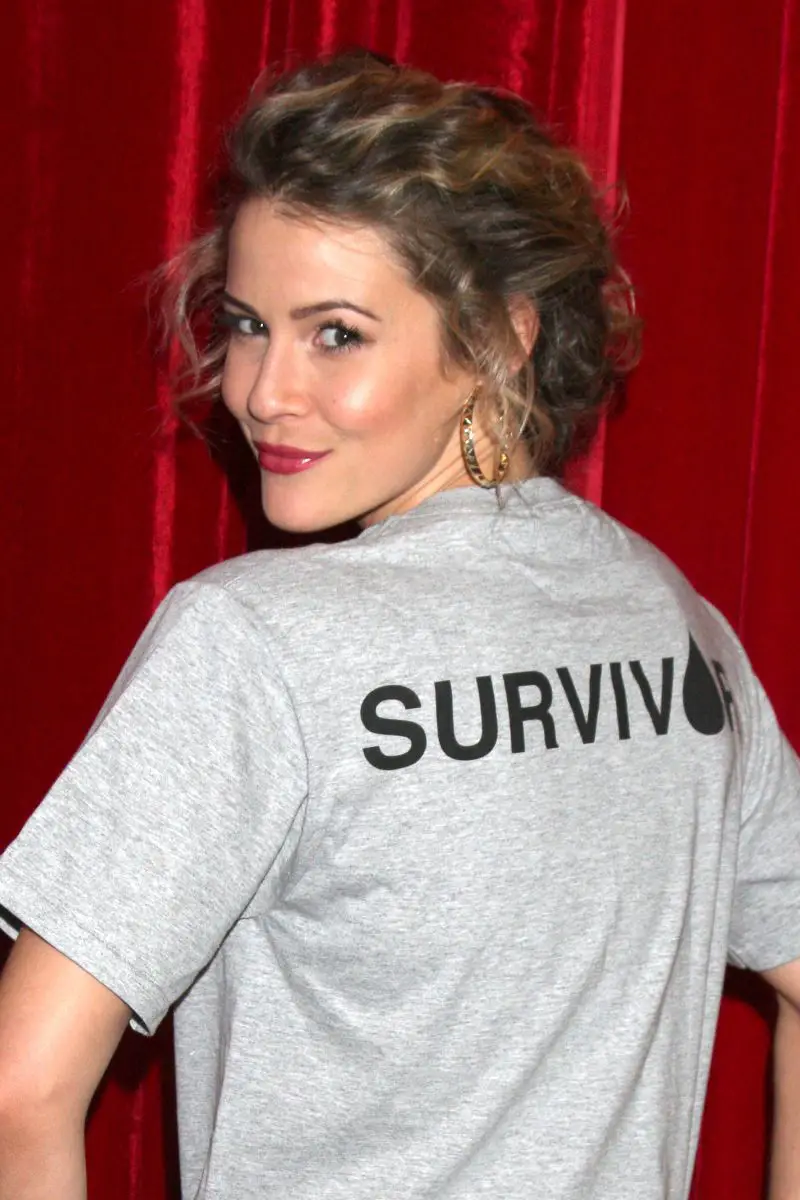 Linsey, wearing a cancer survivor tee (Source: CLoUDN1ne)
However, Godfrey had to wait till 2012 to get her first breakthrough via the hit TV drama The Bold And The Beautiful. The character she portrayed, Caroline Spencer, got commendable appreciation from the viewers, which took her acting career to the next level.
But, the moment when Linsey thought her career was back on track, she faced another tragedy. The TBTB star was hit by a moving car while walking by the sidewalk in L.A. Linsey ended up suffering injuries on her ankles and had to undergo surgery soon after the accident.
Then, on March 2015, she posted a series of tweets to let her fans know that she has recovered and will soon be joining work.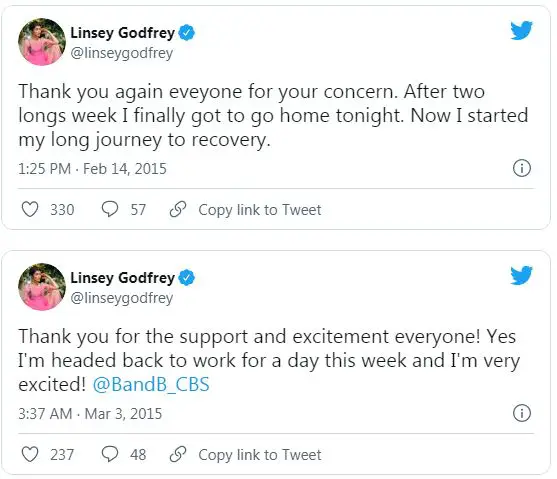 Linsey Godfrey's tweet regarding her recovery (Source: Twitter)
As of 2021, she is featured in a TV series called Days of Our Lives and, in a recent announcement, revealed that she would be working in a short movie called Our Last Day Children. 
Godfrey's personal life is also similar to her professional life because she had few bitter experiences in the past. 
Dating Life | Bisexual? Boyfriend, & Children 
On an Instagram post from March 10, 2021, she shared a picture of her and captioned a hashtag #lgBtq indicating that she could be bisexual.
"I've never been married. But the B is capitalized for a reason," said Linsey replying to a fan's comment that read- "I thought you were married to a man."
However, her previous and present dating timeline suggests otherwise!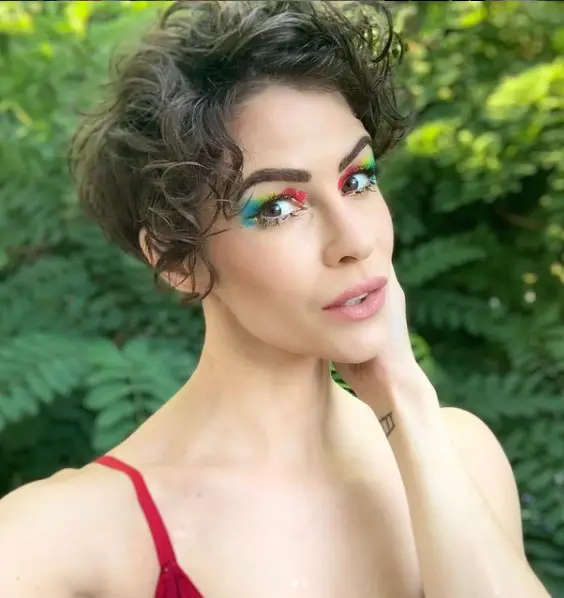 Linsey wishing a happy pride month via her Instagram (Source: Instagram)
After meeting through an online dating app, the Bold And The Beautiful fame dated FRANKLIN & BASH star Breckin Meyer. In an interview with Soap In-Depth, Linsey shared how they started dating, saying,
"He was away filming in Toronto, so we spent about a week chatting on FaceTime for about four hours a day," Godfrey confided to Soaps In Depth. "By the time we actually met in person, we felt as if we had known each other forever."
Godfrey was well-known about Meyer as she revealed that she had been crushing on his characters from Clueless and Roadtrip. 
Apart from this relationship, Godfrey had a bumpy experience with relationships in the past.
A Life Full Of Complications! 
After breaking up with her ex-boyfriend, Robert Adamson, in 2015, Godfrey had to lead her life as a single mother.
Godfrey and her soon-to-be husband were engaged. However, their story took a shocking turn and ended off sadly. One of the B&B spokespeople released a statement regarding this matter which read, 
"Actress Linsey Godfrey and her fiancé, actor Robert Adamson, have made the difficult decision to call off their engagement and separate. They will always remain connected as they are committed to co-parenting their daughter Aleda in a loving and amicable environment and her needs will always be their common priority. They thank their fans for their support and ask that their privacy regarding this matter be respected."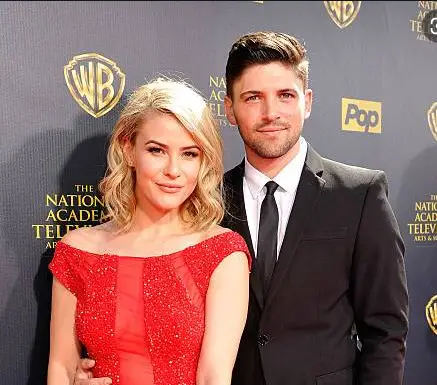 Linsey Godfrey and her ex-boyfriend Robert Adamson (Source: Getty Images)
In 2019, the soap opera star revealed that she had to get an abortion, which was a tough decision, but she did not regret it. 
The already complicated life of Godfrey got more tangled when she came to know about her diagnosis of Bipolar 2 and borderline personality disorder. However, the actress responded bravely and Instagrammed a message for her fans to come out regarding mental health and seek help. Godfrey wrote,
"I'm genuinely terrified to speak publicly about this, but I think it's more important than my fears to talk about it. Mental health issues are so much more common than we realize... We aren't broken; we aren't unhinged; our brains work differently... It's time to destigmatize mental health and stop dehumanizing mental health sufferers. You're not alone. I'm here."
The actress's fans and followers reacted amazingly towards her guts and thanked her for sharing the experience to break the stigma. 
A Short Bio & Net Worth
Linsey Godfrey was born on July 25, 1988, in Stuart, Florida. She spent her childhood living with her mother, Char Griggs, and step-father, Ronnie Griggs. Godfrey was intimidated by acting from a very young age. As a result, she started acting when she was in high school. Eventually, she got signed by a talent company for her further progress. 
Ever since moving to L.A. after high school to pursue an acting career, Linsey has grabbed over 27 credits as an actress. The Bold And The Beautiful actress has earned a respectable amount of fortune from her acting career. In 2021, she has a net worth of $600 thousand as per celebritynetworth. 
Linsey Godfrey has also done a few new signings and is an INARA ambassador, which adds to her fortune. The TV star's fans wait patiently to witness what the actress has planned out in the coming days.