The MTV star Maci Bookout is earning a handsome sum of fortune from the more than 10-year running franchise show 'Teen Mom.' In 2021, her substantial income from the show allowed her to shift from her relatively small home and buy a massive house in Ooltewah, Tennessee. 
Bookout's Net Worth 
Maci Bookout started small as she had a net worth of only $10 thousand in 2012. However, tables have turned drastically, and she owns a massive net worth of approximately more than $1 million as of 2021.
Additionally, Bookout owns a 3,500 square feet Tennessee home that she bought for a reported amount of $600,000 in 2021. She also cruises in a brilliant purple Jeep Wrangler. 
Further, Bookout revived her once halted project of a clothing store, TTM clothing, because they had failed to submit their annual report on April 1, 2019. But the year 2021 has been all blissful for her as the halted business is back on track too.
She also appeared on the 414th episode of Discovery Channel survival reality show Naked and Afraid. Although she took a 14 days challenge in Nicaragua Maci, she quit the show after spending a day in the wilderness.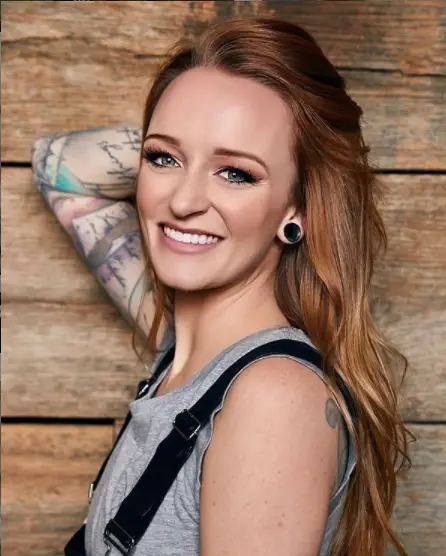 Maci Bookout posing for her clothing brand TTMLifestyle (Source: Maci's Instagram)
However, things weren't as colorful as it seems today as she was a pregnant mom when she was still in junior high school and had to put her aspirations to study on hold. But, she was a woman who eyed on the greener side of the lawn, and her MTV debut came around the same time from the series 16 and Pregnant.
Still, she got major recognition after joining Teen Mom, which captured her difficulties while trying to complete the study and the ultimate break up with her fiancé, Ryan Edwards. 
Split With Ryan Edwards
One of the original couples of the show Teen Mom Maci and Ryan's relationship was shown to be built on a fragile foundation as they were just teenagers without much experience of life.  
When Maci was pregnant, she was just a 16-year-old pregnant teen and, they were just a couple trying to figure out their relationship while preparing for the soon-to-be-born child, which brought various complications to both of their lives. 
They gave birth to their child Bentley Cadence Edwards on October 27, 2008, and the duo eventually got engaged by 2009 to establish a family together in a somewhat regular way.
However, the seemingly good relationship ended in veins before 2010 as they announced their split on the second episode of 2010's Teen Mom. Furthermore, their relationship became more strangled, and the duo got involved in frequent disputes. 
Caption: Maci after breaking up with Ryan Edwards during Teen Mom
A few years later, both of them were married to somebody else, but that's when their relationship started to worsen. Finally, in March of 2018, Maci filed an order of protection against Ryan as he sent a voicemail that sounded threatening.
The story ended stunningly as the order of protection was dismissed, and a restraining order was cast on both of them in May 2018. Their relationship came to a violent halt after Ryan's parents argued with Maci for not letting them see Bentley enough, which caused the show to fire Ryan's entire family on March 2021. 
From being teenage parents to split apart grown adults with a shared child, their relationship never found peace, proving that it is not settling anytime soon and they are so not meant to be near each other. 
Opposite to her relationship with Ryan, her present ties with her husband Taylor McKinney thrive well despite having a harsh past, allowing her to excel deeper into her life and settle down with dignity. 
Getting Divorced With Current Husband?
Despite having a heartbreak in her previous relationship, it was like finding a shore on a lost ocean when she found Taylor, and in no time, they started making it look like they were the missing pieces of the puzzle to each other. After tying the marital knot in 2016, the duo has come a long way and share a tightly knit bond.
However, various divorce rumors circulated on the internet, suggesting Maci's divorce with Taylor after the recent Teen Mom show displayed harsh words between the couple. Still, they slammed the rumors by Instagramming their cutesy pictures together and with family.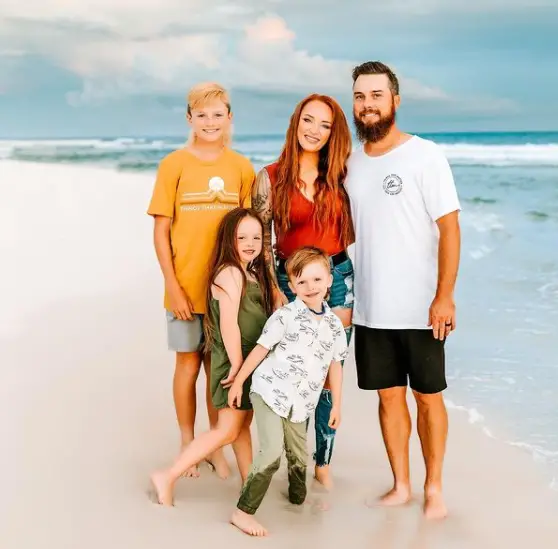 Maci with her husband Taylor and their children Bentley, Jayde, and Maverick (Source: Maci's Instagram)
The duo also recently completed their four anniversary, and Maci had some very honey-pearls-like words to share when she wrote, "The goal is to laugh forever with someone you take seriously," Maci wrote. "Happy fourth anniversary, babe! #wecheerforthehometeam #thingsthatmatter," via her Insta. 
They share two children, a son and a daughter, Jayde, and Maverick, and continue living their lives to the fullest as proud parents. They never miss a chance to shower each other with love and often mention each other via social media. 
Peek-A-Boo at another MTV Star: Devin Walker Wiki, Age, Girlfriend, Family
Maci's Short Bio
Maci Bookout is a 1991 born who blows her birthday candle every year on August 10. She loves Tennessee as she took birth and grew up there and currently lives there too. 
She is the daughter of Gene and Sharon Bookout and even has a brother named Matt Bookout. Bookout graduated from Ooltewah High School and later attended  Chattanooga State Community College, majoring in Associate of Arts Degree in 2015. 
Despite facing tons of adversities to stand where she is now, Maci has learned her lesson for good and is progressing ahead in her life as happy as she ever wanted to be.