The Canadian bodybuilder, Regan Grimes, is a prime example of what a man can achieve when incorporating passion with a tiny sprinkle of entrepreneurship.
Grimes's decision to pursue lifting as his career has allowed him to bag many achievements like 1st place in Ultimate Fitness Events Bodybuilding Contest (UFE), 2012, 2nd place in Open Men's Heavyweight, and Junior Heavyweight in 2014, etc.
Today, Grimes has established himself as one of the most influential bodybuilders and fitness entrepreneurs with a massive fan following worldwide. 
Body Building Career
Regan Grimes stepped into the gym for the first time when he was 17 with a prime goal to get bigger and stronger for the motocross races. However, after a year into the gym, he fell in love with weightlifting and decided to pursue it as a career further, and thus he dropped the motocross dream.
Grimes was 18 when he first did his show, and since then, he has gone on to bag various titles in bodybuilding contests all around the globe.
The gyming fanatic Regan has established himself as an IBFF Pro bodybuilder and is a proud victorian of the competitions like 2018's New York Pro Men's Classic Physique, 2012's Ultimate Fitness Events Bodybuilding Contest (UFE), and 2014's Mississauga Luchka O'Brien Classic.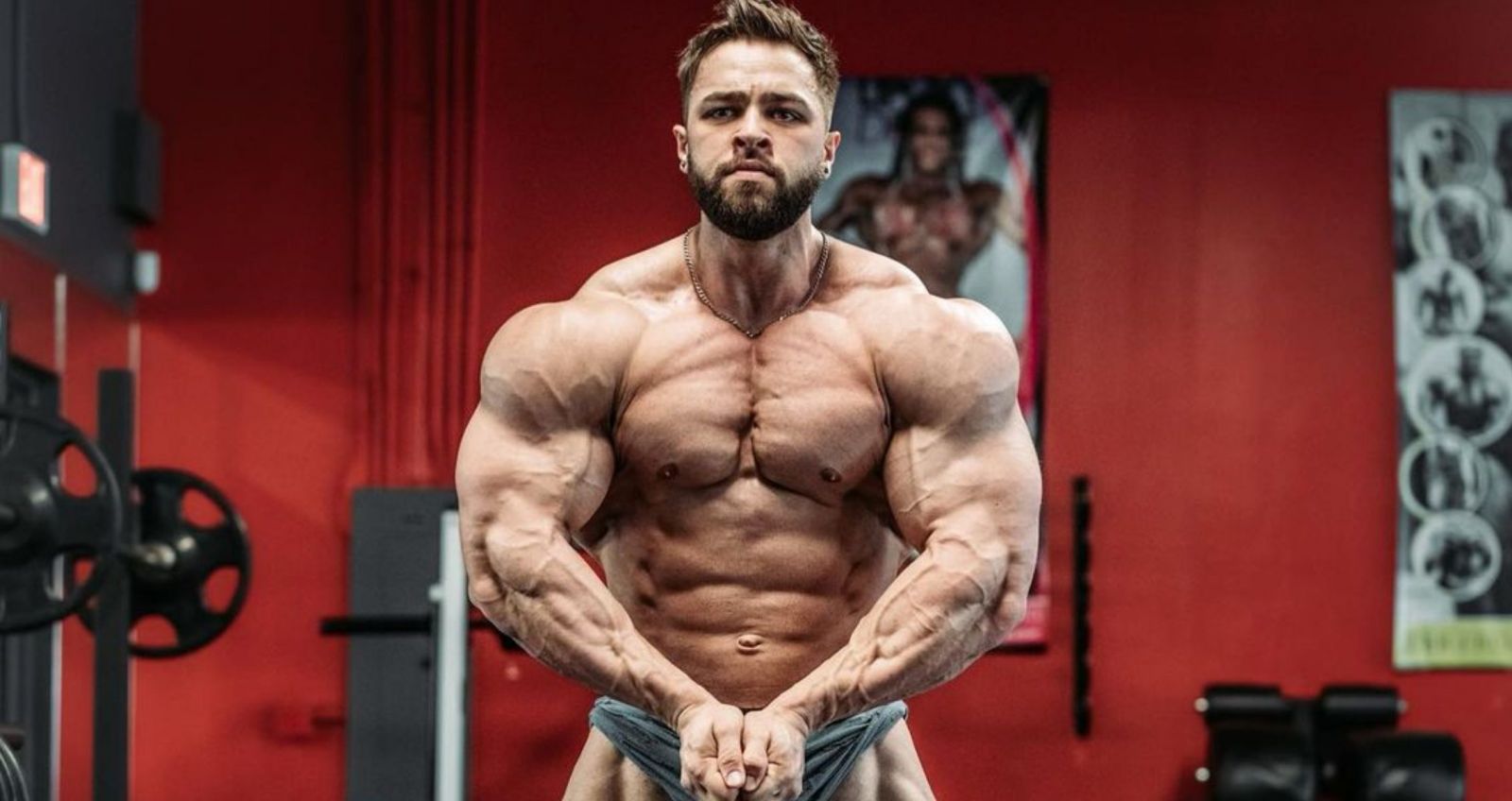 Regan Grimes posing to display his muscular build (Source: Generation Iron)
Further, he expresses that his favorite thing to do while training is crushing heavyweight. 
"The pump!! Throwing my headphones in and crushing heavy a.. weight!!"
The bodybuilder also takes his time to give out fitness workouts and diet planning for his fans via his YouTube channel, which has more than 280k subscribers. Regan still considers himself in a learning process and aims to take over the open division in the upcoming days.
While enjoying a fulfilling professional life, he also proceeded with few other startups that were as successful as his gyming career. Regan Grimes is a proud owner of his clothing line, Regan Grimes Apparel, and a gym named FlexPlex.
However, Regan has a stroke of hard luck with relationships, which is just opposite to his gyming career. 
Cheated On His Wife?
Regan was previously married to a woman named Victoria D'ariano, who shared a similar love for fitness. The pair got married on October 15, 2018.
The duo spent a lot of time working out together and seemed happy. However, in a shocking turn of the events, rumors surfaced that Regan cheated on his wife with one of his videographers named Taylor.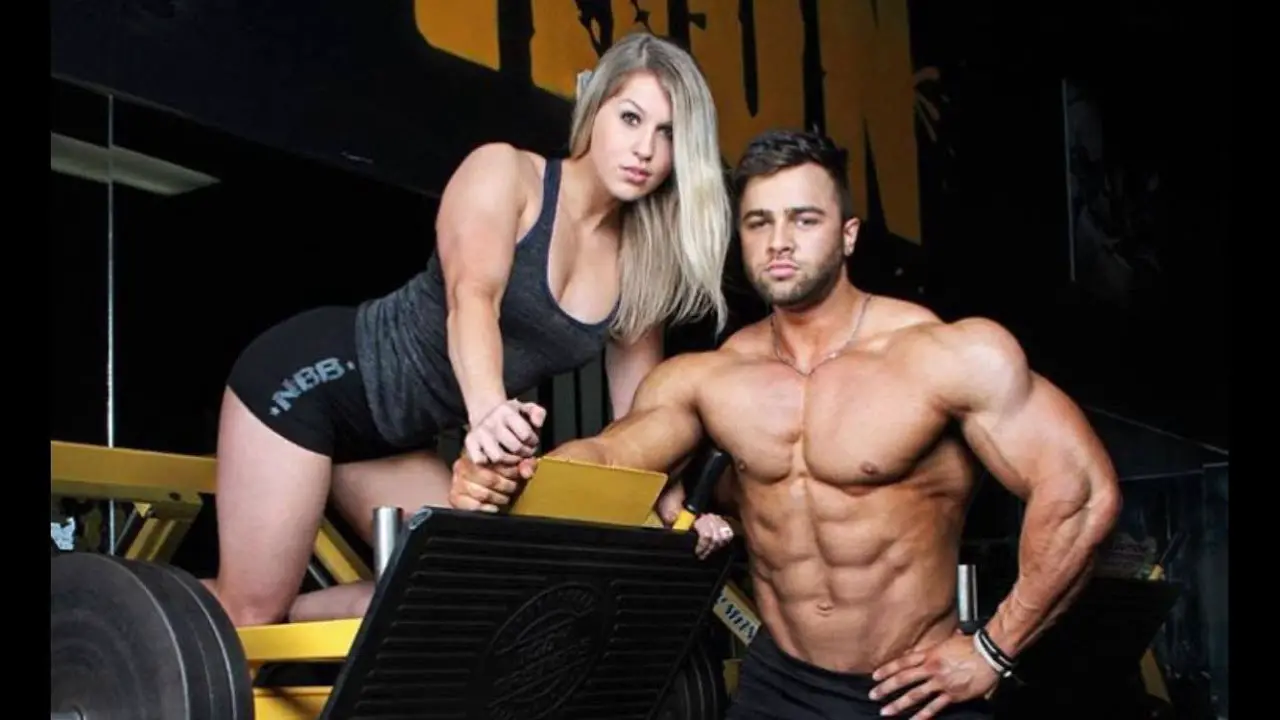 Regan Grimes and his ex-wife Victoria as seen in one of their YouTube videos (Source: Regan's YouTube)
The duo parted ways in no time which indicated the rumors to be true. During the time of their parting, Victoria was pregnant and had gone through a miscarriage, making it even worse for her. As of now, his ex-wife has already moved on with another man, Conor Elliot.
Victoria's mother expressed her anger towards Regan and wished her daughter a happy new relationship via an Instagram post, saying,
"In a world filled with so many narcissistic, arrogant, egotistical, selfish men, it is so refreshing to finally have a son-in-law who is a real man - kind, caring and respectful. Thank you Conor for being such a good role model. Love you."
On the other hand, the bodybuilding champ, Grimes, seems to be single, as he has not introduced anyone as his partner as of recently. Also, his socials do not show any sign of him having a significant other in his life. 
A Short Bio
The native Canadian bodybuilder, Regan, was born on June 26, 1993. He spent most of his childhood in Vancouver, which is also the place where he took part in his first-ever show. The celebrity bodybuilder stands at the height of 5'11 and weighs 215 - 225lbs as of 2021. 
The fitness freak has been making as much profit as possible from his gyming career, making significant growth in his fortune. He also has partnered with various brands like GAT Sports, FATHERSONS, DOYOUEVEN, and Ironbull for endorsements.
As of 2021, the uprising bodybuilder has a six-figured net worth. Grimes invests most of his fortune back to the gym and diet that he has to eat to keep up with his heavy daily workout routines. Also, he spends his money on his family and fulfills the responsibilities of being a formerly married man!
Regan has a proper body to dominate the world of bodybuilding sports. His fans are waiting excitedly for his upcoming ventures in the open division.