Rob Pelinka is a former college basketball player and player managing agent known for his genius managing skills. He is currently working as the Vice-President of the Los Angeles Lakers. 
However, the managing genius's relationship with legendary Kobe Bryant is what brought him to the limelight. After Pelinka became Bryant's manager in 2003, they became closest to each other and went on various family vacations together. Kobe even asked him to be the godfather of his then 13-year-old daughter Gianna. 
Losing A Best Friend
Rob Pelinka had to go through a huge storm of grief when he lost his best friend, Kobe Bryant, and goddaughter Gianna Bryant in a tragic helicopter crash on January 26, 2020.
After the untimely demise of his loved ones, Pelinka shared a statement expressing how devasted he was by their passing and took time to channelize his grief towards the basketball legend Kobe Bryant and his daughter.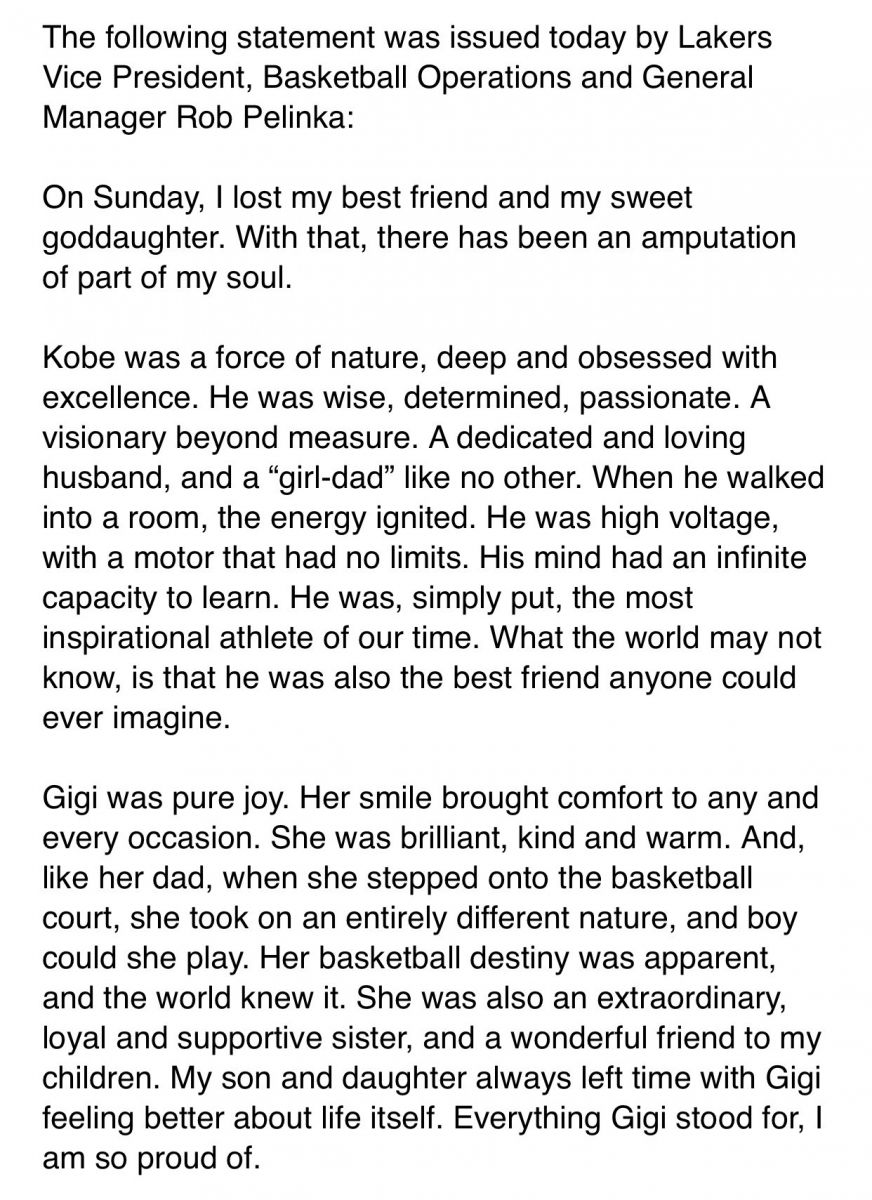 Rob Pelinka statement after the death of Kobe Bryant and his daughter (Source- Twitter) 
In 2020 when Bryant became the inductee of the Naismith Memorial Basketball Hall of Fame, Pelinka shared his mixed emotions and said, "I think all of us are heartbroken that he couldn't be there to receive that honor in person. But I have a level of confidence he's with us in spirit and still is celebrating that."
Rob took a moment to share what he admired the most about his demised friend and shared how Kobe would rely on relentless optimism and determination to fight through any problems.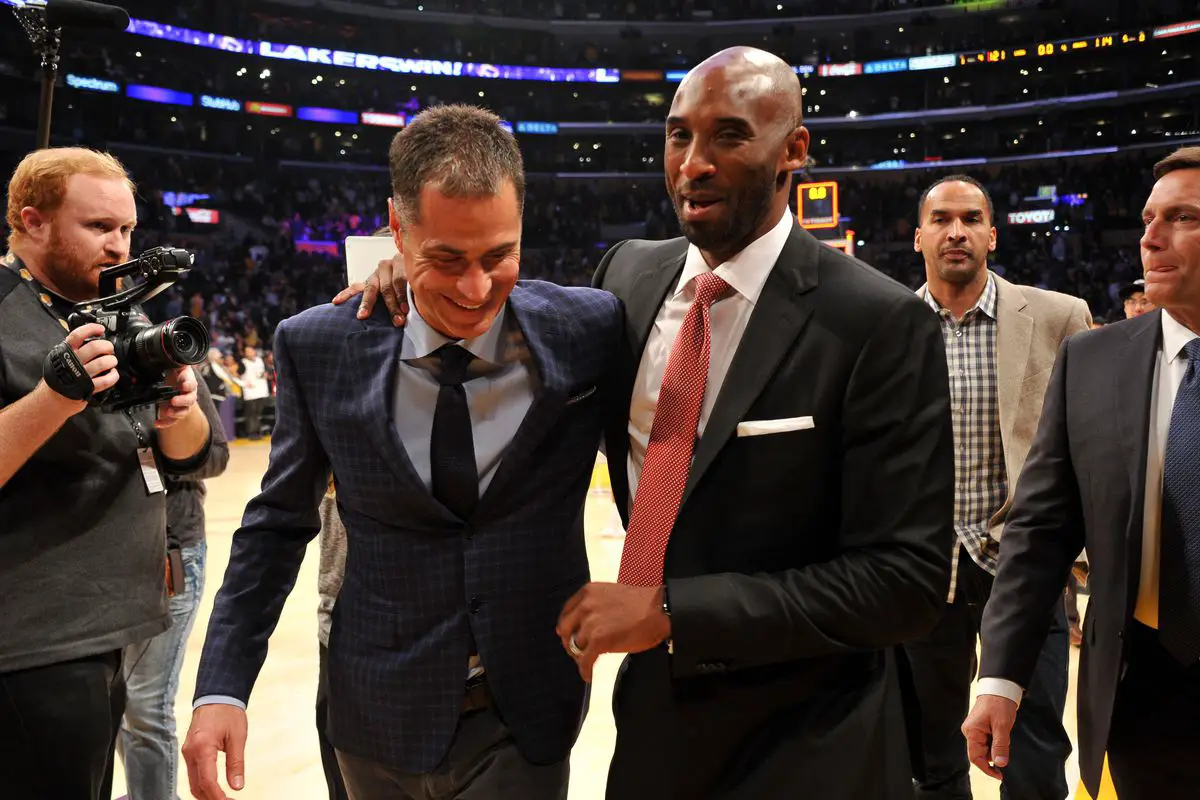 Rob Pelinka and Kobe Bryant (Source: silverscreenandroll.com)
Pelinka's Career Insights
Although Rob was a brilliant basketball player during his college days, he realized that he would be more successful in the managing field than an athletic one. Hence, he joined SFX Management as a legal counselor in 1998.
After two years of working as a legal counselor and closely observing how player management works, he pursued a sports agent career. He then met the legend himself, Kobe Bryant, and their closeness grew both professionally and personally, and he began representing Kobe from the beginning of his managing career.
A few years later, Pelinka started his own sports agency named, The Landmark Sports Agency, Los Angeles. Since he had Kobe onboard, it became easier for him to sign other NBA stars and run a full-fledged sports agency.
As a result, he signed a few of the most prominent NBA stars like James Harden, Andre Iguodala, Buddy Hield, Chris Bosh, Eric Gordon, etc. Pelinka even stood by Kobe during 2003's sex assault accusation, which cemented their bond.
After gaining all the experience of management, he then eyed the position of the league's executive. As a result, the owner of the Los Angeles Lakers, Jeanie Buss, brought Pelinka as the team's general manager.
As a result, he was able to bag a whopping deal of $20 million for four years as the general manager in the Lakers, which yields him a yearly salary of $5 million. 
What Is Rob Pelinka's Networth? 
The American team executive, Rob, has a net worth that values at a staggering amount of $25 million.
From years of experience in the management sector of basketball, he has been able to muster an amazing fortune, allowing him to afford a luxurious and fulfilled lifestyle.
The Lakers' GM recently listed his house for sale for a jaw-dropping amount of $3.5 million. The property is situated at 3,500 square feet in Newport Beach and has magnificent exteriors and interiors.
Pelinka is leading a life with his family amidst luxury and enjoying every benefit of the work that he has put on. 
Is Pelinka Married? 
The Lakers' general manager has been married to Kristin Pelinka for more than 16 years now.
Kristin is a pediatric doctor with over a decade-long experience and currently serves as CA Pediatrician at Hoag Health Center, Costa Meca, CA. The duo has two children named Durham and Emery.
In addition, they are blessed with a pair of brilliant kids as they even volunteered at The Painted Turtle camp, a camp for children with life-threatening illnesses. Pelinka has a happy family, which he adores very much, and is responsible for everything his family includes.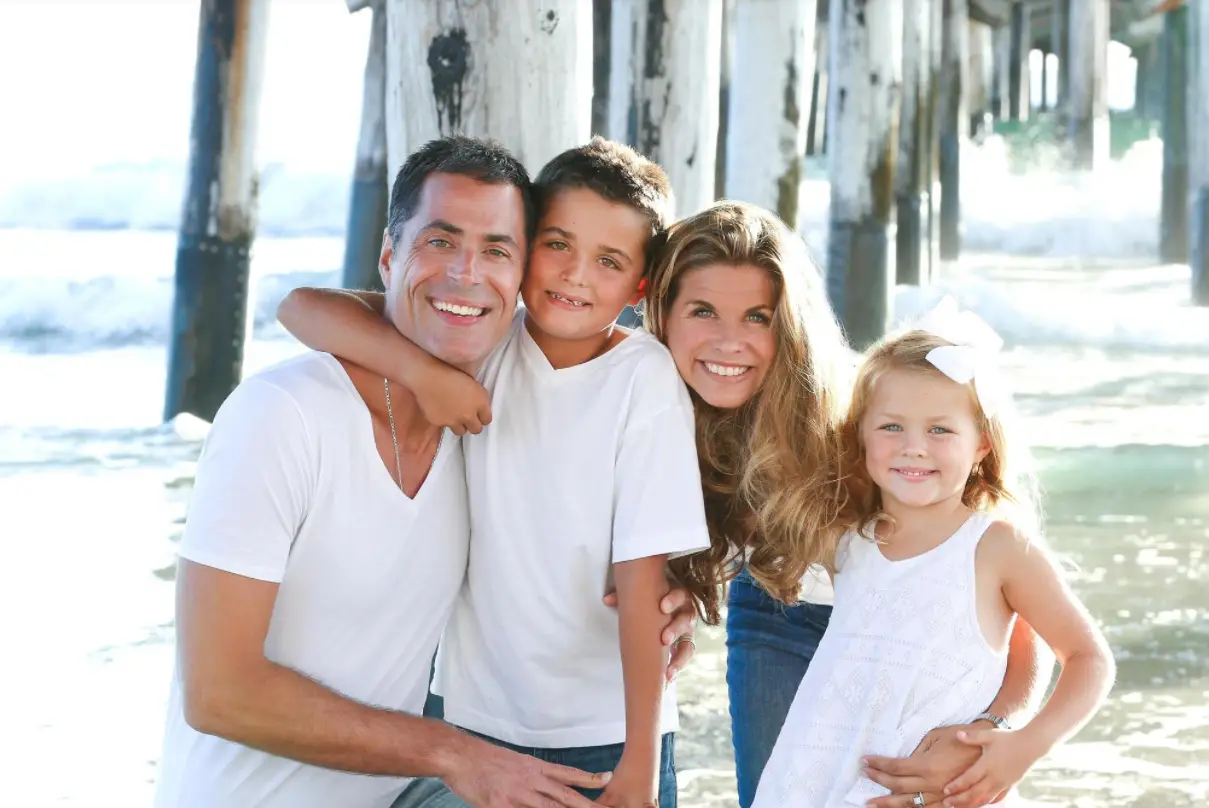 Rob with his wife, Kristin, and children (Source: Kristin's Facebook)
The duo continues sharing the same level of affection for each other since day one as their well-wishers continue admiring them for the people they are. 
A Short Bio
Pelinka, aka Rob Todd Pelinka, was born on December 23, 1969, in Chicago, Illinois. He grew up in Illinois and went to the Lake Forrest High School.
While in high school, he developed a love for basketball and decided to do something with the sport.
Pelinka also became the first player to play in three Final Four Tournaments. Since then, he has become the call maker for one of the best NBA teams, the Los Angeles Lakers, and has a future full of possibilities.