The fact that she is the former staffer of the Trump campaign who also worked as the Mediate columnist has been jeopardized with the new revelations in the life of this person. As of now, the one thing that is keeping A.J. Delgado in the headlines is her relationship with her coworker and partner, Jason Miller in the Donald Trump presidential campaign in September 2016. She served as the campaign adviser during her time there.
Career and Progression:
After graduating from the Harvard, she started practicing in New York City. Along with that, she has also been a columnist for Mediate, a news and opinion blog that covers politics and entertainment. Her articles have been published in The Washington Post, The American Conservative and Fox News among many.
She is also a regular on Hannity. She has regularly defended Trump from any kind of sexual harassment allegations and has even called sickening. She self-published a book named Hip To Be Square: Why It's Cool To Be A Conservative in 2012.
A Battle with ex-Boyfriend and Baby Daddy, Jason Miller!!!
As we now know that she worked in the presidential campaign of Trump as a campaign advisor. There she met a man, Jason Miller who was a chief spokesperson for the same team. It's not clear about when they actually began dating, but they pretty soon got along with each other.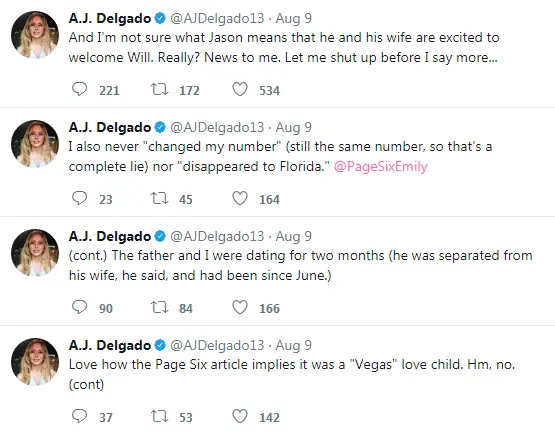 The rumors of an affair between them intensified after they were spotted together in Las Vegas October. By the end of 2016, she was pregnant with a child from her boyfriend. After it had become public, she clarified that the father of her son, Jason had told her that he was separated from his wife when they started seeing each other.
Delgado welcomed their son, William on 10th of July of this year which she announced on Twitter. To this, Jason replied by saying that he along with his wife and two daughters were ready to welcome the new born son into the family.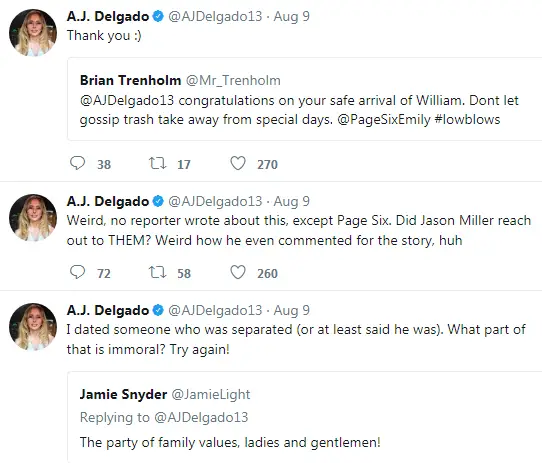 However, she wasn't thrilled to hear it and quick to refute the statement on social media. She wrote on Twitter," And I'm not sure what Jason means that he and his wife are excited to welcome Will. Really? News to me. Let me shut up before I say more."
The couple has already stopped talking to each other and only communicate through lawyers. She has not yet married or had a husband before. She has denied the news of Page Six that she changed her number and disappeared from Florida after the break-up.
A.J.'s Short Bio and Family:
A.J. Delgado who has reached the age of 36 years was born to the Cuban immigrant parents in U.S. As per the wiki, Her father drove a bus for a living whereas her mother worked in a factory. She spoke Spanish with the family and didn't speak English until kindergarten. She is the graduate of the Harvard School of Law. The American National belongs to Cuban American ethnicity. The reputed Mediate columnist and Trump's adviser seems to have a perfect personality with decent height and body shape.