Running a family business while also being a district representative might sound like a difficult task for many. But not for Dean Philips. The Minnesota native is a businessman, Representative for Minnesota's Third Congressional District, as well as a father.
Early in his political career, Dean managed to gain substantially high numbers in support from the locals of Minnesota. His aim to reform the different policies currently affecting the country has been well received by the people. So it would be no surprise to see Dean's rise in Congress take up speed in the coming years.
Married, Wife
As of 2019, Dean is not a married man. However, he is engaged to his fiance Annalise Glick, a musician-turned-art-consultant.
The pair met shortly after his divorce with his former wife, Karin. Presently, Dean is enjoying his life with Annalise and plans to marry her in the coming months. He got engaged to Annalise back in November of 2018.
Read More: Simon Nessman Girlfriend, Net Worth, 2019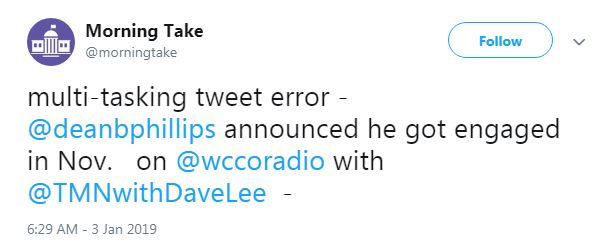 (Photo: Morning Take's Twitter)
Before Annalise, he was married to his long-time girlfriend Karin Einisman, whom he has known since he was five years old. The pair got married in 1995 and had two children, both daughters, Pia and Daniela. But after 20 years of married life, the couple called it quits and got a divorce in 2015.
Despite his split, he still maintains a perfect relationship with his ex-wife, Karin.
Net Worth
Dean Philips is a Representative for Minnesota's Third Congressional District, a Businessman, and Civic leader. Along with that, he joined his family business Phillips Distilling Company, where he started as a sales representative, later becoming the CEO of the company.
After serving for some years, he left the company and joined a small gelato business started Talenti Gelato, turning the company into one of the top-selling ice cream brands in the United States. Likewise, in 2015, he, along with his partner, opened Penny's Coffee.
Further along, Dean also served as a regent at Saint Johns University and Board Chair of Allina Health, the operator of Abbott Northwestern, Mercy-Unity and United Hospitals. And in the year 2013, he helped bring WE Day, the global youth-empowerment initiative, to Minnesota.
As for his political career, Phillips ran for the United States House of Representatives in Minnesota's 3rd congressional district in the 2018 elections. He won the race against Erik Paulsen. He took office in 2019 and became the first Democrat to hold the seat since 1961.
With his bright career history, Dean had an estimated net worth of $2.83 million in early 2014. The numbers since have likely rised concerning his stock and trades.
Wiki, Bio, & Family
Dean Philips was born on the 20th of January, 1969 in Minnesota, the USA to parents DeeDee and Artie Pfefer. But in a tragic turn of events, his father was killed in the Vietnam war when he was just six months old. After which his mother married Eddie Phillips, the heir to the Phillips Distilling Company.
Interesting: Alyssa Lang Wiki, Age, Married, Salary, Height
As for his education, he attended Highlands Elementary School. He graduated with an MBA from the University of Minnesota in 2000.