Robert Mueller is the 6th FBI director, who was nominated by President Bush. He officially took responsibility for the post on 4th September 2001 and served till 2013. He was also the special counsel to oversee the investigation of the Justice Department's research on suspicion of  Russia's involvement in the presidential election of 2016.
He has served in Vietnam and has been awarded Vietnamese Cross of Gallantry and Navy Commendation Medal.
Wife/ Children
As the saying goes, 'Young love doesn't last long,' the case was exceptional for the couple Robert and his wife, Ann Cabell Standish. They met at a party held by Robert's friend while they were in high school and were just 17 years old teenagers.
The former FBI director was working on his degree in politics at Princeton and invited Ann to visit over the weekend and love started to bloom between the pair. After graduation, Robert married Ann on 3 September 1966 on a labor day weekend. 
Related Content: Alexi Ashe Wiki, Net Worth, Parents, Husband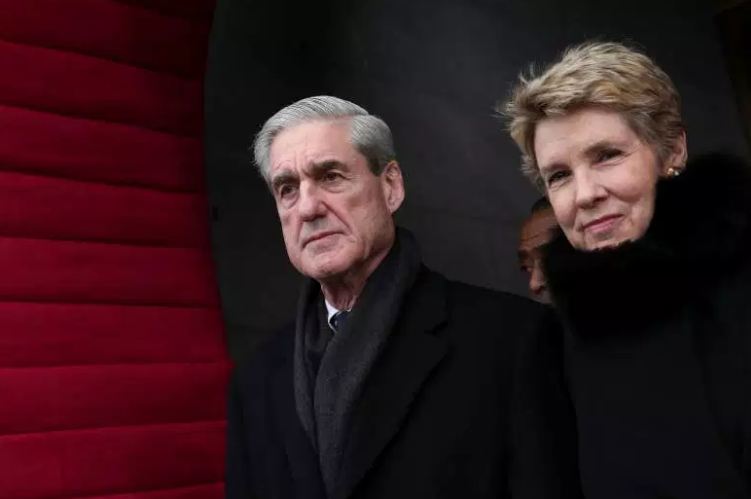 Robert with his wife Ann Cabell Standish (Photo: heavy.com)
After two years of marriage, he joined the Marines and was stationed in Vietnam. Meanwhile, his wife, Ann, started teaching children with disabilities when Robert was serving in Vietnam. Despite some long-distance relationship, the high school sweethearts stayed firm.
They are blessed with two daughters, Cynthia and Melissa. One of his daughters was born with Spina Bifida that resulted in him to move to Boston. She received treatment at Children's Hospital in Boston. Robert and his wife Ann are also proud grandparents of Robert Charles and Campbell.
Net Worth
From his successful decade long career as an attorney and his 12 years of leading FBI, the longest tenures in the FBI history, it is no doubt that Robert had a pretty fulfilling and satisfying life.
According to Politico, the net worth of attorney and former FBI director Robert, and his wife Ann is estimated to be between $4.2 million to $15.2 million respectively.
Wiki- Bio & Family
Robert Muller was born on 7 August 1944 in New York, USA with the birth name as Robert Swan Mueller III. His father Robert Swan Mueller Jr was a business executive and worked for DuPont Corporation. His mother Alice C. Truesdale was the granddaughter of William H. Truesdale a railroad executive at the turn of the 20th century.
The former director of the FBI was born into a wealthy family and had four sisters, Susan M. Timchak, Sandra M. Dick, Joan B. Mueller, and Patricia H. Mueller. His father, who graduated from Princeton, was a world war veteran. He served in the U.S Navy and captained a navy submarine.
As for his physical attribute, Robert has a height of 1.8 m (5 feet 11 inch) tall, with a slim build figure and a decent weight.
You May Like: Mercedes Colwin Wiki, Age, Husband, Net Worth
Education 
Talking about Robert's education, the former FBI director was admitted to St. Paul's School in New Hampshire. He captained the football team, lacrosse and hockey teams in the school.
Robert graduated with a Bachelor's Degree in Politics from the university in 1966. He got his Masters degree in International Relations from New York University in 1967.
After securing masters degree, he served with distinction in Vietnam and received a bronze star, two Navy Commendation Medal, Purple Heart and the Vietnamese Cross of Gallantry recognition as an officer in the Marine Corps. He also continued his education at the University of Virginia School of Law and earned his J.D. in 1973.