Steve Bullock is the Governor of Montana since 2012, who stood up as one of the candidates for the 2020 Presidential Campaign in May 2019. He is prominently acknowledged for expanding Medicaid, freezing college tuition, making significant investments in public education, and reforming the state's criminal justice system. 
Steve has also served as legal counsel to the Secretary of State of Montana and the Executive Assistant Attorney General of Montana. 
Presidential Campaign 2020; Steve's Career And Net Worth 
Steve Bullock, age 53, is the governor of Montana since 2012. The native Montana resident, who is from the Democratic party is one of the candidates for the 2020 Presidential Campaign of the United States. He was the 22nd Democratic candidate to join the 2020 presidential race with a proven bipartisan record in Helena. As per the sources, his campaign raised over $2 million from the donors in all fifty states in 2019.
Steve entered in the Presidential race on 14 May 2019 with the policy positions on several agendas including health care, immigration, campaign finance/election reform, and LGBTQ rights. 
Currently, he is serving his second term as a governor which lasts until 2020. He was first elected in 2012 and also was chosen as governor in re-election in 2016 despite the states' support for President Donald Trump. 
Before that, Steve served as an Attorney General of Montana for four years from 2009 to 2013. During his career span of nearly a half-decade, he got national recognition by bringing Citizens United to the Supreme Court.  
Summing up his career progression, Steve Bullock has an estimated net worth of $2 million that he garnered from his political career, and as an attorney, and professor. Depending on the stock market, his worth ranges in between $800,000 and $2.6 million (2019 financial statement). 
Wife And Children 
To those who are familiar with Steve Bullock, he is a married man and a proud father. He relishes a longterm married life of over two decades with his wife Lisa Bullocks, who works for the tech companies like IBM, MAXIMUS, Public Knowledge, and Northrop Grumman.
Also Read: Tiler Peck Divorce, Husband, Family, Now
The couple tied their nuptial knot in 1999. Later, he and his wife welcomed three children, namely; Caroline Bullock, Alexandria Bullock, and Cameron Bullock.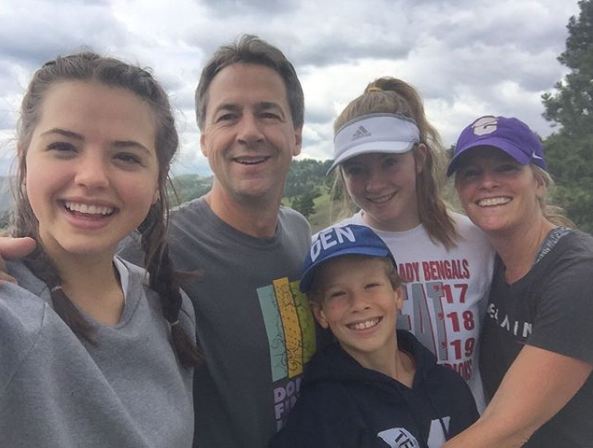 Steve Bullock with his wife and kids (Photo: Steve's Instagram) 
Along with the romantical inbound, Steve and his wife, Lisa co-works, for several charities and are also committed to ending childhood hunger in Montana. The couple helped serving over 650,000 more breakfast meals during the 2017 school year collaborating with private partnerships.
Not only the pair but also their daughters are equally supportive of their professional life. One of their daughters, Caroline, who turned 17 in April 2019,  is an executive campaign manager for Steve.
Away from the professional career, the couple saves their quality time for their children and frequently attends family events and occasions. The Bullocks' family is often spotted enjoying the outdoor adventures. 
As of now, Steve relishes a longterm married life with his wife with immense love and support. 
You May Like This: Adam Morrison Bio, Net Worth, Wife, Family
Wiki & Family 
Steve Bullock was born in Missoula, Montana, the United States in 1966. The Native American of white ethnicity pursued his education from Helena High School. Later, he graduated from Claremont McKenna College and earned his JD from Columbia University. 
His mother, Penny, raised him as a single parent along with his brother after the divorce with his father when he was in a grade school. His mom is a former educator who self-identified herself as an "MSNBC Mom." His father had stage 4 cancer.
Facts
Some of the interesting facts about Steve Bullock;
For one year from July 2018 to 2019, he served as the Chair of the National Governors Association. Also, he has his firm (New York law firm), which he opened after serving as an adjunct professor at the George Washington University Law School.
 

Steve was the delegate for former President Bill Clinton in 1992 and also went on to endorse former Secretary of State Hilary Clinton in the 2016 election.