American politician Tulsi Gabbard is one of the prominent women of the United States, who is known as the first Hindu member of the United States Congress. The Democratic congresswoman is an unorthodox politician having ample scope working experience from serving as an Iraq War veteran to being a vice chair of Democratic National Committee.
Since 2013, Tulsi is serving as a Representative for Hawaii's 2nd congressional district and is currently running for 2020 presidential election.
Tulsi, with her affiliation in American politics, garnered the estimated net worth of $208,504 in 2015 ranking 346th in the House. Open Secrets recorded her assets between $100,000 and $250,000 in 2015. She bought cryptocurrencies in 2017 and raised more than $1 million in campaign funds from 2017 to 2018.
Explore This: Hannah Zeile Wiki: Age, Height, Weight, Parents
Currently, the Democratic congresswoman might be earning a more substantial amount salary through which her fortunes have likely taken a rise.
Wiki- Parents & Height
Tulsi Gabbard was born as one of the five children in Leloaloa, American Samoa on 12 April 1981. The politician grew up in Hawaii in a multi-religious household.
The Democratic congresswoman is pretty much close to both of her parents, who have a political background. Her father Mike Gabbard is Catholic and represents District 20 as a Democratic member of the Hawaii Senate.
As for her mother Carol Port Gabbard, she is Hindu who is a former teacher. Also, she is an entrepreneur and mother of five children.
Like Tulsi, all of her four siblings have Hindu names, sisters named Bhakti, Vrindavan, brothers named Jai, and Aryan.
You May See: Pauletta Washington Wiki: Age, Children, Net Worth, Denzel Washington
Tulsi got home-schooled throughout her high school and graduated her higher education from Hawaii Pacific University completing a BSBA degree in International business in 2009.
Her height is 1.73 meters (5 feet 8 inches), but her weight is yet to get disclosed. Tulsi has a mixed ethnicity (Samoan, European, German), and follows the Hindu religion.
Married Twice; Wedding With Husband!
Tulsi's love life encloses the married relationship for twice. Her current husband Abraham Williams is a Cinematographer with whom she met in 2012, while he worked on her campaign shoots. After their first encounter, Abraham waited for a year and asked her out for a date in 2013 while attending a friend's birthday party.
Abraham later had a marriage proposal for his ladylove on the South Shore while they went out for a surf, and according to Tulsi's interview with Times, she reminisced the moment and said:
By the time we got there and were paddling out, the sun was just about to dip under the horizon. He paddled quickly out to the lineup, way ahead of me, and waited as I slowly made my way out. Then he paddled over, pulled out a double-tethered contraption attached to a gold duct-tape-covered flotation device, with a beautiful ring attached, and said, 'I have a question for you: Will you marry me?
The Hindu couple had their wedding on 9 April 2015 on the Hawaiian island of Oahu. At their ceremony, a Hindu priest recited the Vedic Chant, and although much of the reception was in Sanskrit, Tulsi and her husband Abraham exchanged the vows that they wrote in their native language, English.
Both Tulsi and Abraham donned a Hindu dress where the U.S. politician chose a Lacha-style wardrobe and her better-half enrobed Jacquard Asymmetric Sherwani. Nearly 300 guests enjoyed the wedding ceremony and dined on an Indian-style meal.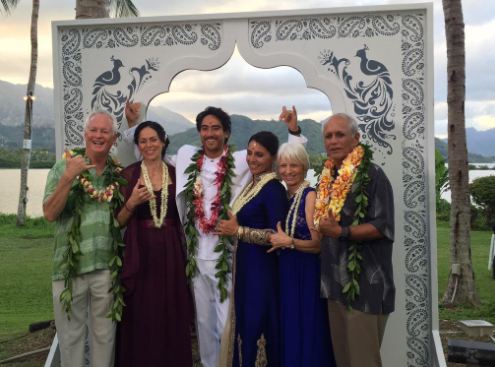 Tulsi Gabbard and her husband Abraham Williams with their parents during their wedding day on 9 April 2015 at Hawaii (Photo: Twitter)
Since then, the couple has been savoring their relationship, and her husband Abraham has remained supportive of Tulsi's political career; she is contending for president in 2020. As of now, Tulsi and her spouse yet have no plan to increase family with future children.
Before Abraham, Tulsi got married to childhood sweetheart Eduardo Tamayo in a small wedding ceremony in 2002. Her marital ties with her first husband were short-lived as they divorced after four years on 5 June 2006.