Ursula Burns Net Worth
Published On: 20 Jun, 2016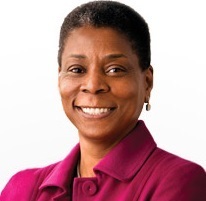 Raised by the single mother, who would have thought about her, being one of the powerful women of the world. She is the CEO and Chairman of Xerox, which is listed in Fortune 500 Company. Yes, we are talking about Ursula Burns who has shaken the world from her knowledge in handling the business. Though there has always been the domination by white Americans, she has reached in such a place where any black American, especially woman, would dream of. As of 2014, she is earning $18.7 million dollars. And, we are not talking about her net worth here. It's just her annual salary of the company.
Born on September 20, 1958, in New York City, she got her education from the simple university. She also has the master degree in Mechanical Engineering. First worked as an intern in Xerox, she had never hoped to reach in such a position one day. She got experience from her job rotation which also helped her to know more about the company. In her 20s, she focused herself on the product development and planning field. Her career took a lift when the-then senior executive, Wayland Hicks, offered a job of executive assistant which she could not refuse of. In most of the 90s, she worked in the same position. But in 1999, she got promoted ad became the vice president of global manufacturing.
Then in 2009, she was named as the CEO of the company and a year later a chairman. Ursula is the ambitious lady who fulfilled her dream through her hard works. She always suggested her key formulas to the women with the same zeal to do something for the country and for them. You can find her principles on YouTube as well as in Tabloids.
Ursula has always credited her success to her husband who is 20 years older than her. Ursula got married to Lloyd Bean who also happened to be the worker of Xerox. She has always said that she has reached this height because of the support of her husband. The couple resides in Manhattan with their children (Daughter – Melissa and Step Son – Malcolm).
Because of her frequent appearances in public, she has become very popular among the workers. She is also an inspirational figure for most of the black American people. As per the Forbes Magazine, she has been listed as 29th powerful women of the world in 2015.
Her successful story can be the inspiration for the people. You can find her full bio in Wikipedia as well. Plus, you can follow her on Twitter.
---