NFL star Aaron Rodgers is known as the quarterback of the Green Bay Packers. During his professional career, he won Super Bowl MVP and secured the Bert Bell Award on his name.
He has set various records including single-season passing yards and touchdowns with Packers. With his reputation, Packers made a deal with Aaron to a four-year extension worth $134 million along with $57.5 million signing bonus in August 2018.
Aaron's Dating History; Relationship With Danica Patrick
Aaron Rodgers' romantic life trails his relationship with a couple of beauties. Back in 2014, he dated an American actress Olivia Munn with whom he was spotted frequently. They dated for almost three years before dissolving their relationship in 2017. Reportedly, they had a split because Olivia had concerns about him having serious feuds with his family. However, Aaron stated that they parted their ways due to the lack of privacy. 
After his estranged relationship with Olivia, Aaron started dating Danica Patrick. His current girlfriend, Danica, who is a former American racing driver, became the first woman to host the ESPY Awards in July 2018. She attended the red carpet with the NFL player to celebrate her accomplishment and posed together for the cameras. The duo, who marked their public appearance in 2018 ESPYs, met each other at the 2012 ESPYs and remained long-time friends.
His girlfriend described their first encounter during an interview on Jenny McCarthy's SiriusXM radio show. After the meeting, the duo exchanged email address but not phone numbers. They even referred each other as Chicago and Green Bay, which Danica still finds cute. It took nearly six years for Aaron and Danica to commence their dating in January 2018.
Read Also: Nia Franklin Wiki, Age, Personal Life, Family | Miss America 2019 Facts
Danica was a Bears fan, but Aaron was a starting quarterback for the Green Bay Packers, which is a rival of the Bears. Even her father TJ Patrick was a longterm fan (over 50 years) of Bears and raised his family a Chicago Bears sworn. But during Aaron's encounter with Danica's father, he gave the stamp of approval and said there are no problems for his daughter to be a fan of Aaron. TJ found the Green Bay quarterback intelligent and liked his sense of humor.
Though the couple did not confirm their dating till late January 2018, their dating rumors breezed across the tabloids. On 13 January 2018, the couple attended dinner together at The Mission in Scottsdale, Arizona with a couple of friends. Later, they confirmed their relationship and appeared in 2018 ESPY's. On 19 July 2018, Danica took her Instagram and showcased the couple's snapshot.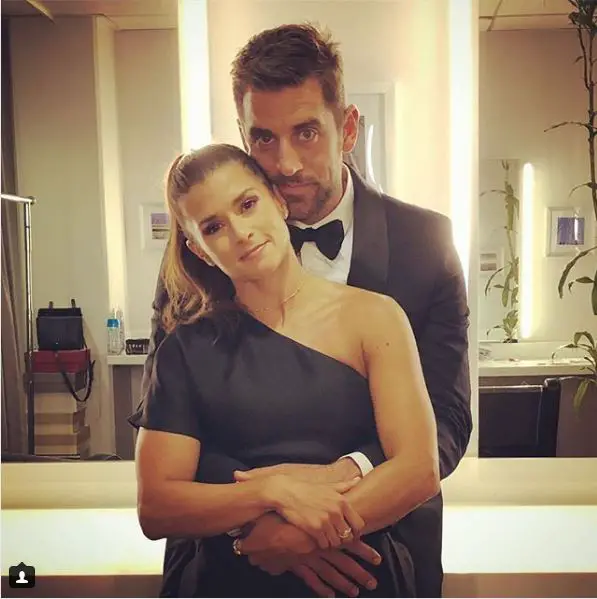 Aaron Rodgers and his girlfriend, Danica Patrick in a picture posted on 19 July 2018 (Photo: Instagram)
The couple accompanies each other at several events and occasions. Aaron celebrated Danica's early birthday in March 2019 with an 'epic trip' to Napa. Danica shared a post on her Instagram where she disclosed that they were off to Napa for her birthday celebration along with their friends. Also, she stated that her beau and Green Bay Packers quarterback planned for the remarkable journey. 
During her birthday on 26 March 2019, Aaron wished her a warm birthday through a dashing picture on his Instagram. He referred his ladylove as a 'beautiful, intelligent, strong, driven, badass woman' that he gets to stand beside in this life. Back on Valentine's in February 2019, he also flaunted a picture with Danica and portrayed his love dimensions. 
Although the couple is in a long-time relationship, Aaron has yet to take Danica as his wife. As of now, the American football quarterback is reportedly unmarried.
As for his girlfriend Danica, she was previously married to a personal trainer and physical therapist Paul Hospenthal with whom she had a divorce in 2013.
You Don't Want To Miss: Buddy Stephens Wiki: Age, Bio, Family, Salary, Net Worth, Last Chance U
Abused By Brett Favre; Denied Gay Accusations
The American football quarterback's teammates thought he was a gay while he was a rookie at Packers. He got abused by the former American football quarterback, Brett Favre. According to the source, Brett humiliated him by inscribing his headgear. One of the friends of Aaron has also described the incident by saying,
Aaron does not have a kind word to say about Brett. Nothing even slightly kind. He was always a d**k to him. It was never ending. Rodgers was the butt of jokes—some that he heard, many that he did not. A rumor circulated around the locker room that he was gay, based upon the fact that—unlike many of his teammates—he wasn't one to brag about his pe**s size or his endless string of sexual conquests. 
Amidst the gay hoax, the NFL player talked with 540 ESPN Milwaukee in December 2013 and declared that he likes women and is not a gay. He denied all the accusations, and his relationship with Danica Patrick also proves that the NFL star is not gay.
Short Bio
Born on 2 December 1983 as Aaron Charles Rodgers, the quarterback is a native of Chico, California. At the age of ten, Aaron won the free-throw competition and emerged in a local newspaper. As per wiki, he played NFL for two years in the University of California at Berkeley.
See Also: Sara Ganim Birthday, Bio, Married, Husband, Parents, Ethnicity
The NFL star was born as the second son of his parents Ed and Darla Rodgers and had two siblings. One of his brothers, Jordan Rodgers, played quarterback at Vanderbilt University whereas his second brother, Luke Rodgers is a Whiskey Ambassador. Aaron stands at the height of 6 feet 2 inches (1.88 m) and weighs around 225 lb (102 kg).