A rough neighborhood and poverty-stricken upbringing didn't stop the current Miami Heat power forward Bam Adebayo from kissing the success in his professional he celebrates now. The 22-years-old basketball player fought through countless despair and broke through the tangles that confined him as an average New Jersey kid.
It has not been very long since Bam debuted as a professional NBA player, but the stats speak in favor of him.  It was him who helped Kentucky reach Elite Eight in the 2017 NCAA Tournament.
Yes, he has a promising career ahead of him and undoubtedly he aces the basketball test papers now.
Parents
Edrice Femi Adebayo a.k.a Bam Adebayo was born to Marilyn Bount(mother) and John Adebayo(father) on July 18, 1997. He was brought up by his mother in Newark, NJ alongside his sisters.
Apparently, his father was not actively involved in their upbringing. So, his mother had to exert herself almost every day despite her physical blemishes.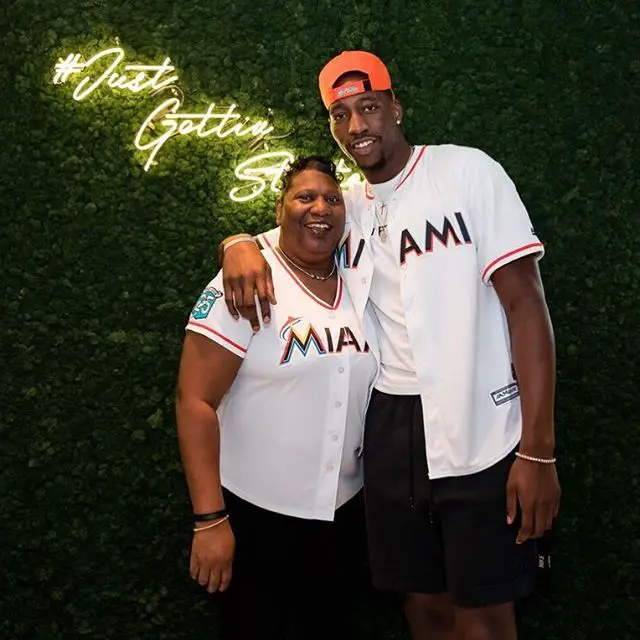 Proud Mom: Bam Adebayo with his mother(Photo: Bam Adebayo Instagram)
Bam feels grateful for his mother and takes her as an inspiration in his life. His love and honor for her are evident in the social media post.
Body Measurements - Height & Weight
Tall stature is well appreciated when it comes to basketball. It does make sense as it elevates your chances of scoring and defending. Bam Adebayo has certainly hit the jackpot in this context.
He stands at the tall height of 6 foot 10 inches and weighs 255 lbs. He wears size 16 sneakers.
High School, Career
The current Miami Heat power-forward embarked on his basketball journey from 2010 as a mediocre and worked his way up the basics. Averaging a point of 32.2, he supported his Northside High School team for three years prior to his senior year at High Point Christian Academy(Average points: 18.9 points and 13 rebounds). His tenacity and overwhelming love for the sport helped land the Cougars an appearance in the NCISAA state championship. He was later awarded the North Carolina Gatorade Player of the year.
From 2016-2017 he was associated with the Kentucky Wildcats as a part of his college career. He started in all 38 games contributing an average of 13.0 points. Kentucky climbed their way to the elite eight in NCAA tournament in 2017 and Bam's succor in the whole scene can't be denied. He played alongside De'Aaron Fox.
Explore More Interesting: Danny Duncan Wiki, Age, Net Worth, Facts
He got associated with the Miami Heat on July 1, 2017, through NBA draft selection. Bam debuted as a professional NBA player on October 18 the same year. During his 2017-18 endeavors, he appeared in 69 games and scored 6.9 points on an average making him a well-ranked player among NBA rookie leaders. 
The super-athletic power forward is still contracted to the Miami Heat(2018-19) and partakes in most of the official games. An article published on July 26, 2019, confirms his invitation to the USA Basketball World Cup training camp along with other big shots of the industry.
Networth - Contract
Basketball and the stakes are always as high as it gets. It's simple, the more you hoop, the more you earn. Bam definitely fulfills the hooping criteria alright!
Bam has been recognized as the 212th NBA athlete and 35th center player in terms of payment, so money is the least of his worries. Talking about salary, he accumulates an estimated earning of about $3,454,080 yearly. Sources indicate that his income has risen by 16.85% as of 2018/19.
Not only that, he is contracted to Miami Heat for 2019-20 seasons, and he would be receiving the salary of $3.5 million.
With his outraging expect his net worth emerging any time soon on social media. 
Dating A Girlfriend?
It might be startling to know that the well-known Heat player has no romantic relationship, at least none in the eyes of the public. Well, he might not yet want another woman as his first priority, given that he has a well-knitted relationship with his mother.
Perhaps, he wants to focus solely on his career for now and considers everything else a distraction. We know nothing yet, but we hope to see his romantic life spice up a little in the near future.