Dabo Swinney is a famous American football head coach at Clemson Tigers Football. He started things off as a walk-on wide receiver of Crimson Tide football program and gaining experience by working as an assistant coach for Crimson Tide; he went on to become a very popular head coach. 
He has worked hard and established himself as a legendary coach. His dedication towards football blended with his abilities and incredible tactics has proven to be handy for him to succeed as a coach and also to lead his team to victory in various tournaments. 
Dabo's Net Worth; Clemson Reward Him With Improved Contract
Dabo Swinney summons his net worth by working as an American college football coach. His net worth is jaw-dropping which amounts to $20 Million. Dabo has an annual salary of $6.75 Million. However, Forbes reported that he earned a mind-numbing figure of $8.5 million in 2017 alone and had banked more than $17 million in four years from 2014-2017.
Don't Miss: Mountain Men Star Tom Oar Wiki, Age, Wife, Family, Net Worth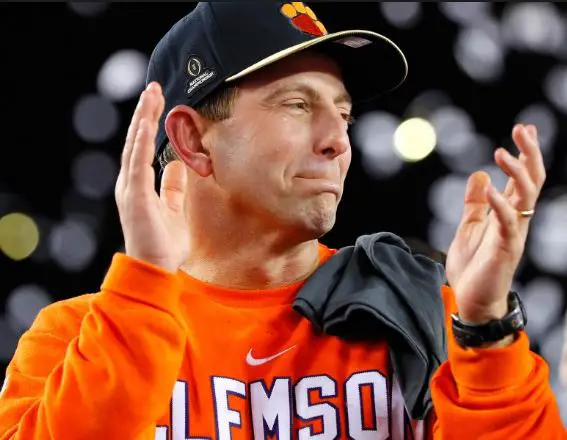 Dabo Swinney clapping aster the game on 10 January 2017 (Photo: ftw.usatoday.com) 
His passion for football become noticeable in him from his younger age. Dabo played college football as a wide receiver for the University of Alabama Crimson Tide since 1990. Dabo began his coaching career in Crimson but took a leap as an assistant coach for the Clemson in 2003. After five years, on 13 October 2008, he became the head coach taking over the reign of Tommy Bowden.
As a head coach, Swinney has taken his team to a whole different level and made them achieve the new height of success. As the time passed by he achieved several accomplishments. In 2011, he guided his team to win the ACC championship. He also won the Bobby Dodd Coach of the Year award the same year.
Discover Me: Marion Brooks Wiki: Age, Daughters, Divorce, Salary
Following his coaching ways and the success of the team, Swinney received an eight-year contract worth $27.15 million in 2013.
However, in 2016, he also signed an extended contract as Swinney led the Clemson Tigers to become the 2016 National Football Champions. His current contract ensured average earnings of $6.75 million till 2024. Swinney will receive an average of $7.06 million from the first five years of the deal, which includes a $1 million retention bonus and another $700,000 retention bonus on first of March 2019 and 2021 respectively. The coach had agreed to a six-year deal worth $31.75 million with Clemson in April 2016.
Dabo's Wife; All About His Family Of Five
Dabo Swinney is married to Kathleen Swinney (formerly Bassett), and the couple has known each other since early elementary school in Birmingham. The high school sweethearts shared the wedding vows in the year 1994 and are relishing their time together for more than two decades. Dabo and his wife have also been named honorary alumni of Clemson University. 
With his spouse, Dabo has welcomed three sons Will, Drew, and Clay. Dabo's older son Will Swinney is working under his father for the Tigers after he signed his letter of intent to become a Tiger during a signing day ceremony last year at Daniel High School. Both Dabo and his wife described this as the most special moment in their life as a family.
See Also: Leonard Lopate Wiki: Show, Fired, Suspended, Salary, Personal Life, Facts
The family of five resides in Clemson in a Castle-like home, which features modern facilities like gym, swimming pool, and basketball court.
Short Bio
Dabo Swinney, who was born on 20 November 1969 in Birmingham, was called with his birth name William Christopher Swinney. Dabo, age 49, holds American nationality. At this age also he maintains a great physique which compliments his tall height.
In his family, he has an older brother, who used to refer him as "That Boy,' which later got modified into his current name Dabo.