In the age where people cannot go a day without technology, Tom Oar, who's aged 73, has been joyfully residing in a remote house which is fifty miles away from a normal grocery store.
Tom Oar is an American television personality, and former rodeo, famous as one of the six characters featured on History Channel's reality series, 'Mountain Men.' Along with the guys like Eustace Conway and Morgan Beasly, he has been living a primitive life that is just fascinating to watch but pretty difficult to live.
Career And Progression
Tom Oar started working on the rodeo circuit when he was in his twenties. However, the job eventually resulted detrimental for his physical health and permanently affected his legs. Upon leaving the rodeo circuit, he began working as a tanner. Tom is self-taught but is deemed as one of the most respected tanners currently operating in America.
More About History Channel's Star: Tyler Dale Wiki, Age, Gay, Net Worth, Family
Moreover, the celeb rose to prominence after featuring on the History Channel's series, 'Mountain Men' along with Eustace Conway and Morgan Beasly. The popular series follows the lifestyle of those legendary individuals who decided to live as 'true American originals' without materialistic sophistication. The first season of the show was televised on 31 May 2012.
The 7th season of Mountain Men's premiered in the History Channel with its first episode 'Nowhere to Run' on 19 July 2018. In the third episode of the show, Mary Hawk gives birth to a baby girl named Madeline Rose Hawk, whom they nicknamed as Maddie Hawk. In the same episode, Tom Oar was seen teaching his apprentice Sean McAfee a trapping lesson, as they were working on muskrat. Meanwhile, Sean felt pressure to help Tom as he was a beginner. Nevertheless, Tom is confident that Sean would be a muskrat trapper very soon.
The next day after, they found that the fresh wolf tracks weren't there when they visit the muskrat trap. After that, Tom told that they had to construct traps to control the rising population of the wolves. As per Tom, the increasing number of the wolves could be a serious threat to humans and their game animals. The 11th episode of 'Mountain Men' is scheduled to air on 4 October 2018.
How much is Tom's Worth?
According to Celebrity Net Worth, Tom Oar, age 73, has reportedly garnered an enormous net worth of $2 thousand. The celeb accumulated the amount primarily from his appearance in the television series, 'Mountain Men.' Also, the earnings made through tanning animal hides which he claims to exceed $4,000 have also contributed to increasing the worth.
Also Read: Rick Lagina Wiki, Bio, Age, Married, Wife, Family, Net Worth, Oak Island
Is Tom A Married Man?
Unlike the other two from the series whom we have talked about, Tom Oar is happily married to wife, Nancy, who regularly stars in the show 'Mountain Men.' The couple first met while he was a Bronco driver and has stayed together as a team for more than forty years.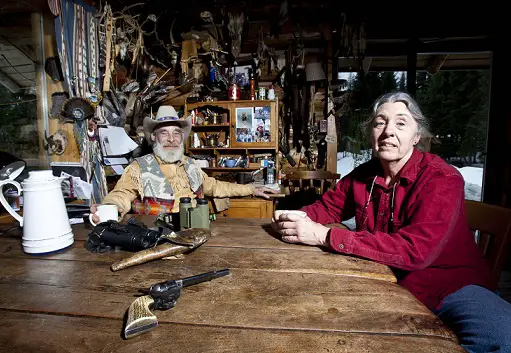 Tom Oar with Nancy, his wife of forty years (Source: History)
The couple is originally from northern Illinois but moved to Troy after he left rodeo circuit. Tom and his wife stayed in hand-built a log home in Troy for five years and moved to Montana. In an interview, the couple revealed that they remained isolated from technology without electricity or running water for the first seventeen years in Montana.
Together, Tom and Nancy have a son named Chad Oar. As of now, the couple has settled in a remote land of Montana's Yaak Valley and lives solely utilizing the things nature provides. Even at this age, the family of three has managed to live fifty miles away from the grocery store and spent their time tanning deer and killing chickens.
Don't Miss About Mountain Men's Cast member: Marty Meierotto Wiki, Age, Married, Wife, Family, Net Worth, Show
Short Bio
According to some wiki sources, Tom Oar, 73, was born in Illinois, the United States in around mid-1940's. He is a son of Chike Oar, who used to work for Wild West show. Tom belongs to white ethnicity and enjoys an incredible height, which suits his personality.