Jamal Mashburn is a former professional basketball player. He was also called "Monster Mash" for his huge body. As a small forward, Jamal was a productive scorer in his twelve seasons in league with a career scoring average of 19.1 points per game
How Much Is Jamal's Net Worth?
The former player has accumulated the net worth of $45 million. His average salary from the contract for six years, 2000 to 2006, is $8,850,000. He has achieved the massive net worth with his hard work and dedication.
Read More: Colton Underwood Daughter, Gay, Bachelor in Paradise, Net Worth
Jamal played for Dallas Mavericks and Miami Heat and retired after 12 successful years in NBA. He retired at the age of 34 on 6th March 2006. Even after the retirement from his career, he has stopped adding the fortune to his net worth. He owns more than 70 business ventures. He has many restaurants, such as three Dunkin Donut stores, thirty-two papa John's Pizza restaurants and thirty-eight outback Steakhouse restaurants. He has also invested in automobiles businesses, such as he is the owner of Kentucky's Toyota on Nicholas and Lexus Store of Lexington, and he also has some holding in real-estate. This business made him more popular and added his net worth. He is also a television host; he was hired to be an analyst of the show on the ESPN about NBA.
Jamal's Married Life
Jamal, 45, is married to Michelle Mashburn, an entrepreneur and certified trainer, his wife is the one who supports him with the businesses he has been handling. The couple has welcomed two children in the family, a son and a daughter. He is happy with his wife and daughter. Despite his hectic schedule, Jamal has been an awesome papa and a caring husband.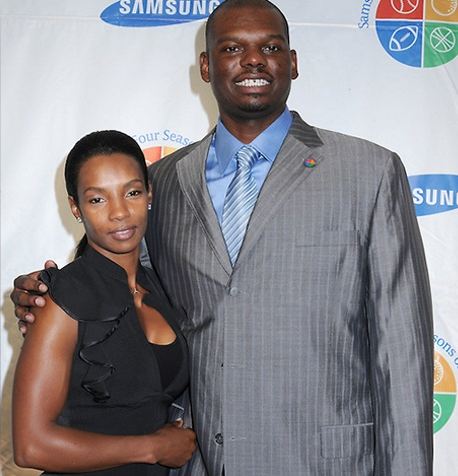 Jamal with his wife Michelle (Photo: hyperactivez.com)
Similar Article: Jerry West Wiki, Wife, Son, Salary, Net Worth, Career Stats
The son is following the footsteps of his father and heading towards playing basketball for his career. Jamal is very happy with his son going for basketball but says that he never forced his son to do so. He says he is just the navigation in the car, not the engine. He never wants his son to be pressurized because of his father's choice.  The kid as the same name as his father and going to play with the same name in his jersey. Jr Mashburn's first sports was baseball, but he started taking basketball after he turned 10. Though he is not blessed with the massive physique like his father, he is good at scoring. He takes help from his father to correct his mistakes and do better than the other in his team.
Do Not Miss: Khalil Mack Contract, Salary, Net Worth | How Much is His Worth?
A Short Bio
A very successful American retired professional basketball player, Jamal Mashburn was born on 29th December 1972 in New York City, New York, U.S, as per wiki. Jamal was attended Cardinal Hayes High School in The Bronx. He graduated from the University of Kentucky. Six feet seven inch tall Jamal remains fit and healthy and has been maintaining his body. Jamal is not much active on social network sites. He has a million fan and followers, and many people take him as a source of motivation and inspiration.