Talent determines the strength, and motivation decides the enthusiasm of the player. American Football outside linebacker Khalil Mack with his immense talent and hard work, secured his name as the highest-paid defensive player on the history of NFL.
Khalil played as a defensive end and outside linebacker for the Oakland Raiders. He held out for most of the offseason and got traded to Chicago Bears as outside linebacker. As the highest-ranked defensive lineman, he bagged #5 position on the NFL Top 100 Players of 2017.
Signed Six Years Multi-Million Contract; Highest-Paid Defensive Player
In September 2018, Khali agreed on a six-year contract with the American football team, Chicago Bears with a record amount of $141 million. With the contract, he has secured the title of the highest-paid defensive player in the history of NFL. Before signing a multi-million deal with Chicago, Khali played for the Oakland Raiders in #52 T-shirt in the defensive end.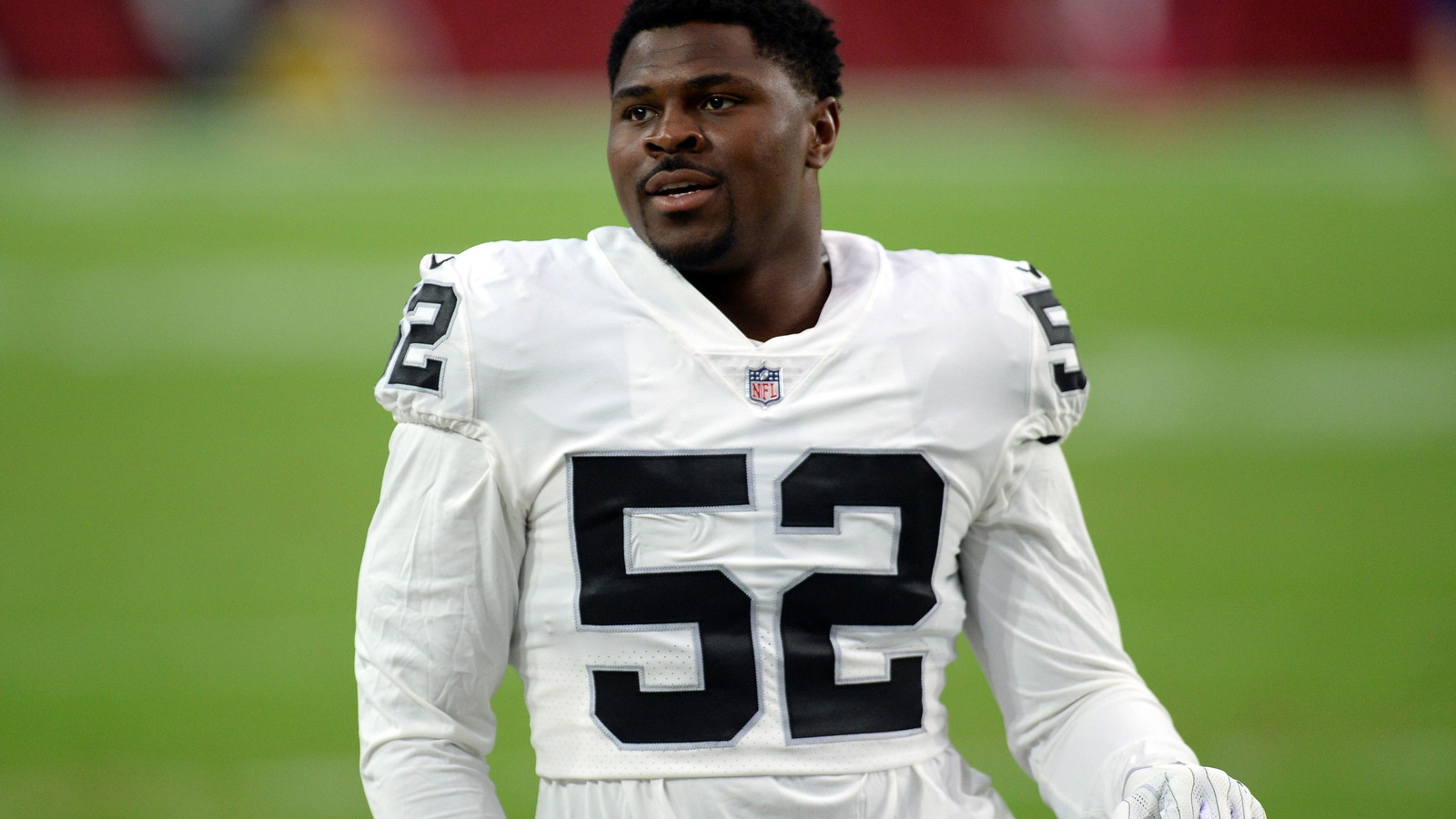 Khalil Mack with his #52 T-shirt on Oakland Raiders signed six years contract with Chicago Bears in September 2018 (Photo: yardbarker.com)
According to the reports, the professional NFL player will receive $60 million at signing and a guaranteed amount of $90 million. Before him, the highest-paid defensive player in the history of NFL was owned by Los Angeles Rams defensive tackle Aaron Donald, who signed a contract extensions worth $135 million in late September with a guaranteed amount of $87 million.
Read Also: Reggie Youngblood Wiki, Age, Girlfriend, Dating, Net Worth, Height
His defensive stats throughout his Oakland Riders career recorded 64 game-plays with combined tackles of 203 and assisted tackles of 72. In the past three seasons, he ranked second among all players with 36.5 sacks. His new team Chicago Bears open the NFL season on 6 September 2018, where they will take on the Green Bay Packers.
Details Of Khalil Mack Salary And Net Worth
Khalil, 27, is an American football outside linebacker, who has an estimated net worth of $9.6 million. In 2018, he signed a six-year contract worth $141,000,000 with the American football team, Chicago Bears. His contract included a $34,000,000 signing bonus, an average annual salary of $23,500,000 and $90,000,000 guaranteed expenses. 
In 2018, he is set to earn a base salary of $7,000,000 along with his signing bonus worth $34,000,000. His cap hit records an amount of $13,800,000 and a dead cap value of $60,000,000. His projected base salary in 2019 documents $11,300,000 and in 2020 and 2021, his total recorded wages is $30,346,000.
See Also: Holly Sonders Wiki, Bio, Married, Husband, Boyfriend, Plastic Surgery
His potential three-year contract from 2022 to 2024 hits the total amount of $90,946,000 with $6,800,000 as dead cap value. In 2025, he is set to be a free agent after enjoying a total salary of $141,000,000 in Chicago Bears.
Khalil As Love-Guru; Proud Of His Little Brother
The highest-paid defensive player did a work of love-guru during the Christmas Eve in December 2016. His fan named Frankie watched his team Oakland Raiders playing against the Indianapolis Colts at the O.co Coliseum.
In the second quarter, Frankie's girlfriend Marisol recieved a sweet video message from Khalil where he informed that her boyfriend, Frank has some questions to ask her. Marisol's boyfriend, who donned Khalil's jersey got into his knees and purposed her to marry him. The crowd went on cheers when she replied 'Yes.'
You Don't Want To Miss: Ryan Dirteater Wiki, Age, Real Name, Wife, Girlfriend, Net Worth
He is also proud of his little brother LeDarius Mack. Back on 13 April 2014, the NFL player of Chicago Bears shared a photo of his brother, who went to a prom date with a girl. LeDarius also is interested in NFL and is following his elder brother's footstep. In 2017, he signed with the Bulls after spending two years at ASA College Miami. The proud brother Khali declared his younger brother needs the opportunity as he can be successful in the NFL.
Short Bio
Khalil Mack was born on 22 February 1991 in Fort Pierce, Florida. Khalil stands at the height of 1.90 m (6' 3") and weighs around 251 lbs. Khalil belongs to African-American ethnicity.
His college football defensive stats during 2011 Buffalo Bulls recorded an interception return yards of 23 with five fumbles forced. At the age of 25, the defensive player received an honor as AP Defensive Player of the Year.