Bull riding is not about battling the strength of the beast but is about battling the weakness inside yourself. Professional Bull Rider Ryan Dirteater, who had fought through injuries and failure over the years, finally capped off his best year winning 2016th World Finals after riding all six of his bulls. 
Ryan came to limelight winning the 2016th World Finals. He is also enlisted in the list of a millionaire bull rider and is on 19th position.
How Does Ryan Dirteater Accumulate The Net Worth?
Ryan Dirteater accumulates the net worth from his professional career in Bull Riding. As per the record of PBR, he made the earning of $1,536,352.97 and ranked at the 19th position in the PBR ranking. Another bull rider Jess Lockwood had almost $50K extra under his kitty and sound on 13th position.
Similarly, in 2016, Ryan earned the extra prize of $250,000, pushing past $1 million in career earnings after he won the World Finals riding all six of his bulls.
Read About: Shaun White Wiki: Girlfriend, Wife, Gay, Married
As of 2018, he is preparing for the Global Cup, which is going to held in Arlington on 9 and 10th of February 2019. Also, Ryan will be representing the Native Americans along with Stetson Lawrence and his coach Wiley Petersen.
Ryan Dirteater Dating Bikini Competitor
Ryan Dirteater is dating NQ NPC Bikini Competitor, April Roby. He has been flaunting the pictures of him with his girlfriend on social media since 2017.
April was first to flaunt their picture on social media on 18 June 2017 when they spent a lovely night at PBR game. After that, Ruan shared a cozy shot posing with his girlfriend at a front row of UFC, in an Instagram on 28 June 2017
Meanwhile, on occasion of Valentine's Day 2018, his girlfriend, April amazed him as well as his fans, after she uploaded a video kissing Ryan and a mirror selfie on the same post.
Don't Miss: Danielle Busby Wiki: Age, Father Details, Job, Net Worth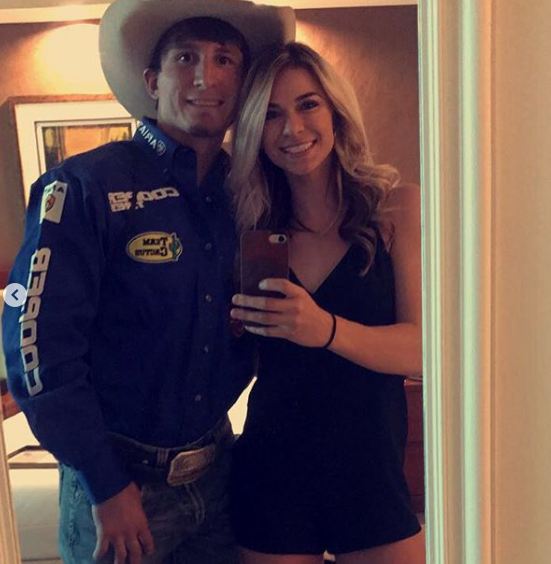 Ryan Dirteater poses with his girlfriend Bikini Competitor, April Roby on Valentine's Day (Photo: Instagram)
She thanked him for making everything special. Ryan then replied by saying that he considers himself to be a lucky guy.
The picture-perfect couple is all over social media, Ryan wished his partner on 6 July 2018 and captioned that she means the world to him. Then on 15 August 2018, the bull rider posed for a photo with his sweetheart and reflected that they are sharing a beautiful bond with each other.
Though Ryan is enjoying the moment with April, he is yet to gush about his plan to call her a future wife. As of 2018, he is yet to get married.
Short Bio
Born in 1989, Ryan Dirteater celebrates his birthday every year on 14 April. The bull rider stands at the height of 1.75 m (5' 9").
As per sacbee.com, the native of Hulbert, Ryan agreed that his real name, especially last name, Dirteater is catchy and perfect for Bull rider. But he didn't make that up for marketing and their last name is running for at least four generations in northeast Oklahoma.
Ryan's father name is Randy Dirteater. His parents advised him to pursue his career in PBR, as per the wiki. He also has been residing with his siblings, Kass Dirteater, and Bryan Dirteater, and Megan Mackey, for nine years.