Basketball lovers might recognize Jarrett Allen a rising star in the league who is even considered one of the NBA's most exciting young center player. The NBA player had also won a gold medal with US National Team at the FIBA Americas U18 Championship in 2016.
Jarrett has also participated in McDonald's All-American Boys Game during his high school period in the same year.
Jarrett's Dating Life
The NBA star Jarrett Allen and his girlfriend Jordyn January began dating secretly in 2016. After a year of a relationship, he spilled the beans about his relationship status to the public on the occasion of his first anniversary on 26 June 2017. 
Since then, the couple has been relishing a picture-perfect relationship. He often flaunts love of his life on his social platforms showcasing his eternal love for his girlfriend, Jordyn.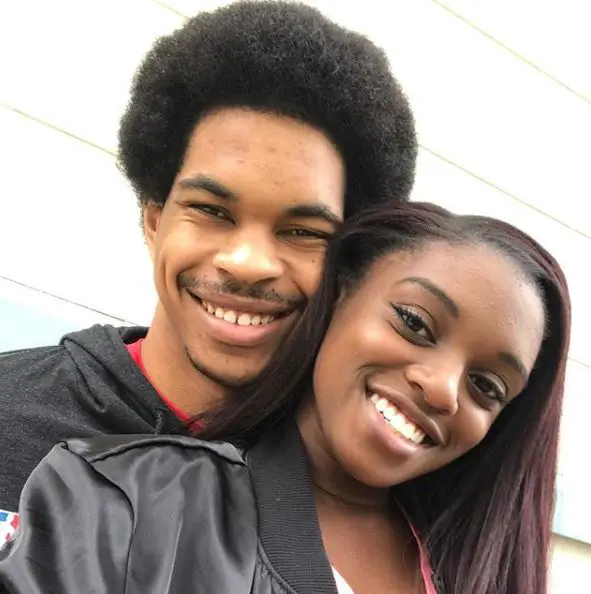 Jarrett sharing a laugh with his girlfriend (Photo: Jarrett's Instagram)
Jarrett even celebrated his ladylove's 21st birthday on 28 October 2018. Currently, the pair are enjoying their romance to the fullest and their recent April Instagram post, where they are enjoying their swings of love on the beach, is a hint that they have a wonderful and smooth relationship.
Discover More: Marcus Jordan Wiki, Personal Life, Net Worth
Family-Bio & Age
As there's a saying every son quotes his father in words and deeds, the NBA star followed his father's footsteps in the professional basketball league. His father Leonard Allen was also a basketball player and was drafted in the NBA franchise by the Dallas Mavericks in 1985. His father played at San Diego State and even in Spain during his basketball career.
In the family, Jarrett also has an older brother Leonard Allen Jr, who also is a basketball player as well. Since he and his family have an interest in Basketball, his parents often accompany him on his game.
Related Content: Tracy McGrady Wiki, Wife, Net Worth, Children
The NBA player was born on 21 April 1998 in San Diego, California, USA. He stands at an astonishing height of 2.10m(6ft 11 inch) with a muscular build and has a weight that reaches approximately about 107 kg.
Career and Net Worth
Before his NBA venture, Jarrett Allen averaged 13.4 points and 8.4 rebounds per game as a freshman at the University of Texas.
Jarrett began his career in the NBA with Brooklyn Nets in 2017 when he got selected in the 22nd overall pick by the team. In NBA history, Jarrett became the fifth player ever to finish with 20 points and 24 boards before turning 21 years old. He is also the second-youngest player in the history ever to set foot on the courts of Brooklyn Nets.
Also Read: Monica Wright Husband, Boyfriend, Net Worth
Later, Allen signed a 3-year contract from 2017 to 2020 with the Brooklyn and contract pays him guaranteed  $6,124,680 with an annual average salary of $2,376,840.
There's no doubt that the NBA star leads a successful basketball career and he might grasp new feat on his career along the way.