Football fans around the world are sure to know Mario Balotelli for his on and off the field antics.
The Italian footballer is as world-renowned for his footballing abilities as he is for his antics off the field.
From lighting fireworks inside his bathroom at home to having arguments with his club managers, Mario Balotelli is not your average footballer.
And over the years, he has proven time and again that you can be just as skilled a player despite behaving like a child of it.
Over the years, Mario has played for some top clubs in top leagues. And he's gone on to show his talents for each club.
Some might say he is a misbehaved child while others might say he's a talented striker.
Everyone has their own opinion, but whatever it may be, there's no denying the fact that Mario Balotelli is one talented footballer.
Mario Balotelli's Wife / Girlfriend, Child?
Mario's love life is unlike any others. Mario was introduced to a life of fame and fortune at the young age of 20.
This resulted in him living a lavish lifestyle and enjoying the best life has to offer. Most of which came in the form of women.
The Italian striker has had so many flings and affairs that it's impossible to list them all. But amongst his long list of hook-ups from his past, some have made the headlines quite a few times.
Read More: Camila Guiribitey Wiki, Parents, Husband, Net Worth
The first of which happens to be his relationship with Italian model Raffaella Fico. His relationship with Raffaella was quite the tumultuous one.
Mario and Fico's constant on and off relationship hindered their chance of having a long term relationship.
Most of the time, the reason for their break-up was Mario's constant affairs with other women while still being in a relationship with Fico.
The couple started dating somewhere around 2011. And at that time, they broke up several times yet re-uniting back in no time.
But what made the headlines during Mario's relationship with Fico is the fact that she gave birth to his first child, daughter Pia, in December of 2012.
Prior to the birth of Pia, the two had split, but after Pia was born, Fico decided to give Mario a chance. But that didn't work out well as the two parted ways for good.
Likewise, after his time with Fico, Mario went on with his lavish ways and dated a number of different women before landing on Fanny Neguesha in March of 2013.
And Mario took no time as he proposed to Fanny. And the pair looked like the next couple to hit the market, but yet again, that changed. Mario and Fanny split from one another in September of 2014.
After that, Mario, with his string of affairs, started dating his current girlfriend, Clelia.
Not much is known about Clelia other than the fact that she is a banker in Switzerland. But what is known is that she is the mother of his second child, son Lion, who was born on 28th September 2017.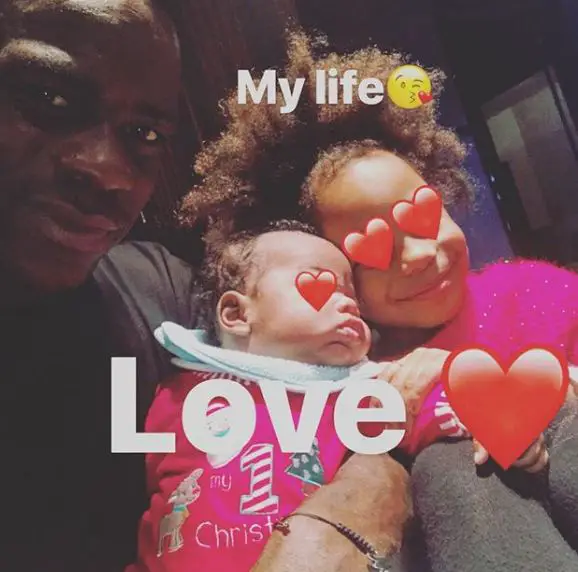 Mario with his son and daughter (Photo: Mario's Instagram | 25th February 2018)
As of now, Mario seems to have gotten this life in line as being a father to two children is a lot of responsibility to take up.
He seems to be relishing his life as a father!
His Salary, Transfer & Net Worth
It is fair to say, Mario Balotelli has had a very decent career.
Playing for some of the best teams in the world, Mario's career as a footballer has seen great heights as well as great lows. But regardless of all, it is no doubt that Mario is one talented and skilled footballer. 
Mario's professional footballing career began after he was signed by Inter Milan in 2007. The young striker had just completed a season with the Seria C1 team Lumezzane.
As a young player for Inter, Mario's performances completely won over the hearts of the Inter fans.
And in no time, he became a fan favorite, as he won the Seria A three times, Coppa Italia once, the Supercup once and the UEFA Champions League once.
Similar: Scottie Thompson Married, Family, Ethnicity, Net Worth
From there, Mario made his move to England where he joined Manchester City. With Manchester City, he won the 2011 Premier League having played a crucial part in the final minutes of the title-deciding game against QPR.
His assist to fellow striker Sergio Aguero won City the title. He also won the 2010 FA cup with City. Following his time with City, he moved to AC Milan where he stayed for two seasons from 2012 to 2013. 
After that, Mario yet again made his move back to England, joining Liverpool. His time at Anfield was not great as he failed to make much of an impact, prompting Liverpool to send him back to AC Milan on loan in the 2015-16 season.
After a year with Milan, Mario moved to France and joined Ligue 1 Team Nice. He stayed with the French club for three seasons from 2016 up until 2018.
Scoring 33 goals in 61 appearances for Nice, Mario switched sides and joined Marseille in 2018. He scored eight times in 12 appearances after which he was released by the club.
As of now, Mario, who was recently promoted to Seria A from Seria B, is applying his trade for his hometown club, Brescia.
During his career, Mario has managed to accumulate a massive net worth to his name. As of 2019, he is reported to have a net worth of $60 million with his salary being $7 million.
Short Bio
Mario Balotelli was born on the 12th of August, 1990 in Palermo, Italy.
As a young boy, Mario was abandoned by his biological parents, and he was raised by his foster parents Franceso and Silvia Balotelli.
His biological parents, Thomas Barwuah and Rose Barwuah, were immigrants from Ghana, which is why Mario embraces Ghanaian ethnicity.
Interesting: FaZe Apex Wiki, Real Name, Girlfriend, Family
Likewise, Mario stands at the height of 6 feet 2 inches while his weight is 87 kgs.