Coming out as gay cost Michael Sam his whole playing career, but in hindsight, he has become a successful spokesperson, motivational speaker, and LGBTQ activist.
Controversy relating to Michael peaked when he kissed his boyfriend after he was drafted in the seventh round of NFL draft in 2014. After that, Michael paid the price of the crime that he never committed. Nevertheless, he doesn't regret any of his past struggles as it involved his then-boyfriend.
Dream Of Being Devoted Husband; Splits With Boyfriend
Every story has its end no matter how happy and paradisical it is. Michael Sam's "magical" relationship came to an end when he and his former fiancé broke their romance of four years.
Spinning the wheels back, Michael met Vito Cammisano at the University of Missouri and began dating in 2011. Although he came out as gay in 2014 only, he relished his bond with Vito.
Michael and Vito became the headlines when they kissed in front of the world while celebrating Michael draft to St. Louis Rams in 2014 Draft of NFL. But his homosexuality became a concern for Rams and cut him to play in NFL. 
Even after seeing his dream career crumbling in front of his eyes, he stayed put to his boyfriend and got engaged in the beautiful Vatican City in January 2015.
See This: Why is Chip Hailstone in Jail? His Crime, Arrest, Net Worth, Personal Life, Bio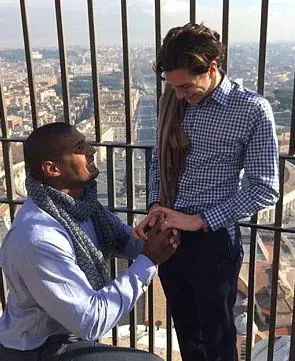 Michael Sam with his college sweetheart Vito in 2015 (Photo: Michael's Twitter/removed)
But life is full of difficulties and issues, and although Michael had dreamt of being the loyal husband, their relationship came to a full-stop just six months after their fairytale engagement.
The rumors about their split came out when Michael removed pictures with Vito from his Instagram, which also included their engagement pictures. To make things more official, Vito released a YouTube video without their engagement ring.
Besides that, there were also the reasons that they could be together. Sam still had all of his info with Vito on his facebook whereas Vito was also using a photo of himself with Michael Sam as his cover picture in Twitter.
Months after his split, he was rumored to be dating Jussie Smollett. However, the Empire actor denied the rumors and added that he did not hook up with Michael although they spent time together.
Later, Michael was spotted in the Los Angeles with his ex-fiancee, Vito, hanging out with the model Shaun Ross in November 2015.
You Also Need To See This: Lauryn McRoyal Wiki: Boyfriend, Dating, Baby, Age, Net Worth
As of today, in 2018, Michael is single but is famous as a gay rights activists.
How Does Michael Accumulate Net Worth?
Michael Sam garners his net worth of $100 thousand from his professional career as a football player. He is a retired NFL player, who stood up as the first gay player to appear on the league.
Michael's football career started from his high school level, where he earned first-team All-District honors for all four years as a defensive lineman, and also as an offensive lineman his last two years of high school. He was also offered the contracts by Arizona State, Colorado State, and the University of Houston but he turned down the offers and went to the University of Missouri.
After being drafted as the first gay player by the St. Louis Rams in 2014, he made his professional debut on 8 August 2014 against New Orleans Saints. Within one month, Michael got enlisted to the practice squad of the Dallas Cowboys on 3rd of September 2014.
Discover More: Chloe Everton Wiki: Age, Husband, Partner, Baby, Salary
Then, he made his way to Montreal Alouettes in 2015, but after one season he announced his retirement from the NFL due to the mental health problem.
Short Bio
Born in Galveston, Texas, in 1990 as Michael Alan Sam, Jr. , Michael celebrates his birthday on 7 January. The birth sign of the 28 years old NFL player is Capricorn. Michael stands at the height of 1.88 m and belongs to Afro-American ethnicity.